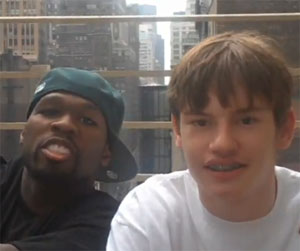 The video begins inauspiciously enough.
On the balcony of a Manhattan high-rise, 50 Cent tells fans about his new rap video. It's "hot," he says, "fire."
But then the frame pans out, and the rap star introduces what he calls his "new secret weapon," a gawky 14-year-old boy from Vancouver.
Pierce Ruane was invited to meet 50 Cent after the rapper got word of a scathing online critique the teenager posted back in February.
Ruane calls out the rapper for "mooching off his fame," and ridicules him for introducing a new line of sex toys marketed for women.
"My god, 50 Cent is just whoring himself out," he says in the web commentary, which has been tacked onto the tail-end of his video with the rapper. "What else is going to do, 50 Cent diapers for your little gangsta?"
It was the hip hop phenomenon himself who phoned Ruane's house after he got word of the original video, which has been viewed nearly a million times.
Ruane suspects 50 Cent asked to meet him as a way to discourage any additional grassroots bad-mouthing of the rap star. Does Ruane find it all odd that he -- a typical 14-year-old -- has the ability to challenge a major rap star like 50 Cent?
"Yeah, I guess," he said in an interview by phone this week. "I guess I have the power to say what I want."
In addition to what will likely be a media blitz in the coming weeks -- his encounter with 50 Cent was already the subject of an article in The Globe and Mail this weekend -- the focus on Ruane has also shed light on a growing practice amongst teens: the use of online video sites such as YouTube as a personal journal, where they can share feelings of anger, disappointment and joy.
Since joining YouTube last January, Ruane has posted just less than 160 videos, amassed nearly 50,000 subscribers, and now has the 21st most-subscribed channel in Canada.
In his videos -- many of which have been viewed more than half a million times -- Ruane offers his thoughts on the latest video games, rap music and Hollywood blockbusters. He also uses YouTube like a thoughtful, angst-ridden adolescent might have used a diary a generation ago.
Using the webcam in his room, he has recorded videos to mark, for instance, the day he got braces, the day Barack Obama was elected president ("I knew it! Suck it Republicans!"), and a series recounting his "shitty" experiences at elementary school.
"When you're bored, or have nothing to do, or really feel bad about something, I do a video," he said during the interview.
The difference between a traditional diary and the online version, of course, is the constant stream of feedback one receives, in the form of viewer numbers, messages, and comments -- many of those he received are too cruel to repeat here.
It's difficult to imagine being subject to that kind of criticism, especially at age 14. But Ruane says it doesn't bother him.
"It did at the very beginning," he said. "It doesn't now."
Judging from a gradual change in demeanor in the year and a half since he got his own channel, Ruane has developed confidence from his increasing popularity online.
In contrast to our phone conversation, where Ruane was awkward and disengaged, he appears comfortable addressing the YouTube "community," as he refers to it, and he fights back against his online critics -- "the haters," as he calls them.
"I'd just like to say I got braces... sons of bitches," he tells viewers in a video after getting them.
As a YouTube partner, Ruane now gets a signification paycheque for his efforts -- but is savvy enough not to say how much he makes.
"I don't want people asking for money all the time," he said.
But for the aspiring actor, his YouTube channel is clearly about more than just the cash flow. It's about finding a sense of belonging in a sometimes cold world.
"My day went pretty well," he told his viewers back in September, after his first day at a new school of 2,000, "but I'm tired, cuz it's a big-ass school and I went up and down a lot of stairs. And I didn't get shoved into lockers or get my ass kicked. So, that's all I have to say. Thank you for watching."