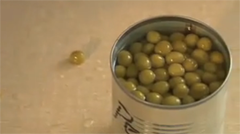 As the R word settles into the global vernacular, dollars 'n sense focused features have become an increasing part of daily media diets. Perhaps unsurprisingly, the web offers a wide range of choices in "recession busters": in fact, a new self-help genre seems to be developing for recessionistas seeking new (and old) ways to tighten the ol' money belt. The recession-busting tips are plentiful and diverse, ranging from "how to overcome fashion demands during recession" and "10 things to do during recession to get in touch with YOU" to "funeral planning, recession-style."
Among the most compelling, however, is the rainy day cooking show Great Depression Cooking with Clara. For the past two years, Sicilian grandmother Clara Cannucciari has starred in 10 webisodes in which she teaches recipes that would make Dr. Atkins faint, interspersed with her tales of growing up during the Great Depression. The show's timing could not have been better: last week, Clara's pasta and peas recipe landed her on Good Morning America; she's also due to appear on the CBS Evening News with Katie Couric.
Despite the growing hype, Clara's show perhaps works better as a late night sedative than as recession-busting how-to guide. The series would benefit from more storytelling, and fewer hot-dogs-and-rice recipes. Unfortunately, the zeitgeist seems to be latching on to Clara's show less for its content and more because of Clara's age: at 93, she is decidedly older (and more mature) than most YouTubers.
Nevertheless, Clara's show -- like Big Kitchen with Food, a Portland public access cooking show featuring five-year-old Julian Kreusser -- still succeeds. At the very least, it serves to distract viewers from thinking about the doom and gloom of the recession, if only for a few minutes, to watch a sweet lady peel potatoes.
Related Tyee stories: