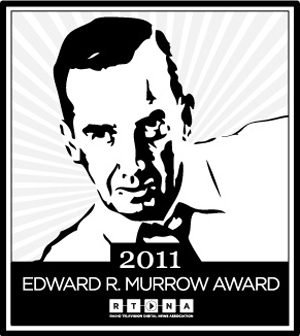 The Tyee has made a bit of history by winning a coveted 2011 National Edward R. Murrow Award. No other Canadian website has received the North America-wide award. This is the second time The Tyee has received the prize, after winning it in 2009.
Previous winners include the Washington Post, the Dallas Morning News, the Washington D.C.-based Center for Public Integrity and the Texas Tribune.
The Murrow, named after the famed American broadcaster who filed gripping accounts of the Second World War and stood up to the Communist scare witch hunt led by Senator Joe McCarthy, is granted by the Radio Television Digital News Association, based in Washington D.C.
The RTDNA "has been honoring outstanding achievements in electronic journalism with the Edward R. Murrow Awards since 1971," says the organization's website. "Murrow's pursuit of excellence in journalism embodies the spirit of the awards that carry his name. Murrow Award recipients demonstrate the excellence that Edward R. Murrow made a standard for the electronic news profession."
The Tyee won the 2011 Murrow in the category of Website, Online News Operation -- National.
Other winners of Murrow Awards in the category of Online News Operation -- National this year include the Associated Press for Overall Excellence, and Reuters for Video News Documentary.
Murrow Award winners in other categories include NBC News, CBS News, National Public Radio, the Seattle Times and CNN.
The Tyee was the only Canadian entity to receive a National Edward R. Murrow Award this year.
"This is stunning news," said Tyee editor David Beers. "It's much-appreciated recognition of the amazing abilities of all who contribute to The Tyee -- the reporters, artists, technicians and, yes, those who pay the bills with their investments and daily efforts to raise revenue. Running a small but ambitious news site like The Tyee is a total team effort, and we have a wonderful team. It's a real privilege to be able to work with such talented and dedicated people, and to see their efforts rewarded in this way," said Beers, adding, "Many thanks to the Murrow judges for discerning and valuing what we do. Clearly they and we use similar measures when it comes to what makes for effective, innovative journalism today."
This has been a month of recognition for The Tyee. Earlier in June, the Canadian Journalism Foundation named The Tyee runner up for its Excellence in Journalism Award, small media, which went to the CBC Manitoba. The Toronto Star won the Excellence in Journalism prize for large media.
You can find all 62 news organizations who are winners of 2011 Edward Murrow National Awards here.