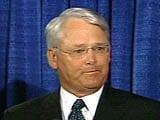 In a media world obsessed with anniversaries, this one has barely been marked. Two years ago today, Premier Gordon Campbell stood before the jackals of the B.C. media as a drunk driver who had just spent a night in a Maui jail cell.
It was a Sunday, a day off from my regular duties as a member of the Vancouver Sun's editorial board, but I wanted to see that press conference in its every aspect — the arrogant handlers, the media dogs, the premier's well-rehearsed insincerities.
I got what I came for.
The minute I arrived I was told that journalists from BCTV, my kissing cousins in the CanWest Global media empire, were surprised by the play the Sun had given the initial news of Campbell's night in jail — top of the front page, of course, but with a small photograph and a typical headline. They had even talked about doing a story on the Sun's strange handling of the news of his arrest, which received much more play in national papers. I wasn't holding my breath. Was it their thought that counted?
In fact, as far as the Sun was concerned, the worst was yet to come. In the meantime, there was Campbell and the pack of hounds.

Evasive answers
Although they shouted derisively, the media's questions were important. Was it just an incredible coincidence that Campbell got caught the first time — to his knowledge — he drove over the legal limit? Would he ask a cabinet minister in a similar situation to resign? Has he tarnished the office of the premier? Does he consider what he did a criminal act?
It angered me that Premier Campbell begged for our forgiveness and promised to re-earn our trust, then responded to all these questions with the usual evasion of a career politician.
One reporter asked why he was smiling in that mugshot. "I don't believe I was smiling," Campbell replied.
It also saddened me that if Premier Campbell had given the answers I wanted — honest, direct, forthright ones — some among of the journalists would have used the replies to crucify him. If Campbell had said that when he was young and callow he had probably driven drunk, some news stories would have screamed "Campbell admits he's a repeat offender." Then the self-satisfied journalists would have shuffled off to the bar.
The Sun's sharp spike
When I returned to work, a senior editor told me he was impressed with Campbell's performance: "All the right buzzwords." I had a different view, and I wrote about it, but I was told there was no room for my opinion piece. Perhaps that was true, or perhaps editors were looking over their shoulders.
I do know that a compelling story by Peg Fong about Gordon Campbell's night in jail was killed that week. It featured an interview with a cellmate, and it flattered Campbell. There was little in the story that might be considered contentious. Is it true that a cellmate suggested that Campbell sit a little further away from the urinal? Did Campbell really look like he didn't belong in jail?
Sun editor Patricia Graham told B.C. Business magazine that the story was killed because the cellmate had been described to the Sun by Maui police as a "complete prevaricator." As opposed to all the other people that newspapers quote? As opposed to a premier who says his government hasn't sold B.C. Rail, hasn't expanded gambling, and does not "believe" he was smiling in that mugshot?
In some form, Fong's story should have appeared in the Vancouver Sun.
Raise the standards
As a person who cares deeply about how we define ourselves as a society, and as one who thinks politics and journalism are central to that process, that week left me with an enormous sense of sadness. I wanted to turn away from both of them, even though I believe politicians and journalists, almost without exception, aspire to be honourable citizens who contribute to the public good.
Yes, even Gordon Campbell, who allowed actual citizens to propose reforms to the electoral system. Yes, even my former employers at the Vancouver Sun, where columnist Vaughn Palmer offers this province's most effective criticism of our Liberal government.
Yet too many politicians and journalists get dragged down by expectation, fear and partisan opportunism, and as a consequence we are not trusted. It's an institutional problem, and it's a human problem. We need more strictures to protect the standards of our work. We need to be more dispassionate. And we need more courage.
It's been two years since Gordon Campbell got nailed for drunk driving, and begged our forgiveness with a manipulative — I'd even say cowardly — display of political theatre.
Since then, as other scandals mount in both journalism and politics, it seems we've been talking ever so slightly more about restoring trust in our respective vocations. I'm hopeful. I wish I could say I'm optimistic.
Tyee contributing editor Charles Campbell accepted a buyout from The Vancouver Sun in 2003.