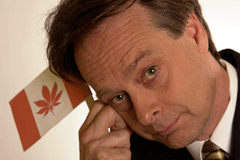 "Since those early 1980s days when I was filling my head with the ideas of Ayn Rand, Milton Friedman and the Austrian School of Economics, the Fraser Institute was invaluable, and I am more proud to speak under The Fraser Institute banner than perhaps any other."
So said Vancouver's infamous marijuana seed salesman Marc Emery, prior to delivering a speech in the Fraser Institute's Opus Speakers series last fall.
Recently I phoned Emery, an outspoken libertarian, to assess how far his philosophy of unregulated freedom and personal responsibility meshes with the values of the institute, which receives most of its funding not from libertarians but social conservatives, the kind of people who want drug users locked up and the keys served to Stephen Harper at snack time.
Emery found it incongruous that his speech followed U.S. Ambassador David Wilkins in the Fraser series. "On the one hand the Fraser Institute tries to embrace free market ideas," he complained, "but their biggest pomp and circumstance is reserved for the statists that have done the most to entrench the government in our society. Look at their recent people: Brian Mulroney, Karl Rove of all things, David Frum. Then there's one libertarian purist like me.
"I find the indulgence of famous statists who can get people to come to receptions and pay money is contrary to their whole mandate to promote free minds and free markets."
Room for libertarians?
While Wikipedia describes the Fraser Institute as a libertarian and conservative think tank, the institute these days downplays its libertarian roots. At one time, founder Michael Walker actively courted libertarians, and from 1978 to 1991 one of the institute's two key thinkers was the self-described anarcho-capitalist Walter Block, now an economics professor at Loyola University in New Orleans.
Recently Block suggested to me that in America, the Fraser Institute wouldn't even be called conservative, but rather, middle of the road. He lauds their stance calling for the legalization of marijuana, but then proceeds to trash their rationale: "Steve Easton, who writes for them, gives as a reason that the government could now tax it. That's one reason for not legalizing drugs! The less money the government's got the better off we'll all be because I think government is a force for evil, and against freedom."
Arguing slogans
Block claims he was fired by the institute in 1991. "Mike Walker asked me to write a book about how government is great, the positive contribution government makes, and I said, 'Mike, that's gonna be a very thin book.' I figured the writing was on the wall, I was becoming an embarrassment to him I guess. He fired me for looking for another job."
"That's bullshit," says institute founder Walker. "I asked him to do a book called Government Spending Facts. If you are going to acknowledge that some of the work government does is good work, and there is near 100 per cent agreement among citizens that the government should undertake it, then there is an obvious question of who is the greatest beneficiary of government. Is it the low income, the middle class, or the high income people. That's what I asked Walter to do."
I bring up Marc Emery's complaint that the institute has abandoned its former slogan, "Free minds, free markets."
"It was never a slogan of ours. Our slogan has always been, 'If it matters, measure it.' Libertarians or people who approach the institute from a purely philosophical point of view fail to ask what is the purpose of ideology. The purpose of ideology is simply to give you your questions. Then they have to be subjected to data, in other words subjected to the real world. If ideology becomes a belief system then you are talking about religion, you are not talking about science.
"You won't find anything under our logo that is purely libertarian in the sense that it merely makes value arguments on the basis of the supreme value of liberty. Milton Friedman used to say values are things about which you can ultimately only fight, so therefore we only talk about things that can be sorted out using data."
Mainstreaming the message
"We have been able to change the world by measurement," asserts Walker. "Even the NDP government of Saskatchewan uses our index that we do on government performance to show how good they are. Our work used to be left-right, now people have realized that this designation has no particular meaning."
As a sign of how mainstream the institute has become, its country-by-country Economic Freedom Index (Canada sits at number five in the rankings) is now widely used around the world, and Walker says the institute is currently working with the World Bank, "trying to figure out an index of civil freedom that explicitly acknowledges the role government plays in creating freedom. Now Walter wouldn't accept that, he'd say it's a bunch of rubbish, but the objective evidence is there. We are able to run tests that show that if there isn't enough government, like in some African countries, you can't have freedom because you don't have the rule of law, you don't have the police, for example."
'Cherish Marc Emery'
Walker claims many libertarians still work at the institute, and quotes an unlikely source, the old Fabian socialist George Bernard Shaw, to justify it: "Reasonable people conform to society, unreasonable people insist that society should conform to them, therefore all human progress depends on unreasonable people. We should always cherish people like Walter Block and Marc Emery, and the environmentalists and others who force us to examine our own hypotheses in a better way."
That might be cold comfort for Emery, who faces jail time for his role in sparking human progress. When I spoke to him prior to the collapse of his plea bargain negotiations with the Americans, he sounded resigned to the surrender of his personal liberty. "I can write in jail, I've got projects. I'm not intimidated: it's like going to university with a very harsh dorm."
From previous incarcerations Emery says he learned that "in jail most men are incredibly civilized. You take women and alcohol out of men's environment, and they're very gentlemanly. But you give them choices, women, and booze, and men do a lot of stupid, stupid things."
Related Tyee stories: