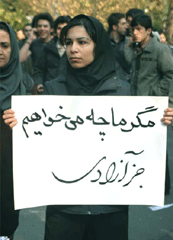 "I've been called an orientalist and a neo-con," the Iranian-Canadian writer, feminist and human rights activist Samira Mohyeddin told me the other day. "Isn't that funny? Can you believe it?"
Sadly, yes, I can.
Recently graduated with a master's degree in Middle Eastern and Women's Studies from the University of Toronto, Mohyeddin, 32, is an especially fierce and articulate left-wing voice among Iranian-Canadians. She's the last person you'd expect to see accused of neo-conservative thoughtcrime.
But Mohyeddin demands a militant response to the vile degeneracy of the Tehran regime. She refuses to settle for what she calls the "insipid and vacuous" reflexes a large chunk of the North American left exhibits on the subject of Iran. And so she runs the risk of being condemned as a tool of the United States and its corporate warmongering hegemony, no matter how left-wing she may be.
We all know the reflexes Mohyeddin is talking about. Don't attack Iran. No to war. No to sanctions.
You can fervently agree that war would be the worst possible eventuality in the rising-stakes standoff between United States President George Bush and Iranian President Mahmoud Ahmadinejad. You can argue that sanctions will only cause harm to the Iranian people, too -- as you also should. That's allowed.
But beyond that -- no matter how many dozens of newspapers are shuttered in Iran, no matter how many hundreds of Iranian student activists, union leaders and gay people are jailed and tortured, no matter how many hundreds of thousands of Iranian women are detained by the morality police for wearing clothes the mullahs don't like -- it's best to hold your tongue.
Bush's terrifying bellicosity
Against a terrifying backdrop of rising bellicosity in the White House -- which says it won't rule out bombing Iran to prevent it from acquiring nuclear weapons -- and the increasingly unhinged Ahmadinejad regime -- which responds to Washington with ever more violent threats, usually against Israel -- stand the Iranian people.
Scores of brave Iranian liberals and academics have made it plain that ordinary Iranians are caught between the Bush-Ahmadinejad grindstones and want nothing more than peace and the promise of human rights. But when they look to the West for moral support, it's rarely forthcoming. On the left, perhaps especially in Canada, it's almost never there.
"How did this happen?" Mohyeddin asked me.
That's the question I'd called to ask you, I said.
A shallow anti-imperialism
Here are some of Mohyeddin's answers.
There's a 1960s-era protest culture of "placards and megaphones" that lingers on the left, and it expects nothing more of its cadres than opposition to America. The prevailing leftist mindset continues to "exoticize" Iranian culture and clings to a naive and mistaken assumption that the Islamic Republic is somehow "culturally authentic." Many liberals and leftists tend to be infatuated with a shallow anti-imperialism that wrongly equates human rights and freedom with "western" values.
The result is a narrative that strengthens the hand of the Islamist reactionaries arrayed against Iranian democrats, and it's everywhere, from the smartly-designed pages of Adbusters magazine to the tracts that appear in The Nation. It's a narrative that conspicuously ignores Iranian totalitarianism except when its attributes might be employed for cheap rhetorical comparisons with the adversaries of the North American left.
"I think it's also simply because so many people think that fascism is dead, that it's over with," said Mohyeddin. "But it's not. In Iran, fascism is not dead."
Ahmadinejad crushing dissent
Just a few weeks ago, two Iranian journalists were sentenced to death for the crime of "enmity with God." On July 31, the prominent journalist Emadoldin Baghi was sentenced to three years in jail for writing articles the regime didn't like. Around the same time, Ahmadinejad's regime shut down one of Iran's most popular daily newspapers for the offence of having quoted the Iranian-Canadian poet Saghi Ghahraman, who also happens to be a lesbian.
Iranian dissidents say more than 1,000 journalists have been sacked this year, and more than 150 publications have been shuttered. What appears certain is that at least 150 people have been executed in Iran over the past 12 months. Iranian authorities themselves report that they detained more than half a million people over the summer for wearing clothes the mullahs don't like.
What, then, does one do?
"I think we need to start by being a lot more vocal about this," Mohyeddin said. "But it is difficult, because we don't really know what to do."
Acts of solidarity would help, Mohyeddin said. She applauded the Canadian Labour Congress for its recent demonstrations at the Iranian embassy in Ottawa in support of Mansour Osanloo, the routinely jailed and beaten president of the Tehran bus drivers' union. But a demand that the Iranian embassy in Ottawa be shut down would be a much more effective course of action, she added.
Iranian-Canadians divided
Part of the problem is the fractiousness of the Iranian-Canadian community itself. The "Third Camp" position ("Against U.S. Imperialism and Islamist Terrorism") has gained some encouraging traction, but left sectarianism is a persistent problem.
"A lot of it is the older generation," said Mohyeddin. "In Canada, you can't criticize what is happening in Iran without being told you're helping the White House, and there is all this silly identification with the 1960s. The left-intellectual support for the 1979 revolution, from Michel Foucault on down -- it was pro-Khomeini. And there is still this strange, Left-Orientalist exoticization of the Iranian regime."
Mohyeddin said she was particularly dismayed last year by the widespread criticism that greeted University of Toronto professors Amir Hassanpour and Shahrzad Mojab after they wrote an essay for the Toronto Star damning Ahmadinejad's lurid preoccupation with Holocaust denial.
What got Hassanpour and Mojab into particularly hot water in the U of T's "anti-imperialist" crowd was their insistence that the Iranian regime is guilty of its own genocidal conduct towards Iran's Baha'i minority and has also ruthlessly persecuted other non-Persian groups, including Arabs, Baluchis, Kurds and Turkmen.
After their article appeared, it became commonplace to hear that Hassanpour and Mojab were playing into the hands of American neo-conservatives, Mohyeddin said. Meanwhile, criticism of Shiraz Dossa, the St. Francis Xavier professor who participated in Ahmadinejad's obscene Holocaust-denial conference in Iran, was muted, when there was criticism at all.
Quiet reception for Yvonne Ridley
The broader Muslim community in Canada is by no means immune to the dysfunction that has beset the left on the question of Iran.
In September, the Canadian Islamic Congress -- the scourge of Canada's progressive Muslims -- convened a series of "Say No to Islamophobia" fund-raising lectures by Yvonne Ridley, a disgraced British journalist who serves as the London correspondent for the Iranian regime's newly-launched English-language news channel, Press TV.
Press TV made its debut July 2 with a report that the car-bomb attacks in a London nightclub district and at Glasgow Airport were part of a "threadbare propaganda" operation staged by the British government to make Muslims look bad.
Ridley, a former Sunday school teacher who turned heads when she converted to Islam after having been detained for a few days by the "likeable" Taliban while on assignment in Afghanistan for the Sunday Express in 2001, happily asserts that she has experienced no editorial interference at Press TV.
What she doesn't talk about is how her Press TV overseers back in Tehran are on a rampage, muzzling journalists, threatening them, jailing them and executing them. Her free-speech liberties, in other words, are coming at their expense, which makes Ridley not just a hypocrite but also that class of person trade unionists call a "scab."
Ridley's first stop in Canada was in Montreal, the hometown of the photojournalist Zahra Kazemi, who was tortured and beaten to death in Tehran's Evin Prison in 2003. Ridley's lecture coincided with an international day of protest on behalf of 26 death-row political prisoners in Iran. But there were no progressives with placards and megaphones to greet Ridley. On the left, all was quiet.
Iran's pro-democracy movement
Danny Postel, a senior editor with Open Democracy -- an innovative, UK-based online journal that covers global issues from a liberal-left perspective -- finds this a remarkable state of affairs.
An American, Postel has written extensively on Iran's vibrant and multi-faceted pro-democracy movement. In his book Reading "Legitimation Crisis" in Tehran, Postel pointedly observes that unlike the international solidarity campaigns that North American leftists once waged in solidarity with the people of Guatemala, Nicaragua, El Salvador and so on, there is practically no such movement in solidarity with Iranians today.
The title of Postel's book is a play on the philosopher Jurgen Habermas's notion of the "legitimation crisis" that befalls a regime founded upon ideas that cannot resolve problems that threaten its existence, and also on Afar Nafisi's 2003 memoir, Reading Lolita in Tehran. In it, Postel argues that Iranian progressives are engaged in life-and-death political and philosophical struggles, and their "western" counterparts would greatly benefit by learning from them.
Charles Taylor in Tehran
But the conversations, debates and controversies among pro-democracy Iranians are almost unknown to the left in the west. Part of the reason is the western thinkers that now most obviously animate pro-democracy Iranians are not left-wing icons such as Karl Marx, Paolo Friere or Foucault, but rather such thinkers as Habermas, Hannah Arendt, Karl Popper, Isaiah Berlin, and Canada's Charles Taylor.
Further still, Iran is an ancient, diverse and astonishingly rich civilization, with a long tradition of its own liberal-left thinking to draw from. The Third Worldist, anti-imperialist paradigm that's commonplace in North America doesn't speak directly to the challenges Iranian dissidents face. So not much speaking goes on at all.
"Let's face it," writes Postel, "it's just plain uncomfortable for leftists to say anything that sounds like it could also come out of the mouth of George Bush or Paul Wolfowitz."
But that's a pretty lame reason to ignore Iranians when they call on us, as they do, for demonstrations of solidarity. Postel writes: "We should not allow Washington's rhetoric to have a silencing effect on us. To do so is to let Bush and the neo-cons do our thinking for us. We should express solidarity with our Iranian comrades regardless of the Empire's pronouncements."
Recruiting Che Guevara
Meanwhile, the Iranian regime is engaged in a strategy that aims to appropriate the western left's own pieties and neutralize progressives, and it's hard to gauge its success because the ball is still very much in play.
One of Tehran's moves in this game was its 70-page pot-kettle-black booklet published and distributed in September at the United Nations in New York, titled "Report on Human Rights Situation in Canada." Another is the Iranian regime's cartoonish "global progressive front," co-sponsored by Venezuelan president Hugo Chavez.
The front suffered an embarrassing bimbo eruption at a Tehran conference earlier this month, which purported to be a celebration of the legacy of Ernesto "Che" Guevara Lynch. Attended by the Argentinian revolutionary's two children, Aleida and son Camilo, the conference quickly went downhill when the Guevaras impolitely disputed the claims of a prominent conference speaker, Hajj Saeed Qassemi.
Qassemi, the Iranian regime's coordinator of the Association of Volunteers for Suicide-Martyrdom, asserted that both Che and Cuban president Fidel Castro were really closeted God-worshippers who wore atheists' masks only to secure Soviet support for their revolution.
Language barrier hurts support
The question Mohyeddin is grappling with -- how to demonstrate solidarity with Iranian dissidents -- is complicated by a factor that would have been almost prohibitively daunting to the 1980s' Latin American solidarity campaigns: It's much harder to come by a fluency in Persian than a working familiarity with Spanish. There's also the Perso-Arabic script, which relies upon a distinct Iranian alphabet.
But the language barrier has been broken, or at least breached, by the diffusion of the Internet, which wasn't around in the 1980s. Tehran has attempted a crackdown on blogging and has jailed people for writing posts that offend the regime, but the Internet persists as a largely-unregulated subaltern space where Iranians routinely elude the regime's press restrictions.
The phenomenon has put Iran in the top ten of the world's blogging countries (it was an Iranian-Canadian who found an efficient way to adapt Blogger.com to the Persian language). Many Iranians also blog in English, and émigré bloggers often keep in close contact with bloggers back in Iran.
One of Canada's most eagle-eyed Iranian émigré bloggers, Arash Kamangir, tracks dozens of Persian-language blogs, translates his findings and posts regularly at his English-language site, Kamangir.net. A 28-year-old University of Manitoba electrical-engineering student who moved to Canada only two years ago, Kamangir says Canadians are in a unique position to help pro-democracy Iranians.
Should U.S. fund Iranian resistance?
In the United States, a debate is raging over whether dissidents in Iran should accept U.S. State Department funds aimed at assisting the regime's adversaries (Kamangir says it's foolish to take money from Americans; it just provides the theocracy with another pretext to criminalize dissent).
In Canada, the issues are uncomplicated. Ottawa has taken a leading role at the UN in the focus on Iranian human rights, and after Kazemi's murder in 2003, diplomatic engagement with Tehran was confined to human-rights questions. Canadians are well placed, then, to focus on shaming the regime and exposing its tyrannical violence, simply by helping pro-democracy forces tell their stories to the outside world.
"It makes a lot of difference to people in Iran when they see that people outside Iran are trying to help with protests and demonstrations," Kamangir told me, "but there is also a lot of text and lots of images coming out of Iran every day. I just observe, and then I post things. I don't really engage in theoretical debates. I just observe."
This is something that used to be called "bearing witness."
'Everyone is afraid to criticize religion'
Last May, Kamangir managed to get some photographs and video of an Iranian woman being beaten by the regime's morality police into the hands of a British journalist. The incident was widely broadcast, and the coverage cast a cold, hard light on the regime's repressive idiocy.
"It's important for people outside Iran to know what ordinary Iranians think," Kamangir said.
"When a student leader gets sentenced to jail, I'd say 99 per cent of the people are against that. The people are against the closing of newspapers, too. Gays are not having a good time in Iran. Everyone is very afraid to criticize religion," he said.
"People don't understand the twisted mentality that Ahmadinejad and the religious people have," he said. "It's very dangerous."
Related Tyee stories