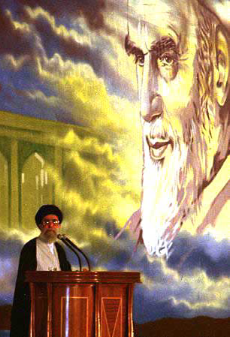 [Editor's note: Nasrin Alavi breaks two new kinds of ground in We Are Iran. She creates an archive of the impact of 64,000 blogs on the children, religion, culture, gender, politics, activism, revolution, media and law of her country. She chronicles the experiment in democracy, and in doing so, she presents not only a set of facts, but an alternative history.
She also creates a new genre. Alavi provides glimpses into the lives of Iranians by including blog entries along with the blog addresses and contact information. Readers of the blogs (online and in the book) can continue the discussion about Iran's past and future with the blogging revolutionaries themselves.
What follows is an excerpt from the introduction to the book.]
In September 2001, Hossein Derakhshan, a young Iranian journalist who had recently moved to Canada, set up one of the very first weblogs in Farsi, his native language. (For the uninitiated, a weblog or blog is a kind of diary or journal posted on the Internet.) In response to a request from a reader, Hossein created a simple how-to-blog guide in Farsi. With the modest aim of giving other Iranians a voice, he set free an entire community.
Today, Farsi is the fourth-most frequently used language for keeping online journals. There are more Iranian blogs than there are Spanish, German, Italian, Chinese or Russian. According to the 2004 NITLE Blog Census, there are more than 64,000 blogs written in Farsi. A phenomenal figure, given that in neighboring countries such as Iraq, there are fewer than 50 known bloggers.
Blogging in Iran has grown so fast because it meets the needs no longer met by the print media; it provides a safe space in which people may write freely on a wide variety of topics, from the most serious and urgent to the most frivolous. Some prominent writers use their blogs to bypass strict state censorship and to publish their work online; established journalists can post uncensored reports on their blogs; expatriate Iranians worldwide use their blogs to communicate with those back home; ordinary citizens record their thoughts and deeds in daily journals; and student groups and NGOs utilize their blogs as a means of coordinating their activities.
17 November 2004 I keep a weblog so that I can breathe in this suffocating air … In a society where one is taken to history's abattoir for the mere crime of thinking, I write so as not to be lost in my despair … so that I feel that I am somewhere where my calls for justice can be uttered … I write a weblog so that I can shout, cry and laugh, and do the things that they have taken away from me in Iran today …
The worst that could happen to a blogger in the West is that they might be looked upon as self-absorbed 'cyber-geeks' or 'anoraks', but in Iran - a country that Reporters sans Frontières called 'the biggest prison for journalists in the Middle East' - honest self-expression carries a heavy price. In the last six years, as many as 100 print publications, including 41 daily newspapers, have been closed by Iran's hardline judiciary.
In April 2003, Iran became the first government to take direct action against bloggers. Sina Motallebi, a journalist behind a popular weblog www.rooznegar.com, was imprisoned. His arrest was just the beginning and many more bloggers and online journalists have been arrested since. As Reporters sans Frontières put it: 'In a country where the independent press has to fight for its survival on a daily basis, online publications and weblogs are the last media to fall into the authorities' clutches.' They add that, through arrests and intimidation, 'the Iranian authorities are now trying to spread terror among online journalists' (16 October 2004).
Intimidation such as the arrest of Sina Motallebi's elderly father or the accusations of adultery against online journalist Fershteh Ghazi. According to Reporters Without Borders, five other imprisoned web journalists, 'Javad Gholam Tamayomi, Omid Memarian, Shahram Rafihzadeh, Hanif Mazroi and Rozbeh Mir Ebrahimi are expected to be accused of having sex with her. Some of them are said to have been forced to sign confessions. Such accusations by the authorities are common against political prisoners in Iran' (29 October 2004). Adultery is a crime punishable by stoning.
In October 2004, while several Internet journalists and bloggers were held in undisclosed locations awaiting trial, Ayatollah Shahrudi, the head of the judiciary, announced new laws expressly covering 'cyber crimes': anyone 'propagating against the regime, acting against national security, disturbing the public mind and insulting religious sanctities through computer systems or telecommunications would be punished'. This announcement was accompanied by a number of articles in state propaganda newspapers, such the Keyhan daily, which 'exposed' the Iranian blogosphere as a 'network led by the CIA conspiring to overthrow the regime'.
The crackdowns suggest that the regime is determined to curtail freedom of speech in cyberspace. Yet faced with a judiciary prepared to stone someone to death to silence them, an increasing number of blogs are now written anonymously. Additionally, many political Internet sites have gone underground, making them even more radical and critical.
Yet, despite the very real risks, there are some bloggers who still write under their own names. Bijan Safsari was editor-in-chief and publisher of several independent pro-democracy newspapers -- all of them shut down by the regime. Each time one of his newspapers was closed down, it quickly resurfaced under a new name. Eventually, this game of cat and mouse got Bijan thrown in jail and now that there are no other venues where he can write or publish, so he keeps a blog.
18 February 2004 There are those such as [Muhammad-Ali] Abtahi [the Iranian Parliamentary ex-Vice President] who have called our virtual community too political and have said that we should use weblogs for their intended use … that is to say, for clichéd daily diaries … So what if we use our blogs in ways not intended for or defined during the distant conception of this medium? At a time when our society is deprived of its rightful free means of communication, and our newspapers are being closed down one by one - with writers and journalists crowding the corners of our jails … the only realm that can safeguard and shoulder the responsibility of free speech is the blogosphere.
According to data from the World Bank (2001), Iran has more personal computers per 1,000 people than the regional average. Estimates of the number of online users range from four million to seven million and growing. However, experts maintain that these figures do not reflect the current reality, because every month, thousands more Iranians buy computers and go online. The number of Iranians online is likely to more than double again in the next five years, in a country where two-thirds of the population is under 30 and many are already technologically savvy.
Interestingly - even ironically - thanks to the education policies of the Islamic Republic, those who enter further education tend to be from a wide cross-section of Iranian society; and many of these students throughout Iran, all of them from very different social and regional backgrounds, have access to the Internet at their place of study.
20 July 2003 Has everyone noticed the spooky absence of graffiti in our public toilets since the arrival of weblogs? Remember the toilets at university we used to call our 'Freedom Columns'?
1 May 2003 My blog is an opportunity for me to be heard … a free microphone that doesn't need speakers … a blank page … Sometimes I stretch out on this page in the nude … now and again I hide behind it. Occasionally I dance on it … Once in a while I tear it up … and from time to time I draw a picture of my childhood on it … I think … I live … I blog … therefore I … exist.
12 January 2004 This is a personal note of gratitude to Hossein Derakhshan, the 'Godfather' of Iranian blogs, who opened up the world to a society … proving that even a 30-year-old Iranian, with merely the aid of a notebook and a connection to the Internet, can make a difference … So much so that according to a Guardian newspaper report [18 December 2003] he is deemed one of the top 15 international figures 'whose weblogs have caused the biggest stir both in and outside the blogsphere'. Within only a two-year period his tireless efforts have led to tens of thousands of Farsi blogs … a phenomenon that I believe will eventually influence our awareness, our personas and our lives …
In recent decades, analysts, academics and journalists have had little or no real access to Iran. So they have, at times, relied unduly on partial inquiry and the images presented by state propaganda. Dan De Luce, the Guardian's correspondent in Iran for more than a year, was expelled from the country by the Iranian government in May 2004. As he puts it: 'Stifling the flow of information means that the nuances of Iranian society are often obscured to the outside world. Any foreigner who visits Iran is struck by the gap between the reality of Iranian society and the image cultivated by the regime.' (Guardian, 24 May 2004) Yet through the anonymity that blogs can provide, those who once lacked voices are at last speaking up and discussing issues that have never been aired in any other media in the Islamic world.
30 October 2003 Islam is compatible with democracy*

*Subject to terms and conditions
Iran's burgeoning online communities have been able to evade the cultural and political restraints regarding speech, appearance and relations between the sexes; restraints which are strictly enforced in public. As researchers, such as Babak Rahimi, have revealed, websites and blogs have made it possible for young Iranians to express themselves freely and anonymously - especially young women. The Internet, 'as an advancing new means of communication, has played an important role in the ongoing struggle for democracy in Iran', says Rahimi, and 'has opened a new virtual space for political dissent'.
Nasrin Alavi grew up in Iran and studied and taught engineering in Britain and the USA. She divides her time between Tehran and London.
From We Are Iran: The Persian Blogs by Nasrin Alavi. Copyright 2005. Reprinted with permission of Raincoast Books. To purchase the book, click here.