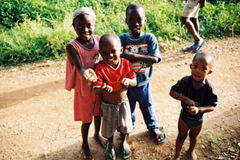 The other night I ran into some friends in our small town and learned they were engaged. "Here, let me show you the ring," the guy said, and proceeded to hold up his fiance's diamond-laden hand.
I was a bit taken aback. Most people I know have said different sorts of things about the sparkly gems, of late.
"This was my grandmother's ring," said one.
"I asked the jeweller, and made sure this was conflict-free," said another.
There's currently a tipping point going on in the trend to symbolize love without blood-stained diamonds. With a recent resurgence of publicity around war-torn, diamond-driven regions like Sierra Leone, ethical consumers are looking for solutions.
There's still a surging demand for the glittering glass: the world market in diamond jewellery is up to over $60 billion annually. The DeBeers marketing campaign, launched over half a century ago, symbolically linked love and commitment with a hard piece of carbon, and is touted as one of the most successful and innovative campaigns in history. And Canada has one of the highest diamond engagement ring acquisition rates in the world: 85 per cent of all brides wear one. But many couples are "greening up" their weddings and romances. And if you're joining one of over 22,000 couples getting married in B.C. this year, or have been eyeing one of these sparkly gems for Valentine's Day and are thinking of using your consumer power, you're not alone.
Hollywood light
Sierra Leone's diamond industry fuelled the 11-year conflict that left upward of 50,000 people dead, half a million displaced and thousands amputees. Diamond exports from Sierra Leone were reported at $1.2 million in 1999 at the peak of the conflict and rose to $142 million in 2005, and are still Sierra Leone's principal foreign exchange earner in a country consistently at the bottom of the UN Human Development Index.
As we're reminded of the atrocities of the resource war through the Hollywood movie Blood Diamond or hip-hop star Kanye West's Grammy-award winning song, "Diamonds from Sierra Leone," there's been a growing tendency for socially conscious consumers to want to ban African diamonds, which make up some 60 per cent of the world's gem diamonds. In fact, one Vancouver couple was so distraught after seeing the Leonardo DiCaprio film that they sold their wedding rings and plan to donate the funds to war-affected Sierra Leoneans.
But instead of banning diamonds from Africa and taking away one of the few sources of government income, many NGOs, like One Sky, where I work, are encouraging solutions that contribute to the development and environmental restoration in these countries. As part of our "Blood Diamonds are for Never" campaign in 2001-2002, which aimed for a strong international certification scheme, we've been working in local partnerships on sustainable livelihood initiatives to find solutions to the downsides of the industry in Sierra Leone.
Ethical glitter
As part of the initial efforts to end the trade in conflict diamonds, Partnership Africa Canada, Global Witness, Amnesty International and others tirelessly worked toward the Kimberley Process Certification Scheme, which came into effect in 2003. This tri-partite agreement between governments, industry and NGOs created a mechanism to keep conflict diamonds out of the system, and ensures trading only among compliant members. Though it needs more political will to close loopholes, the Kimberley Process brought significant progress to countries like Sierra Leone.
While conflict diamonds are no longer a reality there, it is still difficult to say diamonds are now "clean" or that everyone's benefiting. The majority of mining in Sierra Leone is done with picks and sieves to mine alluvial deposits (diamonds washed by rivers into a large area). And in the Kono region, over 100,000 men and children dig in difficult conditions, often for a mere plate of rice a day, unless they chance at discovering a gem -- known as the tributor system. There are definitely people getting rich from the sale of diamonds around the world -- but it's not the people digging them. Yet, as the second largest employer after subsistence agriculture, the gamble in diamond mining remains a significant livelihood for people with few options.
Although diamonds have been mined in Kono for over 70 years, the area has no electricity, no district water or septic systems, and remnants of bombed out buildings are still littered throughout town. The landscape is cratered and scarred with tens of thousands of unregulated mining pits, overturned soils and pools of stagnating mosquito-infested water. The nearby forests, having been exploited heavily for fuel wood and charcoal production, are now the only source of agricultural land. There are no regulations to restore former placer mining pits. And in the words of a local paramount chief, the discovery of diamonds "has not been a blessing but a curse."
There are efforts underway to produce "ethical diamonds" for the world market and create local benefits. For example, One Sky has a "green diamonds" campaign where consumers can donate directly toward alluvial mining restoration in the Kono district of Sierra Leone. As well as improving the landscape, sustainable livelihoods are created by transforming land into organic agriculture plots. A certificate is sent to supporters and an update on progress will be sent out at the end of the year.
My sense is that love is complicated enough. But if you go to show your "green" diamond ring, you'll have a compelling story to tell.
Related stories: