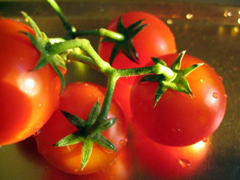 Thanks to global warming, lots of us are more interested in how far our food has travelled to get to our plates. Maybe you're enough of a zealot to have embraced the 100-Mile Diet.
But when was the last time you purchased a BC Hot House tomato? Yesterday? A week ago? Did you feel as pleased as I have that your diet -- in January -- can not only include the "love apple," but one that was grown right here in B.C., under glass, in modern, sanitary, pesticide-free, hydroponic conditions? If it sounds too good to be true, that's because it is.
Recently, my friend Greg, a product designer, mentioned that some BC Hot House tomatoes are actually grown in Mexico. Naturally, I didn't believe him. So I logged on to the BC Hot House site, where I found, at the bottom of the FAQs, this statement:
...in the winter months it is extremely difficult to grow produce due to the lack of light. Light is the biggest component in producing fruits and vegetables (photosynthesis). Additionally, colder growing conditions mean high heating expenses, which drastically increase the cost of the product to the consumer.
During this time, BC Hot House aligns itself with quality greenhouse growers in Mexico and the United States. These growers produce product for our customers to our exact standards (grade standards, quality control, food safety, etc.), keeping the product offering consistent with what we produce locally during our growing season. This is done so our customers receive product that is of the highest level on a consistent year round basis.
Now, I appreciate "product that is of the highest level" as much as the next person. While I strive to eat locally, I've been known to indulge in an irresistible French Maréchal cheese or some fresh galangal from the other side of the globe. I just want to choose what I purchase -- or don't -- knowing what it is that I'm getting. Call it informed consent. Particularly since, as a "foodie" and amateur chef, it's hard enough to lessen my footprint upon this global market. I love food. But I'm also a purist -- and concerned about my planet.
'BC' does not mean B dot C dot
Greg reminded me that the name "BC Hot House" is simply a brand. No more, no less. And while the 'BC' in the title doesn't mean, as one young produce clerk in a supermarket suggested, "Best Choice," it also doesn't represent the implied, but never stated, "British Columbia," according to BC Hot House Marketing Manager Devon Kennedy.
"BC Hot House is simply the name of the company," Kennedy told me. "And does not stand for British Columbia or for a location that the produce is from...Our partners in Mexico grow in similar greenhouses to our Canadian members and the products that come from Mexican greenhouses meet the same requirements as our Canadian growers," he added. "As well, the Mexican product must cross the U.S. border and the Canadian border, so it must meet two countries' regulations."
Well, all those regulations could certainly explain why I'm still paying a premium for a tomato despite the "drastically" reduced cost of heating in Mexico vs. B dot C dot, but it doesn't make it any more local. And isn't that the question?
'Hot House only part of the problem'
Of course, BC Hot House is only part of the problem. At my local Thrifty Foods, they've taken great care to label much of the produce in the store, including other greenhouse produce, with its country of origin or as "imported" -- but not BC Hot House. Michael Mockler is Thrifty's produce operations manager. He told me he thought it was very important to tell customers not just that produce was imported, but where it was imported from. Customers should have the information and be able to "make their own decisions," he said. So, why not the BC Hot House, I asked. "That," he declared, "is a bad oversight by us," and promised to address it immediately. Next time I'm in, I'll have a look.
But Thrifty's is only one of hundreds, maybe thousands of stores across North America, Japan, Hong Kong and Taiwan carrying BC Hot House. Check out yours. I'm willing to wager that there will be few places advertising the message: BC Hot House -- grown in Mexico. It's just not good marketing. At least not if, as Mockler said, B.C. has an image of being a wide open, clean place -- in other words, a great place for your produce to call home. Yes, the country of origin is on the label stuck to your tomato or pepper. It's also on the plastic surrounding your cucumber and on their very plastic clamshell boxes. It's there, in that ubiquitous fine, faint print. You really have to look, or at least, I did. But first, you'd have to think to look. Now, why do you think that is? I suppose the moral, if there is one to be found, is simple. B.C. -- "Beware Consumer."
Related Stories: