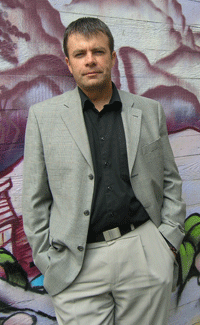 Think of Mark Holland as the "invisible hand" of British Columbia's budding green Renaissance. The 39-year-old former head of the City of Vancouver's sustainability group -- now a partner in Holland Barrs Planning Group -- develops eco-strategies for new developments that will in turn define the future landscape of the Lower Mainland and beyond.
Holland's group works its magic by taking the concepts underlying sustainability -- think local agriculture and community energy-generation -- and finding the business upside hidden within. "We take the stuff that is granola, but real, and we put it in a blue suit," he says. "We march it into the room with a haircut."
The resulting changes can be minor or near-invisible in the final product -- a community garden plot tucked into a condo tower, say, or roughed-in wiring or plumbing buried within a project's walls that will allow for future solar heating or power generation. They can also be richly imaginative: for the forthcoming 120-acre East Fraser Lands development, on Vancouver's south side, Holland and his team developed a "Songbird Strategy" that will provide foraging and food habitat for 10 different guilds of migrating tropical birds. "The developer is keen on the idea," he says, "because it won't cost anything extra."
The Tyee sat down with Holland to talk over density, inconvenient truths, the fallacy of the free market, and metaphorical cats inside electrified boxes. Here is what he had to say:
On how to sneak green condos under the consumer radar:
"First, don't ever presume people will pay more for a green building. But the one angle in at this point is air quality: people appear to place a higher monetary value on clean air. Your normal carpets and adhesives, they are pumping out volatile organic compounds and carcinogens as they decay. But selling clean air has gone through the roof. People will pay a little more for their personal health."
On the three factors that advance the sustainability agenda:
"One is money, the second is money and the third one is also money. It is all money -- money and risk go together in any development. If you take guidelines for green development and attach them to your land, then it encumbers the land. That brings the land price down. If you want to do an energy-efficient building, it costs more, though the architects will tell you it costs less. It always comes down to how much of a premium is the developer willing to put on the table?"
On what brings them to that table in the first place:
"The first motivation to go green is some variant of 'I have to.' The city says 'I gotta see something there, guys.' That means they need to have someone around who knows what to do. The next motivation is market advantage: 'I can bring on a different product, such as healthy air quality; I can differentiate my product in the market from other products, I can differentiate my company as a leader.' A PR ploy, basically."
How the truly world-changing developments got that way:
"All the really innovative projects have been driven by personal reasons. Developers will talk about regulators, they will talk market advantage, but they are doing it because they know that when they go to sleep at night, they do so knowing they are not creating a box that will suck the planet dry for the next 300 years."
On why Al Gore may have won in the end:
"We are in a world where everyone is trying to get us to do something and create a real or false sense of urgency. Al Gore's movie gets the facts out into popular culture. And the facts that create a sense of urgency have to be directly linked to something that people can do in their daily lives to get the ball rolling. Otherwise, the human psyche turns it all off. If you get someone to take an internal step, it creates a sense of buy-in and a belief that you can do something about it. And that sense of optimism then generates momentum."
On what they don't teach you in Poli Sci 101:
"There is a completely erroneous belief -- it is a joke in the business sector -- that the market is just this abstract thing called 'The Market.' It's not. It is a completely fabricated experience, entirely controlled by government regulations. The market isn't a clean thing, it is completely invented and it's constantly maintained and managed and manipulated by regulations. Economists would love to claim -- like an adolescent might -- that they are independent of government, but they are not at all. They are still all living at home, and always will. So the question is, 'Do we want to create national and international agreements to create a structure that leads us toward a more sustainable society, or do we want to create market forces that lead us away from it?' That is one of the biggest questions in play right now."
On where the bottle-throwers fit into the picture:
"The only sustainable future we can have is a profitable one. If you can't make money saving the world, you won't save the world. But there is a stream that still carries on in the old way -- supported by trade unions, and people who have little experience with how government works -- largely driven by those who have an 'outsider' psychology. They move the world forward very slowly. That said, they are critical for creating demand for those on the inside to do something. Without them banging on the pots and pans, no one anywhere needs to do anything. So, governments do sometimes need people throwing their bodies against the wall. But we will never change the world by going around the system. We have to change the system from within."
On how to close deals via produce porn:
"Food is one of the most critical sustainability issues on the planet. It's up there with transportation and environmental degradation. So what I do is show clients pictures of the Whistler Farmers' Market, and the wine festivals, and I start talking about the role that food plays in their lives, and what a culture of good local food can do for their community. I give them a couple minutes on peak oil and the food supply. And then we start talking about how you maybe can't save the world in a 200-acre development, but that you can make your little downtown commercial plaza ready for a farmers' market. A couple hundred bucks in plumbing and electrical -- power receptacles and hose bibs -- and you are geared up for a farmers' market. All of a sudden you have built an entire local network of food, and people will buy into a community more rapidly if there is a farmers' market attached."
On the fastest way to slash the waiting lists on community-garden plots:
"We need to include serious community gardens in our public parks. There is a small, select group of people in the city who are very influential and who whine about private use of public land, and they say that private gardens are just that. Even though the park is empty 99.99 per cent of the time and it is essentially a big field of expensive grass. They happen to be an influential and wealthy group who have political clout and who can influence the park board. And the board has a very hard time digging itself out from behind that argument. They do put some community gardens in occasionally, they do have a program to manage them and they do like them -- but they can't take an official policy supporting them. So every project we are on is a complete slugfest."
On the opportunities in peak oil:
"The one thing we know from history is that when resources are constrained, the price rises. Whenever the price goes up, there is money to be made. In the past, we never had to think about the utilities. You picked up the phone and you said, 'Plug me in.' Well, in the 21st century, doing that is a huge mistake, because the price is going to go up, guys. Some of my clients have 30-year absorption rates. They are bringing 150,000 people into some of these 20,000-acre projects; they are still going to be selling units in 2040. Well, the most conservative energy agencies in the world -- including the U.S. Department of Energy, which in February 2005 published the Hirsch Report, which President Bush buried -- basically state peak oil will occur sometime between now and 20 years from now. Well, listen, the asphalt shingles you are putting on your houses have 30-year warranties. We are going to hit peak oil within the lifetime of the asphalt shingles on your house. Bringing alternate energy systems online takes decades. The price is going to go up in the life of your project. You can give all that money to someone else, or you can do a business deal with the utility and get a piece of the action yourself."
On why subsidies that get the ball rolling aren't such a stretch:
"Right now, governments already subsidize industries. They just subsidize the wrong things. They subsidize the oil industry, and have done so for a long time."
On why doom-and-gloom-style environmentalism is a lost cause:
"You can't presume that the do-gooder, 1970s approach to changing your lifestyle is going to change the world, because it's not. There is no way that trying to sell starving in the dark and doing without is ever going to make a penetration. In fact, it's highly irresponsible for activists to argue that. They turn the world against those of us who are trying to change it, we all get branded the same way."
On what sucked about the Liberal-era climate-change agenda:
"The Liberals focused on spending a lot of money on getting the message out, but they may or may not have had the programs to back up that message. They had the EnerGuide for Homes program, which was good, but they still maintained the same subsidies on all the oil systems. They slowly worked their way into giving more money to transit through the gas-tax revenue return, but nothing like what they needed to do. There are structural and regulatory and market measures that stand in the way every step of the way, and the government did not dive into those things as much as it needed to."
On the Tao of little changes, a little bit at a time:
"Make the changes you can make -- sit down, and figure it out, and decide what you can do. Try to choose gestures toward a better life that also give you a better quality of life. You don't have to go on a 100-mile-diet, but maybe commit to going to a local farmers' market now and then and make a day of it. Let's buy local wines. Let's start buying Okanagan wines, that's 300 miles away, let's start looking for the Vancouver Island wines, those are 100 miles away. You may want to do some things just because you want to do them. It is a slow burrowing in, this process. It is not a wholesale conversion, it is not a religious event."
On why Mayor Sam Sullivan's Eco-Density initiative deserves some credit:
"Staff at the city have been driving density for decades. We all know Vancouver ran out of land a long time ago. But the politics have not always coincided with that ideal. Now the mayor has stepped up and said, 'As mayor and with my team here, we all support a significant densification of our city, it is good for our city.' He has repackaged and rebranded this old idea and it is brilliant. He has given it a political kick like it has never had before."
On the critical separation of work and home:
"I operate under the Schrödinger's Cat Paradox. It's a cat in a box with a lever in the box. If the cat hits the lever, he's electrocuted. If he doesn't hit the lever, he stays alive. And you go away and you make decisions based on whether the cat is alive or dead. It is a macabre image but it sticks in my head. I have adopted a personal ethic of work: your work could be one of the critical pieces of work that makes the difference. Simultaneously live your life while you are doing that work as if nothing you ever do will ever make any difference. You try to live your own ethics when you can and you don't sweat it when you can't. I tell myself, if at the end of the day I die, and nothing I did made much of a difference, well, I had a good life."
James Glave ([email protected]) is a writer living on Bowen Island, B.C. He blogs about climate change and sustainability issues at The Big Melt.