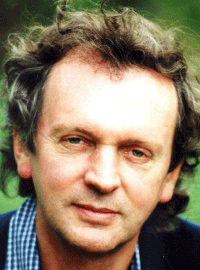 When Rupert Sheldrake takes the stage at Robson Square on July 20, Vancouver audiences will have a chance to hear the world's leading expert on "morphic fields." But then, he's the only expert in the field, since he invented it.
"Morphic resonance" is his notion that the field of energy -- think of The Force in Star Wars movies -- is affected by what we think. It leads, he supposes, to people knowing when they're being stared at, and telephone and e-mail ESP, which is when the person you're thinking about contacts you. Apparently, it also explains telepathy between pets and owners.
In short, what audiences will actually hear in this lecture, co-sponsored by Hollyhock Retreat Centre and the University of British Columbia, is one of the world's leading proponents of pseudoscience.
Sheldrake's Vancouver appearance is part of the UBC "partnership" with Hollyhock to bring the speakers to Vancouver as they travel through the city on the way to Cortes Island. Hollyhock is part holiday destination and part training ground. On some days people gather there for practical insights on political organizing or internet technologies. Other days, the fare is cooking, yoga...or what can only be described as New Age superstition.
Mystical entrepreneurs have long peddled variations on magic -- such as palmistry, astrology and energy healing -- but Sheldrake is part of the new New Age that capitalizes on widespread scientific ignorance to market books and speaking tours that present his eccentric views as legitimate science.
What are the ethics?
Unlike most of his ilk, Sheldrake has legitimate academic credentials, albeit in fields that don't immediately seem to have much to do with the ideas he's hawking. He has a PhD in biochemistry from Cambridge and a respectable track record studying botany. In the past, he has held university posts.
All of which may explain why his prattle has been embraced by institutions that ought to know the difference between knowledge and nonsense.
Dale Beyerstein, who teaches philosophy at Langara College and is an oft-quoted debunker of the woo-woo, says that most people involved in the New Age are true believers, and that it's possible Sheldrake genuinely believes in morphic fields -- despite existing knowledge to the contrary.
But as someone who teaches ethics, he adds that it's "intellectually unethical" for institutions such as universities and newspapers, which are supposedly in the business of gathering or delivering knowledge on behalf of the public, to be so careless.
"If you just accept what these people say, you're failing in your calling," Beyerstein says.
'It's about discussion'
Don Black, director of community programming for UBC's Continuing Studies, which runs the speaker's series, believes that because Sheldrake has a PhD, his views are credible, albeit controversial, which makes him ideal for their speaker's program. They like to give audiences a chance to hear and question speakers in an intimate setting.
"It's about discussion," Black says, although he admits that there is no panel of academics that might inform audiences more fully. And he didn't consult UBC's internationally respected science faculty before inviting Sheldrake -- it's not Continuing Studies policy to do so.
Black doesn't worry about giving legitimacy to a scientist that Salon magazine dubbed "a delightful crackpot" by associating him with one of North American's finest universities.
"We aren't legitimizing [speakers] or giving any support for Sheldrake's scientific views -- we don't position him as being any more informed than other scientists," Black says, adding that the program has no control over how the speakers use their affiliation with UBC to promote themselves.
As for the public, Black says their audiences tend to be well informed, and don't need input from academics. But Black himself confused the fact that Sheldrake has a PhD from Cambridge with a belief that he teaches at Cambridge. And he was unaware that, among scientists, Sheldrake isn't "controversial" so much as discredited.
It isn't clear how Black expects a general audience to know more than he does about this speaker.
Cracking 'MindBodySoul'
Nor is it clear why another institution, The Georgia Straight, is using its MindBodySoul magazine to promote Sheldrake's appearances, including his appearance with the Vancouver Prophets Conference (August 4 to 7). The conference is a franchise business (www.greatmystery.org) that delivers a latter-day version of the old-fashioned traveling tent shows full of healers and mystics. It includes "Adam," the Vancouver teenager alleged to cure cancer by...well, by something mysterious that has to do with energy.
Despite the wealth of information available on Sheldrake, The Straight's headline legitimizes his views by emphasizing his previous work as a scientist: "Staring is telepathy, says scientist Rupert Sheldrake."
Writer Gail Johnson describes those who dismiss Sheldrake's work as an illusion as "cynics." The Oxford Canadian Dictionary defines a cynic as, "as person with little faith in human goodness who sarcastically doubts or despises sincerity and merit."
Perhaps she confused the word scientist with cynic? There is no way of knowing, since Johnson refused to respond to repeated attempts to interview her. While her piece does offer one critical quote from an article written by the executive director of the California-based Skeptics Society -- it notes that psychologists dismiss anecdotal evidence of being stared at -- it hardly provides balance. The piece emphasizes that Sheldrake has also done "studies," which implies that these are just warring opinions, as opposed to a conflict between facts and medieval ideas about metaphysics that pre-date centuries of accumulated knowledge.
The Straight offers Sheldrake a soapbox for his somewhat incoherent explanation of his hypothesis so there's no need to repeat it here. But his comments on naysayers are typical of New Age defenders -- they don't attack the criticism, but the critics for lacking enlightenment or being too lazy to change their world view.
"You have to understand where skeptics are coming from," he told The Straight. "They have a materialistic world-view that the mind is the brain. I'm saying that there's more to the mind than the brain. Some skeptics don't want to believe that...it's easier to question the evidence."
'Readers...make up own minds'
MindBodySoul editor Nick Rockel, who assigned and edited the story, says he trusted staff writer Johnson, who is also The Straight's health editor, to do accurate research and feels the piece is balanced. "We leave it to readers to make up their own minds," Rockel says, echoing UBC's Black.
But, again, how can readers do that when a reporter hasn't included easily available scientific studies that prove people have no more than a random chance of knowing when they're stared at?
Rockel suggests that readers could do their own research. He adds that he believes ethical standards of The Straight's journalism are uniform across their publications, and he has never been told to write something to please advertisers. But he also begs off answering questions because he has just been to the dentist.
Charlie Smith, the newspaper's editor, declined to comment, saying that he didn't assign or edit anything in the magazine.
At least some of the confusion over pseudoscientific claims occurs because of what New Age practitioners call "scientific" studies and research -- and some journalists report as such -- that don't meet the standards of science. The results can't be replicated by anyone else.
"The art of science is in designing the experiment," says Ronald Rensink, a professor of computer science and psychology at UBC. He might be mistaken for a New Age wingnut himself, given that he investigates intuition and perception. The difference is that he employs scientific research techniques and his experiments can be repeated by any other researcher and produce the same results.
Rensink describes the research process as slow and painstaking, as researchers scrutinize their experiments and their data for accuracy. That's one way of distinguishing between pseudoscientists and the real thing. Pretenders like Sheldrake leap to conclusions based on poor quality experiments and then they invent things -- like morphic fields -- to explain their results. Rensink says existing scientific knowledge explains the "mysteries" confounding Sheldrake.
Sixth sense?
Rensink is hardly one of science's conservatives. He is known for his research into what people often call the sixth sense and he has dubbed "mindsight." That's the intuitive feeling some people have that something is "wrong." His argues it's connected to part of the brain that unconsciously recognizes simple patterns and then notices when those patterns change. Because it's not done consciously, it leads to that "spooky feeling."
Rensink is planning experiments with illusionists who somehow trick the eye (or the brain?) into believing the impossible -- such as buildings disappearing.
"I'm interested in the nature of visual perception, attention and consciousness -- so I'm investigating the science behind magic," Rensink says, adding that he would be pleased to see more legitimate research done on New Age notions. "You go and listen to people who have anything to say, but you don't just leave it at that -- you put it to critical tests."
Beyerstein echoes Rensink's points about Sheldrake misrepresenting his research. As for why people are so quick to embrace frauds, he says many researchers have found the underlying appeal is that it provides human beings with a sense of control.
Beyerstein believes that is the major reason people are attracted to quack therapies -- instead of complicated medical language and impersonal doctors who issue orders, they're offered the charismatic healer who promises to fix everything.
'Comforting noises'
Beyerstein, who is involved in the B.C. Skeptics, which provides the public with science-based information on the paranormal, says it's also well known that people who invest money in something are more likely to believe it works. That's easier than admitting they were just fleeced of $100 -- or tens of thousands in the case of some "wellness" treatments.
As for media and schools that endorse charlatans, Beyerstein says research suggests it's likely they don't question what they're told because it reflects their own world-view. "Also, there is often a view that you don't want to rock the boat or oppose people who make comforting noises," Beyerstein says, adding that there are few things as reassuring as believing there are invisible energy bonds between you and loved ones.
"A lot of people are naïve -- that's why they are in the New Age. They're not knaves, they're just stupid," he says.
While he says that magic thinking is obviously a hazard when it comes to making decisions about healthcare, politics or business, Beyerstein also sees the potential for New Age ideas to infringe on human rights. Along with his brother Barry Beyerstein, a psychology professor at Simon Fraser University, he investigated businesses using handwriting analysis, which is magic, for hiring. They wrote a book debunking graphology, The Write Stuff.
He argues that using magic for hiring, firing and understanding others is akin to invoking other unproven beliefs such as racism and sexism for decision-making. "How is it different?" asks Beyerstein. "You're still using unproven beliefs to make judgments other people."
But Beyerstein also raises a point that other academics have brought up; they're concerned about the impact on a society over the long run of misinforming the public and diverting our attention from the facts.
Propaganda techniques
In the past, sellers of superstition might just make a few bucks off the gullible -- a time-honoured practice in the marketplace. But today's "alternative" ideas community uses propaganda techniques, including half-truths, misinformation and meaningless buzzwords, coupled with sophisticated marketing and media manipulation, to deny facts and knowledge.
The Ramtha cult members who produced the film What the Bleep Do We Know?, for example, misrepresent quantum mechanics to confuse their audience, and are typical of this new breed of charlatans using modern misinformation techniques to further their Iron Age notions.
Of course it isn't just the New Agers promoting myth and magic as a replacement for science and rational thought. The 1990s saw the growth of the Christian right, and attempts to re-introduce creationism into the schools under the moniker "Intelligent Design." A few years ago Stockwell Day, now Canada's minister of Public Safety, embarrassed himself by touting his religiously inspired belief that dinosaurs and humans roamed the earth simultaneously, about 6,000 years ago -- but he still won his Penticton riding in a landslide. In the U.S., about 59 per cent of Americans believe in the Rapture, according to a Time Magazine/CNN poll in 2002.
While some people might, naively, entertain magical thinking and irrational claims as a way of being open-minded, it's becoming increasingly clear that if we continue courting this New Age, we run the risk of descending into a New (Dark) Age.
A GUIDE TO RATIONAL SELF-DEFENCE
Thanks to the internet, there's no longer any excuse for being suckered by charlatans. A number of citizens, including scientists, doctors, and philosophers, who worry about the growing prevalence of New Age misinformation, pseudoscience, and quack therapies offer resources, including tips for spotting the con and discussions on the common habits of frauds.
The Skeptic's Dictionary: The invaluable Skeptic's Dictionary run by Robert Todd Carroll, a philosophy instructor at Sacramento City College, includes clear definitions of such vague ideas as "morphic resonance." Find it here.
The Committee for Scientific Investigation into Claims of the Paranormal: CSICOP -- pronounced Psi Cop -- is an international non-profit organization of scientists, science writers, academics and others who keep a critical eye on the hucksters. It also provides articles and information for understanding why anti-science concepts like "Intelligent Design" -- the religious right's latest attempt at convincing the world that the Christian origins myth is literally true -- are absurd. Go here.
B.C. Skeptics Society: Want to know what the local practitioners of the paranormal are up to? The non-profit society reports on local groups and dubious practices as offering a practical tutorial on improving critical thinking skills. Read up here.
Quackwatch: A site dedicated to debunking quack therapies. Find it here.
Barry Beyerstein: The SFU psychology professor's site includes articles on how to spot pseudoscience and a chapter from the The Write Stuff, debunking handwriting analysis, which he wrote with brother Dale Beyerstein. Find it here.
© Shannon Rupp. For permission to reprint this article please contact the author: shannon(at)shannonrupp.com.