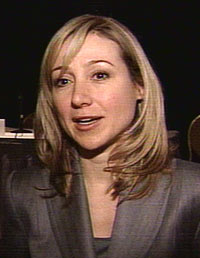 It was the year of faulty intelligence and intelligent design. There were shootouts on the ice and shootouts in the streets. And the Canadian Supreme Court declared that wife-swapping is legal, while ReformaTory leader Stephen Harper announced certain kinds of wives should be illegal. It was the kind of year that made Paul Martin want to jump on Adrienne Clarkson's couch and declare his love for Belinda Stronach.
So, download your favourite Peter C. Newman/ Brian Mulroney/Gurmant Grewal tape to that iPod Nano, and let's look back at 2005 and brace for a year where politicians will tackle each other to kiss the New Year's baby.
On the national scene…
Toronto had its biggest dream come true. With the upcoming world premiere of The Lord of the Rings musical -- and over fifty gun deaths in 2005 -- all it needs is a bit more litter and a better baseball team to finally become New York.
Prime Minister Paul "Gomery says I didn't do it" Martin appointed former CBC broadcaster and alleged separatist Michaelle Jean as the country's new Governor General, replacing former CBC broadcaster Adrienne Clarkson. Meanwhile, "Great Canadian" Don Cherry has stopped worrying about his retirement plans.
The World Trade Organization ruled that Canada can retaliate against the US over softwood lumber tariffs. US President George Bush immediately apologized, citing his deep and abiding concern for international opinion.
A new study showed Canadians are drinking more than ever before, which is good news, because it means that not everyone's hooked on crystal meth yet.
Meanwhile, the Supreme Court declared that there was nothing indecent about group sex: as long as all the men remembered to wax their backs.
Former Prime Minister Brian Mulroney received an honorary degree from Concordia University, but his celebration was short-lived when he discovered that the ceremony was being taped by Peter C. Newman.
JetsGo, JetsGone.
Minority Report…
The Liberals survived a near death experience when Tory Barbie Belinda Stronach crossed the floor and joined jolly Jack Layton's NDP in propping up the government. Disgruntled ReformaTories called their former first star an opportunist, a Jezebel and pretty much every name in the book before settling on the nastiest slur they could think of: "Liberal."
ReformaTory MP Gurmant Grewal taped Health Minister Ujjal Dosanjh saying something, but had to lip-synch the lines about bribes after suffering from acid reflux.
Jack Layton took Paul Martin off life support when he refused to prop up the NDP government's Medicare policies. Layton was the only leader in favour of a Christmas election, since he runs the only party that believes in Santa Claus.
Paul Martin kicked off his re-election campaign by bravely attacking US President George Bush on the burning issue of environmental policies, which was so much more daring than talking about Iraq or lumber tariffs. US Ambassador David Wilkins publicly scolded Martin for criticizing the president. Martin immediately attacked Bush again and sent the full text to Wilkins along with a "thank you" card, a fruit basket and a magnum of champagne.
Canadian Republican leader Stephen Harper started his campaign by coming out against gay marriage, proposing mandatory sentences for drug offenders and declaring victory in Iraq.
BlocHead Gilles Duceppe finally admitted the real reason Quebec wants to separate is to form its own hockey team to compete in the Olympics. Three weeks later, Mario Lemieux suffered an irregular heartbeat and was forced to withdraw from the Olympics, and Duceppe became a federalist.
Stephen Harper says Paul Martin is a liar. Paul Martin says Stephen Harper is not a demon. Which one do you believe?
Back in Beautiful BC…
Gordon "one more for the road" Campbell was reelected, becoming only the second BC Premier in more than twenty years to win a second consecutive victory. However, thanks to the drunk driving charges in Maui, he did keep up BC's noble tradition of insuring that all our Premiers face criminal charges within ten years of election.
As part of his campaign, Campbell banned teachers' strikes. And that worked out really well.
Vancouver's Mayor Da Vinci became Senator Da Vinci, ruining the proud municipal tradition of becoming premier and being chased from office with a scandal or indictment. BC's newest provincial leadership candidate Sam Sullivan immediately began auditioning for his shot at TV stardom by admitting that he'd once helped a friend buy crack cocaine.
COPE classic fizzled.
The A&W lottery fight remained hotter than their onion rings. Apparently, that's what happens when you play the numbers 4, 8, 15, 16, 23 and 42. And it gets even worse when you forget to input them in the deep fryer.
Vancouver was once again named the best city in the world to live in by the Economist Intelligence Unit's Livability Survey. Unfortunately, when members of the Unit returned to present the survey results, someone broke into their car, stole their briefcase and pawned it to buy crystal meth.
The Greater Vancouver Transit police are now armed. So far, three people have been shot for reusing their transfers.
Vancouver City Council backpedaled on plans to create two bike lanes on the Burrard Bridge. Cyclists considered protesting by disrupting traffic, but even the most earnest cyclist realized that would be just too darn ironic.
Meanwhile, in the rest of the world…
The US is still at war in Iraq, but some progress has been made. US Secretary of State Condoleezza Rice was able to negotiate peace between Letterman and Oprah. No word on Rice's progress in the Pitt-Aniston affair.
Life imitated a Tragically Hip song when New Orleans sunk. Hurricane Katrina was the worst disaster in American history. On the bright side, a telethon to help the victims raised millions of dollars for corrupt Red Cross workers, and Kanye West's declaration that, "George Bush hates black people," prompted Mike Myers funniest performance since the first Austin Powers.
The government of France decided their country should launch its own 24-hour-a-day news channel. In order to prove they actually had enough news, the people of France agreed to launch their own 24-hour-a-day riots.
Now that Private Lyndie "I just want a souvenir for the kids" England has been sentenced to three years in prison, US President George Bush has declared that, "the US does not torture." However, just as former President Bill Clinton asked for clarification of the word "is," Bush has asked for clarification of the word, "not."
Holocaust denier and hardhat spokes-model Ernst Zundel returned to The Fatherland where he was promptly charged with denying the Holocaust. Zundel now claims that Germany doesn't exist
Meanwhile, wacky Prince Harry dressed up in a Nazi uniform for a costume party. Although this upset most of England, it did brighten up Zundel's day.
A US federal judge shocked America by stating the obvious: that intelligent design is just a new name for "creationism." The first clue was that one textbook used to teach intelligent design, Of Pandas and People, had originally been used to teach creationism, and the publishers simply replaced the word, "creationism" with the words, "intelligent design." However, supporters of the text claimed their theories had evolved since then, just not from monkeys.
US President George Bush, named his longtime advisor Harriet Miers as his choice for Supreme Court Justice even though she's never been a judge. Miers was apparently chosen after an exhaustive search where Bush ruled out his golf pro Jenna's former nanny and the entire Charlie Daniels Band.
And in the world of infotainment…
The NHL returned after a canceled season and fans who'd vowed never to watch the game again packed every arena and set new ratings records. And the shootout was so popular that kids began copying it on the streets of Vancouver and Toronto.
CBC locked out their workers and then locked out their viewers by replacing the entire television schedule with Antiques Roadshow. Radio listeners were hit particularly hard as thousands of Canadians had to learn how to operate their tuners. Many CBC radio listeners are still recovering from the discovery that most stations don't consider Bach "modern music."
In a year filled with political intrigue, the person most Googled by Canadians in 2005 was, of course, Janet Jackson, who brilliantly followed her 2004 "wardrobe malfunction," which partially exposed a breast, with a complete "wardrobe meltdown," as nude sunbathing pictures heated up the Internet.
The Chicago White Sox won the World Series, meaning there are no more fun curses left in baseball: at least until they revive the Expos.
Fifty-nine year-old former actor Sylvester Stallone announced plans to return to Rocky and Rambo. Meanwhile, movie industry insiders remained puzzled over the disappearance of movie audiences.
Brad Pitt announced plans to adopt all of Angelina Jolie's children. Except little Soon Yi.
Nic Cage named his son Kal El, proving that if he wasn't a movie star, he'd be the real 40-year-old virgin.
Star Trek's Mr. Sulu came out of the transporter tube and admitted he's gay. However, Star Trek fans are still waiting for confirmation that there was something going on between Kirk and Spock.
Can Con crooner Bryan Adams recorded a new single with Tommy Lee sex tape costar Pamela Anderson. Although the song was sold as a duet, the rock video makes it clear that it's really more of a trio act.
Life imitated South Park, as Cartman's declaration that Sundance Festival faves were all about "gay cowboys eating pudding," inspired Ang Lee to make likely Oscar contender Brokeback Mountain. Another Cartman gag, about him entering The Special Olympics, inspired auteur Johnny Knoxville to do the live action version. However, there's still no official word on rumours that Peter Jackson next film will be an epic three-hour remake of, "Cartman gets an anal probe."
Oh bother. Disney announced plans to replace Winnie the Pooh's pal, Christopher Robin, with a girl in order to make their new animated series more contemporary. They also announced plans to replace Piglet with Stewey from The Family Guy. And instead of "the Pooh," Winnie will be now referred to as "the shit."
And in the world of what used to be known as news…
The mystery of "Deep Throat" was finally swallowed when former FBI boss Mark Felt was outed as the source for the Watergate leaks. Americans were, um, bored to tears as the man nobody would identify turned out to be someone no one had ever heard of. Following the collective yawns, Woodward and Bernstein began spreading rumours that it was actually Kissinger or Haig, after all.
In what appeared to be an extended Chappelle sketch, CNN was so shattered by the end of the Michael Jackson trial that it became the missing white women network preempting trivial stories about war in the Middle East or US Supreme Court appointments to focus on the real news: a bride with cold feet and a missing tourist.
Meanwhile, in what appeared to be a case of life imitating an old Monty Python sketch, every politician and pundit in the United States debated the right-to-die case of Terry Schiavo. The autopsy conclusively proved that both Schaivo and the US media were indeed in a persistent vegetative state with no discernable brain activity.
It was anchors away on the US news scene as America said goodbye to Dan Rather, Ted Koppel, Tom Brokaw and Peter Jennings. Walter Cronkite wept at the realization that this means America's most trusted news anchor is now Jon Stewart.
And finally, Gonzo journalist, Hunter S. Thompson killed himself. Thompson, who coined the phrase "when the going gets weird, the weird turn pro", apparently could no longer handle a world that was weirder than he was. Mahalo.
Mark Leiren-Young, a screenwriter, playwright and journalist, files his 'Fast Rewinds' of the news in BC and beyond monthly and yearly for The Tyee, and starting in January, he'll be filing even faster rewinds during the election.