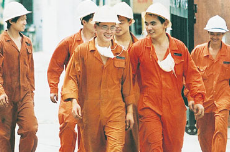 [Editor's note: To read the first eight big ideas, published yesterday, go here.]
MORE BIG IDEAS FOR CANADA
The Other Special Relationship
The grammar of Canada-US relations places a heavy emphasis on acknowledging mutual interest, on being good neighbors, stout allies and maintaining the world's longest undefended border. When Paul Martin chastises the American administration, as he did most recently at the climate change conference in Montreal, he's careful to convey his criticism in terms of friends simply needing to be honest with one another. And, like a friend, it didn't take long before the American ambassador returned the favor.
This rhetoric of brotherly diplomacy helps to smooth over sticky grievances and maintain a kind of fraternal politesse. Behind the scenes, however, the federal and provincial governments are going out of their way to court a new ally: China.
In 2005, various Canadian trade missions landed in Beijing, hoping to sign deals and secure investment in everything from manufacturing to basic research to raw energy. First, by supply, and now, by demand, Canada is cultivating a special Chinese relationship as a counterweight to its dependency on the US economy - putting itself squarely between two elephants, rather than next to one.
There's still a long way to go. Forty percent of Canada's GDP is dependent on trade with the US, which receives 80 percent of Canada's exports. China doesn't begin to compare with that. As for human rights -- the longstanding foil to expanded trade -- the consensus appears to have shifted, with western countries preferring practical engagement (and profit), to an arguably more principled stand.
Either way, the sheer gravitational power of the Chinese economy is impossible to ignore. As NYT columnist Thomas Friedman pointed out in this year's best-selling account of globalization and trade, The World is Flat: This isn't a race to the bottom, but the top.
Future-proofing
First, it was Jane Jacobs' 2004 book, Dark Age Ahead. Then came Jared Diamond's Collapse. Then Ronald Wright's 2004 Massey Lecture, A Short History of Progress. By 2005, the idea of thinking forward and learning from both the dumb and the doomed had come fully into vogue. One solution to not repeating yesterday's mistakes? Future-proofing, an inane and irritating bit of marketing hokum ready to leech any residual value from genuine thoughtfulness and package it as a ready-today solutions for everything from better condo development to technological obsolescence. Taken to its logical conclusion, a future-proofed future implies a smiley kind of stasis where, both impervious and omniscient to the locomotive around the next bend, tomorrow will unfold with the soothing predictability of a first-quarter business plan.
But for deeper thinking about what's ahead, consider the Long Now Foundation which is building a clock to last ten thousand years in a Nevada mountain range. Or Italy's Slow Food movement, that is restoring both character and custom to regional cuisine. Or the scenario builders at Shell. And closer to home, Imagine BC, an initiative dedicated to thinking about the future of the province over the course of the generation to come.
BIG IDEAS FOR BRITISH COLUMBIA
Golden Decade
Is this to be British Columbia's 'Golden Decade?' It depends who you ask. Talk to any BC Liberal cabinet minister and they'll surely agree. The phrase became a rallying call during this year's provincial election. Just look ahead , they said, and see all the fortune the next ten years will bring: a strong resource sector, a white hot real estate market, new advances in power technologies, software and genomics, an influx of immigrants from abroad and other parts of Canada, and to cap it off, the Olympics, taking place in what Premier Gordon Campbell promises will be the healthiest jurisdiction in the world.
Others point out the recent economic surge is illusory: built from the concessions of a quickly polarizing labour market, fired by environmental negligence and bloated by speculative investment that has created a bubble bound to burst.
What's not in question is that the idea of a 'golden decade', when not deepening political cynicism, is a powerful attempt by powerful interests to change the popular story about British Columbia.
The Berkley professor and linguist George Lakoff made headlines and became the reigning guru to the US Democratic Party this year with a thin book called Don't Think of the Elephant. According to Lakoff, all political and popular ideas exist within what he calls, a 'frame': an accepted set of beliefs or convictions that give veracity to our experience of society and each other. In public life, we look to politicians to confirm and reassure us with popular mythologies. Political success depends on capturing and manipulating these narratives. Says Lakoff, simply trading words like 'environmentalism' with its heavy baggage for the fresher, less threatening 'sustainability' can move mountains. It all sounds a bit Field of Dreams: If you say it, they will come. We'll see how long BC's golden decade can keep its shine.
Cut and Cover
Don't talk to the business owners, residents and thousands of daily commuters who rely on the Cambie corridor for their livelihoods, their neighbourhood or simply to get to work. They just don't like it and no increase in property values - not even in property-mad Vancouver - is going to make it better.
"Cut and cover" will probably go down as a born-in-BC contribution to the national lexicon. As in, "This job's a real cut and cover." Or "just cut and cover." Make a mess, damn the consequences.
At least that was the thinking that led Vancouver City Council and Translink to literally ditch their original plans for carefully boring a train-sized tunnel to the airport. Both Council and Translink say their cut and cover method will shave serious money from the construction budget. Those affected say the savings are on their backs.
Residents of Boston, who endured that city's "Big Dig," - the largest civil engineering feat in American history -- might have a few tips and a bit of sympathy for their Vanland brethren. Recently completed, the Big Dig excavated millions of tons of dirt and rock from beneath the city, periodically opening vast canyons stories deep next to sidewalks and thoroughfares, as construction workers installed new subway lines and buried Boston's notorious waterfront highway.
To STV or Not to STV?
It was supposed to be "a good way to a good place": the informal motto for those who work at Simon Fraser University's Centre for Dialogue, host to the province's Citizen's Assembly on Electoral Reform. Bring together a randomly selected jury of 100 BC residents, call in the experts, and banish the politicians from the room.
The assembly studied electoral systems from around the world, commissioned new research, deliberated for nearly a year and ultimately produced a homegrown electoral model called BC-STV. Experts claimed it was demonstrably superior, evening out the all-or-nothing consequences of the current single member plurality system, and giving voters a wider range of choices at the ballot booth. But after all that deliberating, money spent and a referendum, the result was tantalizingly close, just not close enough.
Part of the problem was that the Assembly's proposal was impossible to explain. Say what you will about the inequities of the current system, but the logic and transparency of "vote once and the person who gets the most votes wins" is at least reassuring. No such luck with BC-STV, which had an embarrassing habit of baffling pundits and politicians who tried to explain it on air.
Efforts to get out the yes vote were also hampered by the fact that the government's commitment to hold a referendum didn't include much in the way of funding to educate the public about the new system. A small working group within the Attorney General's office tried to get the message out, but with few advocates in government, BC-STV never really found its clear-throated champion.
In time, electoral reform is likely to still happen. In most jurisdictions that have ditched old voting systems, it's taken two or more tries. But what if we've had our eye on the wrong prize?
If the real aim of reform is to renew democracy by creating a more engaged public, maybe what the province really needs isn't just a new voting system, but more assemblies made up of citizens. In countries like Denmark, citizen juries are routinely convened to inspect and recommend policy on everything from the environment, to education to their national future. In this light, the Citizen's Assembly could be the stirring of a more consensual democratic model that would rely less on voting - and better still, less on politicians.
Hard to COPE
COPE was the electoral force that turned out the establishment NPA and made Vancouver politics a byword for left-leaning progressivism. Its achievements were many: a plan to revitalize the old Woodward's, a safe injection site that could serve as a centerpiece for a real, comprehensive harm reduction approach to drug and crime, and other policies that have urban and social policy planners across North America routinely touting the Vancouver Model for its originality, sustainability and excellence.
But a conflict broke out between the old and new guard - so called COPE Classic and COPE Light -- and the result, a splinter party called Vision Vancouver very much splintered the leftish vote. In the end, the election was a rout as COPE lost control of City Council, the School Board and the Park Board. Only a single member of COPE occupies a city council seat, forming, along with four Vision members, the opposition to a renewed NPA regime.
The final chapter has yet to be written; COPE may live to fight another day. But for now, it's simply the coalition that forgot to coalesce, proving sadly, that the left rarely has a worst enemy then itself. United they stand…
Hockey
Right. Hockey. An idea we all thought may have come and gone has come back with a vengeance. With new rules, a new salary cap and maybe another chance to become a big idea for people south of North America's snow belt.
It took Canadians one long, dark season of withdrawal to rediscover the other rinks not covered on TV: The women's league with its new Clarkson Cup; the sterling college teams and little leagues and pick up games in your neighbor's backyard. Now, as we head back to the stadiums and tune in and hear that reassuring Ba-ba-da-ba-da of Ron Maclean and Don Cherry, we can be happy again, on big ice and small. The state of hockey nation is once again strong.
Peter MacLeod writes the ReState column on new ideas in governing for The Tyee. He is a doctoral candidate at the London School of Economics and convenor of The Planning Desk, an evolving studio for public systems design.
Please add your own suggestions for big ideas of 2005 by posting a comment below.