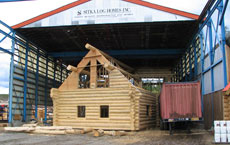 British Columbia will be represented at the 2006 Turin Olympic Games by a log cabin. I suppose we are not sending an igloo because it would melt?
It is no wonder that people outside of Canada have strange misconceptions about life here. In my travels I have come across many who believe that we all commute to work by dog sled and eat maple syrup daily. The reality in this province is that a large percentage of the population lives in glass and concrete condominiums and can choose to eat from a variety of first-rate restaurants. The request for proposals issued by the Ministry of Economic Development for the project asked that the house be "distinctively British Columbian, both inside and out". With this in mind, why is that the ministry chose to fund the construction of an outdated and irrelevant building form?
The project, named BC Canada House, will be designed and constructed in 100 Mile House by Sitka Log Homes and Oberto Oberti Architects. The house will be shipped in parts and assembled in the Piazza Valdo Fusi, one of Turin's most prominent public spaces. The 4500 square foot building will be filled with BC and Canadian products. From January to March 2006 it will be used to showcase our industry and culture to the world and to host delegates, visitors, athletes and media from Canada and abroad.
The qualified entrants were asked to propose "a BC-themed house" that would "celebrate British Columbia's and Canada's past, present, and future". A log cabin represents neither the present nor the future of the province, but even its past relevance can be called into question.
Log cabin kitsch
The romantic vision of the log cabin didn't exist in North American until the US presidential campaign of William Henry Harrison in 1840. Harrison fabricated the myth to exploit the country's urban/rural divide between the Democrats and his own party the Whigs (now the Republicans). The Democrats had claimed that the Whigs lived in log cabins and drank dirty cider - this implied that they were nothing more than uncultured hillbillies. The Whigs masterfully proceeded to turn this insult around; they built their entire campaign around the romance of living in a log cabin. Since then, many American presidents have falsely claimed to have been born and raised in a log cabin because the rustic life it symbolized came to embody the notion of an honest American life.
The log cabin was a building type imported to North America from Northern Europe where there was a tradition of its use in rural areas since the seventeenth century. Oliver Neumann, assistant professor in the School of Architecture at UBC, relays the history of these one-room shelters. "As long as there were trees and you had an axe, you could build a house in a day or two. Log cabins were only ever used as transitional shelter when an area was first settled. The method of construction was crude and used under necessity, not choice. Even fur traders had built framed houses instead when they had the time."
Historically, the length of a log home was determined by the length of the logs available, now log home builders are making larger more spatially-complex interiors that require sophisticated joinery. Professor Neumann remarked that "log building used to be a method of construction, but it has now become a style". If this is the case, then why don't we keep the look if that is desired, but use a more contemporary technology that uses material more efficiently?
'Newest, most advanced'?
Professor Neumann has been researching alternative technologies for the fabrication of wood buildings. He described the high level of craft and skill that goes into the construction of the type of log homes built in BC, but questioned its end. "It's like painting an amazing Renaissance painting today. The execution of the painting might be good, but why do it?"
The BC Canada House was supposed to be "showcasing the newest and most advanced British Columbian and Canadian technologies" according to the design guidelines in the RFQ/RFP. A log home is not a great example of sustainable building design, despite the fact that Sitka Log Homes is moving towards more environmentally sustainable options for log home construction. Five years ago, the company used wood harvested primarily from living old growth forests, now as much as 80 percent of the wood that is used in their homes is dead standing wood selectively logged from forests killed by the pine beetle infestation. Log construction is extremely resource heavy; to build a similar sized house framed with 2x6 wood studs only a fraction of the amount of wood needs to be used.
One technology that Professor Neumann believes has potential is CNC (computer numerical control) technology where machine tools are controlled by a computer to reduce the manufacturing time of complex cuts and 3-D forms. This technology opens up possibilities to use leftover or shorter lengths of wood in the framing of buildings.
"A log home was essentially a box. It had no sensitivity to the surrounding landscape, but BC has another long-standing tradition that can rival the log home". The tradition that Professor Neumann refers to is a regional style of architecture that is based on an awareness of the environment and a history of post and beam wood construction. It started in the late 50's with architects like Ned Pratt, Ron Thom and Arthur Erickson and continues to have a legacy today in the work of the Patkaus and a younger generation of architects today.
'A very romantic picture'
When I asked Walter Bramsleven, general manager at Sitka Log Homes why he thinks we should represent BC and Canada with a log home at the Turin Games he answered, "Log home building is becoming and has been a staple of the BC economy for a long time. It is probably one of the fastest growing economies in BC right now. It is bringing in a lot of money to the province from outside. BC has a long-standing tradition of log building. We have the finest quality log home builders here. This is a high end, high value-added product. We employ 35 full-time people. There is more employment per wood than a sawmill."
The BC Canada House will not be the first Sitka Log Home in Italy. The company has been successfully exporting log homes internationally for some time; the US makes up 75 percent of their sales and they have shipped a house to Australia, several to Korea, and built one last year in the Italian Alps. While there may well be a burgeoning niche market for these buildings and exporting log homes rather than raw natural resources is a step in the right direction, I do not believe that this is the type of building that should be promoted and endorsed by the BC government through public funds.
I asked Mr. Bramsleven if he thought that a log home was a stereotypical image that the world has of BC and Canada he responded by saying that "nothing defines Canada more than a log home; it paints a very romantic picture. Everyone's idealistic vision of winter is sitting around a fireplace in a log cabin on a ski hill. This is a well-defined Canadian image."
The BARK Design Collective do not agree that this image is beneficial to the international promotion of our culture and industry. They have been trying to export a more contemporary brand of BC and Canada that isn't tied to maple syrup and log homes.
A 21st century 'cabin'
Coincidentally, BARK is also sending a cabin overseas: the All Terrain Cabin (ATC) will be sent full of BC and Canadian-design wares to Japan this fall for one of the world's largest annual contemporary design events - Tokyo Designer's Block. The 480 square foot cabin unfolds from what is essentially a standard twenty-foot long shipping container. The ATC and the products within include truly cutting-edge technologies and a real diversity in materials and methods. I would recommend the Ministry of Economic Development look at this project as a model of how to promote BC and Canada by moving confidently forward in the twenty-first century without resorting to nineteenth century nostalgia.
Helena Grdadolnik will be writing an occasional series on architecture in British Columbia for The Tyee. We acknowledge the support of the Canada Council for the Arts which last year invested $17.6 million in visual arts throughout Canada.
Grdadolnik is a freelance writer, a founding member of SpaceAgency and an instructor at the Emily Carr Institute of Art and Design. She can be reached at hgrdadol@eciad.ca