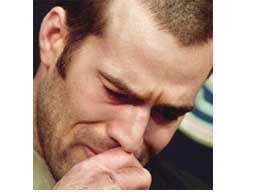 Mad cows, madder politicians and furious voters made 2004 the maddest year ever. Even the Greatest Canadians were on seven-second delay. Here's a brief look back at a year of Desperate Housewives and even more desperate hockey fans…
January:
DNA tests confirm a mad cow in Alberta. The cow claims it's only mad because the federal government has asked the Supreme Court to rule on same sex marriage.
Liberal MP Sheila Copps threatens to run for the NDP but later decides she can't get too close to the New Democrats explaining, "Layton's moustache tickles."
After insulting the French by claiming that it's mostly "Europeans and French guys" who wear visors, the CBC puts Don Cherry on seven-second delay.
The NASA Land Spirit Rover lands on Mars to scout it as a potential location for a future season of "Survivor."
Ben Affleck and Jennifer Lopez split up after being forced to sit through a screening of Gigli.
February:
Canada's Auditor General discovers that the federal government gave millions of dollars to Quebec ad firms in exchange for a bilingual bumper sticker that reads, "Honk if you love Canada."
B.C. Finance Minister Gary Collins announces a balanced budget – "as long as no one gets sick and needs a doctor between now and July."
Janet Jackson exposes a breast on the Super Bowl. Nobody notices until parents across the U.S. wonder why their sons are rewinding such a lame song on TIVO. No one remembers who won the Superbowl.
Conan O'Brian comes to Toronto and the tour is declared a triumph when he doesn't die of SARS.
Quebec is outraged when Triumph the Insult Dog insults the French and Conan O'Brien refuses to put him on seven-second delay.
Michael Moore wins an Academy Award and people are outraged when he has the gall to get on stage and mention those pinko Dixie Chicks.
The Lord of the Rings wins eleven Academy Awards -- but the Academy is outraged when Frodo melts them in Mount Doom.
Classic toys Barbie and Ken finally split up, after Barbie discovers Ken's emails to GI Joe.
March:
Martha Stewart is convicted of insider trading. It's a good thing.
McDonald's announces the end of "supersize" but promises they'll still ask, "would you like fries with that."
Stephen Harper agrees to finish Reform's hostile takeover of the Progressive Conservative party as soon as they agree to remove the word "Progressive."
Quebec courts okay gay marriage but gay wedding cakes can still be stopped at the border if they're considered pornographic by Canada Customs.

Todd Bertuzzi attacks Steve Moore and is banned for the season. Bertuzzi quickly apologizes to Moore and cries. Radio sports call-in show callers applaud his sincerity, call him a real man and demand he be immediately be reinstated to the league.
April:
NDP MP Svend Robinson steals a wedding ring and resigns from the Commons. Robinson quickly apologies to constituents and cries. Radio call-in show callers mock his sincerity, call him a sissy and demand stiffer sentencing.
Nineteen million B.C. chickens are slaughtered after officials realize bird flu can't be cured with chicken soup.
Prime Minister Paul Martin remembers D-Day but mixes up Normandy and Norway, reminding Canadians why it's probably a good idea we're not a nuclear power.
Former B.C..NDP Premier Ujjal Dosanjh announces he's running for the federal Liberals. Dosanjh denies he's angling for a cabinet post and simply claims, "Layton's moustache tickles."
The media releases Iraq's Funniest Home Videos. Right wing pundits suggest that the Iraqi prisoners suffered no worse than frat boys being hazed. TV viewers suddenly realized why all these right wing ex frat boys are so darn cranky.
The Dalai Lama attracts 26,000 people to the Pacific Coliseum – all of whom are disappointed when he refuses to tell the story about Richard Gere and the gerbil.
May:
Ultra-Conservative leader Stephen Harper campaigns for Prime Minister as a "fresh face" as Canadian media sign an accord to ignore his role in forming the Reform Party and running the National Citizens Coalition that advocated building a firewall to protect Alberta from the bleeding heart socialists in the rest of Canada.
Jimmy Fallon resigns from the Saturday Night Live newsdesk, leaving an opening for Dan Rather.
"Friends" ends. Millions of American women are devastated – unsure of where they'll find their next hairstyle.
June:
Stephen Harper starts to lead in the polls and begins using the phrase, "when I'm Prime Minister." Sphincters tighten across Canada and Harper's support plummets.
Paul Martin wins a minority government.
The Bloc Quebecois win a record number of seats and credit Martin, Harper and Triumph the Insult Dog.
D-Day turns 60. Paul Martin sends a birthday card to Oslo.
The U.S. hands over Iraqi sovereignty. France surrenders.
Todd Bertuzzi is charged with assault for his attack on Steve Moore. Crown Counsel announces that the trial will not be a circus but the courts will be hiring two linesmen and a goal judge.
The Tampa Bay Lightning win the Stanley Cup. Canadian fans decide it's okay if hockey is suspended for a season or two so that everyone has time to get over the humiliation of a Cup in Florida.
July:
Alberta declares itself debt free and Ralph Klein announces plans to build that firewall.
B.C. announces plans to build new ferries in Germany. Premier Campbell explains that when these ones go over budget, "at least we'll be paying all that extra money to foreigners."
Vancouver City Council votes to install slot machines in Hastings Park after discovering that people weren't losing their money quickly enough by betting on the horses.
Michael Moore releases Fahrenheit 911. In a surprise ending, Bush wins the election anyway.
Molson announces potential merger with Coors. Joe Canuck proudly proclaims, "I was Canadian."
August:
Elite Athletes from all over the world gather in Greece to get their urine tested.
Edvard Munch's painting "The Scream" is stolen in Norway by armed robbers.
Apparently they were planning to steal the "Mona Lisa" from France but borrowed a map from Paul Martin.
September:
Vancouver Police bust the Da Kine Smoke and Beverage Shop on Commercial Drive for selling marijuana. All marijuana use in B.C. stops --- except in Nelson.

Citizens of Nelson propose building a monument in honour of U.S. draft dodgers.
Former deputy premier Christy Clark resigns and claims this has nothing to do with disliking Premier Gordon Campbell. To show there are no hard feelings, she offers to buy Campbell a martini.
The reality TV trend is declared over thanks to two hot new scripted shows – Lost, a drama inspired by Survivor, and Desperate Housewives, a series inspired by Jerry Springer guests.
The Expos leave Montreal and their mascot, Youppi, is forced to find work as a stripper.
October:
The Red Sox win the pennant. The Red Sox win the pennant. The Red Sox win the pennant. Babe Ruth rolls over in his grave.
Alleged singer Ashlee Simpson stops dead during a live performance on Saturday Night Live when she's forced to actually sing. After blaming acid reflux, her band, a wardrobe malfunction and Michael Moore, Simpson explains that she doesn't lip synch, she just uses a "backing track" to sweeten her vocals.
Arnold Schwarzenegger becomes governor of California. Fact officially becomes stranger than fiction. A Terminator travels back in time from four years in the future to stop a constitutional amendment that would allow him to become President and activate Skynet.
A survey shows most young Americans are getting their news from Jon Stewart – which means young Americans are far better informed than anyone previously realized.
U.S. President George Bush is accused of using a transmitter during debates with Democratic challenger, John Kerry. Bush denies this and says he was simply giving speeches to a backing track.
The NDP wins a provincial byelection in Surrey. Premier Campbell says he didn't really want that seat anyway. Green Party leader Adrienne Carr crashes, finally answering the question, "If a Green Party leader falls in a byelection…"
NHL president Gary Bettman, announces he's locking out the players until they agree to "cost certainty." NHL fans are shocked to discover that the night between Friday and Sunday isn't legally known as "hockey night." Bettman warns that teams are hemorrhaging money and won't survive unless players agree to a salary cap.
November:
B.C. developers pay an estimated 125 million dollars for a 50 percent share in the Canucks.
George Bush is elected President and vows to earn the trust of all John Kerry voters – as soon as all the ballots in Ohio are destroyed.
Nelson residents cancel plans to build a monument to draft dodgers and start preparing a new monument for Bush refugees.
A brawl breaks out at an NBA game between the Pacers and the Pistons. The NBA president admits he was hoping to boost his sport's popularity by attracting desperate hockey fans.
The B.C. Lions play the Toronto Argonauts for the Grey Cup. Lions lose -- pending a recount in Ohio.
Tommy Douglas is named "The Greatest Canadian" after viewers discover that his grandson is the guy who saved the world three times on the series, 24.
Don Cherry comes in seventh in the race for "Greatest Canadian" after studies reveal that most of the players wearing visors are Europeans and French guys.
Immigration Minister Judy Sgro is under fire after allowing exotic dancers to get fast track visas to work in Canada because they have "special skills." The government also reconsiders a law that fast tracks lap dancers from Lappland.
U.S. president George Bush visits Canada. Judy Sgro offers to take him out for a little Romanian hospitality.
Who lost after winning 74 consecutive Jeopardy games and who cares?
Britney Spears releases the greatest hits album, "My Prerogative." Spears later tries to recall the album when she discovers that prerogative is not hip hop slang for vagina.
December:
B.C. Liberal Finance Minister Gary Collins resigns from politics and takes a post as the new CEO of Harmony Airlines. The discount carrier immediately announces that they will now be adding business class seats "just so NDPers can't sit in them."
Mayor Larry Campbell and political allies Jim Green, Raymond Louie and Tim Stevenson leave COPE Classic to create C2. Asked what's wrong with COPE, the former coroner says it's too vanilla and that he knows death when he smells it.
Todd Bertuzzi is sentenced to one-year-probation. Sports reporters appeal the verdict, demanding a trial before their editors notice they've been filing the same hockey story for the last three months.
Three B.C. Liberal aides are indicted, money laundering and drug peddling among the charges. News reporters find it too boring to cover in any depth, and go back to skiing, golfing or writing year-in-review articles.
Toronto Raptors star Vince Carter is traded to New Jersey. Raptors fans go into Mourning.
Dick Clark is reportedly too sick to host ABC's New Year's Eve special and Regis Philbin agrees to fill in. Philbin denies finding a portrait of Clark in an ABC attic and setting it on fire.
The Supreme Court approves same sex marriage. Ralph Klein is madder than an Alberta cow.
Mark Leiren-Young used to write and perform the annual "Year in Revue" at the Arts Club Theatre with his comedy troupe, Local Anxiety, but now he's found a bigger stage here at The Tyee.