Just two weeks after landowner Jessica Ernst's landmark fracking lawsuit reached the Supreme Court of Canada, acclaimed journalist Andrew Nikiforuk surveyed the latest energy battleground for a packed Vancouver theatre.
Nikiforuk is well acquainted with Ernst's struggle for justice and the protection of groundwater -- he first reported her flammable tap water on The Tyee in 2011, and recently published a book, Slick Water, on Ernst's now eight-year lawsuit against the companies and regulators she holds responsible.
At his Jan. 28 talk, "Standing Up to Fracking," Nikiforuk placed Ernst's story in the context of B.C.'s push for fracked and liquefied natural gas, the global oil price plunge, and the rise of industry-caused earthquakes in northern Alberta and British Columbia.
Running two hours long, Nikiforuk's talk stands alone as a master class in fracking. For those who missed the event, we highly recommend you check out the video above.
Don't have two hours? Check out these four highlights below, or zip straight to a powerful reading from Slick Water, starting at 57:30 in the video. Thanks again to The Tyee's co-sponsors -- SFU's Vancity Office of Community Engagement and Greystone Books -- for helping to host the event.
1. On living in 'yes country'
"Let's begin with this larger tale you're living here in British Columbia. Government is saying, 'Hey, this (LNG) is the future.' Here in B.C. we have 20 different proposals (for LNG projects), but nobody has said they're going to construct anything yet. Because they're hedging bets. They all know this is kinda iffy.
"But your government is telling you: 'This is yes country!' We will bring all of these projects to yes. Because in B.C., we're positive thinkers. Especially when we have lowered the royalties, lowered the taxes, provided these companies free water, free geoscience, provided them more than $1 billion worth of subsidies in terms of pipeline and road incentives."
2. On d&eacutej&agrave vu
"When I was thinking about this -- LNG and shale gas and earthquakes and this remarkable woman Jessica Ernst who was causing a political earthquake in Alberta -- it struck me as d&eacutej&agrave vu.
"Ten years ago, in Alberta I was talking about a different resource. That was of course bitumen, and I was dealing with a government that said bitumen was the best thing since sliced bread. [They said], it's going to make us rich. We're going to build pipelines, and to get this all going we're going to lower the royalties down to one per cent or almost nothing -- we're almost going to give it away, this is good business for all of us.
"I remember thinking at the time this was absolutely crazy. To stake the entire province's future on the over-production of one resource that is well known as one of the most volatile commodities on the planet, I thought, was foolhardy.
"And here we are in B.C. reliving this same Canadian folly, right down to lowering the taxes, lowering the royalties. [It's] a government that has become a total and complete cheerleader for a resource, when the rest of the world is saying, 'Hey, we're seeing a glut in the market, prices are going to be low for a decade.' This is not a good venture for the people of B.C. to get involved in on the scale that is proposed."
3. On Alberta's role in global oil price drop
"A few years ago, oil was the most expensive it's ever been. That had a real impact on the global economy, which has been built on this myth that we'll always have cheap energy to burn. When we started to see $100 a barrel that all changed.
"It should have been the signal that business as usual is over. Instead we hit the hard stuff -- shale oil and shale gas, [and] bitumen. Oil and gas industries started borrowing enormous amounts of money to dig this crappy, high-cost, high-risk stuff out of the ground.
"As a result, you have over-production and a glut. This is not just about Saudi Arabia -- it was an overshoot response. Alberta was very much a part of that. We lowered our royalties; we encouraged this massive amount of production. We went from one million barrels a day up to 3.5 million barrels a day."
4. On fracking-caused earthquakes
"How long have we known this, that fracking creates earthquakes? There are recordings as early as the 1970s. [In 1978] the commercial stimulation of a 3,000-metre deep well triggered 70 earthquakes in 6.2 hours.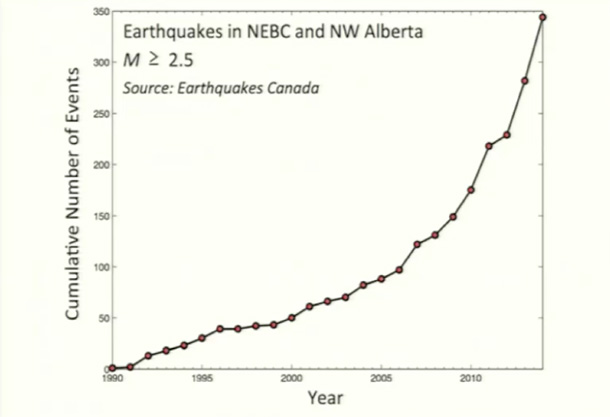 "It should come as no surprise then, as the industry promoted hydraulic fracturing, you begin to see the earthquake patterns in B.C. and northern Alberta dramatically change. This is a graph showing the magnitude 2.5 earthquakes; they're on an upward trend. We're doing a good job of shaking things up there.
"What do regulators say about this? The government says don't worry, we'll set up a traffic light system.... So when you hit a 4.0 earthquake, that's a red light, better stop operations. That's the system you have in northern B.C.... Whereas in England, a little island with lots of people, their system, if you trigger a 0.5 earthquake, you're shut down."
Want to know more? Watch the full video event above, or catch up on Andrew Nikiforuk's latest reporting on fracking earthquakes in B.C. here. His latest report on the ongoing Jessica Ernst case is here.
Quotes have been condensed for clarity and length.