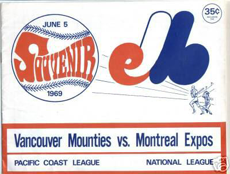 For the first time since the Swinging Sixties, a baseball season has opened without a team in Montreal. The hapless Expos have been moved by Major League Baseball to Washington, DC. The demise of Canada's first big-league ball club ends an era during which baseball fans learned Grand Orange was not another brand of soda pop but the nickname for amiable outfielder Rusty Staub.
I think baseball will come to rue the decision to no longer play in a city where rue means road and a frappe is a hit as well as a fancy iced drink. Here's why:
1. It's nice to have at least one ball park where you can hear yourself think.
2. The Expos are the only team to have a batter - Ron Hunt - whose greatest offensive threat is to get hit by a pitch.
3. Gary Carter, the only Expo in the Baseball Hall of Fame, wanted to be inducted as a New York Met.
4. Had best-named third baseman in baseball - Coco Laboy.
5. Once employed pitching coach named Calvin Coolidge Julius Caesar Tuskahomah McLish. He liked to be called Buster.
6. Northernmost franchise in National League gave American sportscasters an opportunity to work on igloo jokes.
7. List of ballpark delicacies no longer includes poutine.
8. Management claimed not to know about cocaine addiction of outfielder Tim Raines. Believed nickname of Rock referred to his preference in music.
9. Bill (Spaceman) Lee, a pitcher who sprinkled marijuana on his breakfast pancakes, asked to wear uniform No. 337, so fans could read his name when he stands on his head.
10. Only baseball team named for a world's fair.
11. Team logo, unveiled in 1969, is a red-white-and-blue Rorschach ink blot. Some say the stylized M includes initials C.B. for owner Charles Bronfman. Others see Rick Monday hitting his infamous homer eliminating Expos from 1981 playoffs.
12. First homer in club history is hit by a pitcher off a future Hall of Famer. Dangerous Dan McGinn takes Tom Seaver deep.
13. In inaugural season, Montreal shares Vancouver Mounties as farm team with Seattle Pilots. Arrangement proves fatal to Vancouver and Seattle, both of which lose their teams before the following season. Expos linger for 35 more seasons.
14. The Expos lose every game they play in May, 1969, giving new urgency to the word Mayday.
15. After dismal inaugural season, during which team wins 52 games and loses 110, manager Gene Mauch promises more victories. The Little General's slogan: "70 in '70."
16. The Expos win 73, which means they still lose 89.
17. A chunk of the concrete roof at Olympic Stadium falls in 1991. The bad news: The Expos are homeless for a month. The good news: The club has so few paying customers no fans are in danger of being squashed.
18. The team retires three uniforms but only two uniform numbers. Carter wears No. 8, while Rusty Staub wears No. 10 before Andre Dawson dons hand-me-downs.
19. When the Expos at long last become contenders and favourites to win the World Series in 1994, players vote to go on strike.
20. Unsettled by the possibility of becoming champions, management greets a return to work in 1995 with a fire sale of top talent. The club quickly returns to accustomed mediocrity.
21. That same year, manager Felipe Alou allows Greg Harris to pitch an inning ambidextrously, thus giving the Expos the only hurler in baseball history capable of losing a game with either arm and in both official languages.
22. Dismissal of Youppi! ends career of sport's only bilingually onomatopoeic mascot.
23. Everyone loves a patsy.
Tom Hawthorn is not now and has never been (well, just the once) a member of the Young Expos club.