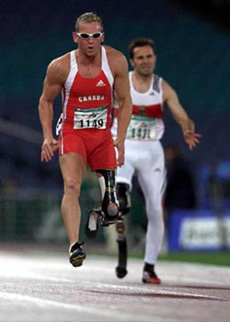 In 1984 the sporting world marvelled at the appearance of athletes with disabilities at the Los Angeles summer Olympics. For the first time, athletes in wheelchairs -- crude by today's standards -- sped around the track in the women's 800 meters and men's 1500 meters.
One athlete in particular, Rick Hansen, went on to become one of Canada's most recognised sporting heroes.
It seemed then that we were poised for change. Yet American TV networks are offering zero coverage of the opening ceremony of the 2004 Paralympics, which begin today in Athens and run until Sept. 28. Canada's CBC will be providing minimal coverage -- we will have to dig deep to find out how our own athletes are performing.
Only scandal, it seems, puts the Paralympics in the news. This week, Canada's top sprinter, Earle Connor, received a one-year ban from
competition and a lifetime band from government support.
The cash is in beach volleyball
In the 2004 Athens Olympics, some athletes with disabilities once again took part. But their place in the Olympic movement remains unchanged. The men's and women's track events are still demonstration level and they still do not receive the same medals as their able-bodied teammates. The athletes were not even allowed to march in either the opening or closing ceremonies.
Why has the status of athletes with disabilities competing in the Olympics remained the same?
First of all, there is immense competition from other sports seeking demonstration status. Secondly, in deciding what becomes a demonstration sport the IOC considers potential TV revenue more than any other factor -- hence the addition of beach volleyball.
Thirdly, the International Paralympic Committee (which governs the Paralympics) likely remains thankful that its athletes are present in the Olympic movement regardless of how they are treated.
Great expectations, greatly disappointed
In the 1984, Canada's athletes with disabilities were proud to see wheelchair track in the Olympic program. In 2004 the presence of the same events is acting as a boat anchor, stopping further development and integration of more events and more athletes in the Olympics.
In my naive days as an athlete, I actually believed that sport would be a great way of showing the world that people with disabilities, although different in their methods, had the same inspirations and dreams. Today, sport is more of a bottom-line entertainment than ever.
I realize there are greater causes and greater needs in world these days, and the egos of a few hundred athletes ranks fairly low on the world's to-do list.
Yet for a while it looked like we might have achieved a significant first step. Today it looks like we cleared the steeplechase barrier, but got stuck in the water hazard.
Ian Gregson is the author of Irresistible Force: Disability Sport in Canada and was a Paralympic athlete in 1984 and 1988.