Footprints in the Air: The Interactive BC Carbon Map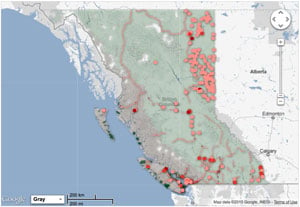 Since late last year, non-partisan, non-profit Tyee Solutions Society has been exploring British Columbia's climate impacts. Reports on B.C.'s five-year-old Climate Action Plan ran earlier. They revealed the challenge of grasping the whole of British Columbia's province-wide carbon footprint in a single picture.
Inspired by other pioneering experiments in data journalism, Tyee Solutions engaged freelance journalist Christopher Pollon and Hugh Stimson, a geographic information systems consultant, to attempt something new and different. Pollon, who writes about resource issues for The Tyee, The Globe and Mail and others, tracked down the specialized information the project required. Using free and open-source software, Stimson married multiple sets of data into one visual whole with scrolling, zooming and querying capabilities.
Credit also goes to Lisa Rockwell of the David Suzuki Foundation, Jane Boles of ERA Ecosystems and Sherwin Arnott of Pink Sheep Media for their assistance with different aspects of the project. Footprints in the Air was edited by the Tyee Solutions Society contributing editor, Chris Wood.
The project was produced in collaboration with Tides Canada Initiatives Society. Funding was provided by the Bullitt Foundation and Hospital Employees' Union. All funders sign releases guaranteeing TSS full editorial autonomy. TSS funders and Tides Canada Initiatives neither influence nor formally endorse the particular content of TSS' reporting.
To republish articles or inquire about embedding BC's Interactive Carbon Map in your website, please contact Chris Wood, here.
In This Series


Possibly the first interactive map of BC's carbon sinks and sources. A Tyee Solutions Society project.


The data behind the map and the assumptions made. A Tyee Solutions Society project.


Are BC forests a sink or source? Eelgrass a super-sequesterer? What we know and don't know about our footprint.