Coast Salish artist Shain Jackson remembers his grandmother's "bruised and bloody hands" as she deftly twisted strands of cedar root to weave traditional baskets.
Both an artist and a "matriarch" in her community of sh&iacutesh&aacutelh (Sechelt First Nation), Mary Jane Jackson spent the earnings from her handwoven work on flour to make bannock to feed the growing roster of community children she took under her wing.
"My granny used to take care of other people's kids, people who'd lost their way or died. She was like Mother Hubbard!" recalls Jackson, today a successful artist himself and president of Spirit Works gallery. "She exemplified the economic and cultural competence that are so important within the art market."
But while artists and artisans are a crucial and major income-generator for many indigenous communities, Jackson emphasizes that one mustn't lose sight of the cultural significance underlying the art. "Our history, our worldview, our culture, our laws -- they're codified into our artwork," he says.
Something so precious deserves protection, Jackson says. That's where the newly-launched Authentic Indigenous Arts Resurgence Campaign comes in. Launched in mid-April by the Aboriginal Tourism Association of B.C. and led by Jackson, the aim is to protect indigenous artwork under the motto "speaking truth, protecting cultures, providing for people."
A key aspect of the campaign is its Authentic Indigenous certification, a new way of guaranteeing that aboriginal art, whether it's handcrafted traditionally, custom-designed, reinterpreted or reproduced on new media or merchandise, is respected in terms of its origin, and the artist benefits financially.
The hope is that buyers of indigenous artwork will be empowered to learn where it came from and who made it. The vision is authenticity, a concept Jackson readily admits is subjective.
"We're not telling people what authentic is, because people have different visions of what it means. We're just providing them with the information they need to make a decision for themselves," he says.
"We want as many resources coming back to our communities and artists as possible, and we want control over our artwork. There's meaning to it; we don't want that bastardized or modified. It's got to be the real thing."
Three tiers
Here's how the Authentic Indigenous campaign works: artists categorize their work in one of three tiers. Tier one is entirely designed, created and distributed by an artist of aboriginal ancestry -- carvings, paintings, jewelry, or as Jackson says, "everything from a plaque carved on Main Street all the way up to a tall totem pole." All the proceeds go to the artist or community, since there's no middleman.
Tier two artwork includes products that use original indigenous artists' work, but produce them competitively for sale. A classic example is merchandise such as coffee mugs, sweaters, and hats designed by an aboriginal artist, but factory-produced and sold in places like gift shops.
Tier three, Jackson says, is the most problematic. It's where non-indigenous companies create and distribute indigenous-themed products. "It's the one that does the most damage if it's not done correctly," he says. "But it's also the one with the possibility of the biggest economic influence."
Under the new certification regime, which is voluntary, to be recognized as "authentic" the company using aboriginal art would need to pay a five per cent minimum royalty to the original artist, and that artist would have ultimate say over how their work is used. "So you're not getting a sacred design printed on a shot glass," Jackson quips.
'Own their art'
Support for the initiative came from Vancity Savings Credit Union, and the institution's manager of indigenous partnerships says it's a great example of how aboriginal communities are seizing the economic reins and taking the lead in ensuring their people benefit from their labour and creations.
Other partnerships supported by the credit union include a Royal B.C. Museum effort to preserve and celebrate First Nation languages, and tourism projects to encourage visitors to support indigenous entrepreneurs and respectfully engage with communities.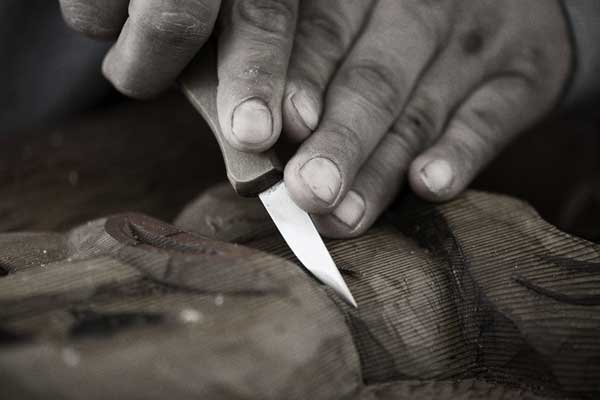 Vancity supported the authentic campaign financially, but also committed to only buying aboriginal artwork that is properly certified in all its branches and facilities.
"It's enabling communities to tell their story, to own their art, and for people to be not exploited," says Stewart Anderson. "The various aspects of the program ensure the artists are respected, their work is acknowledged, they have the rights to it, and they have control over how the work is presented."
As Aboriginal Week begins with events across B.C. to honour indigenous peoples, Anderson says the campaign is one way aboriginal communities are ensuring their needs are met in an economy that has too long excluded them -- whether the removal or appropriation of artwork, or historic inequalities or barriers to the workforce.
He says financial institutions need to consider their relationships with aboriginal communities and do more to support the positive efforts they're taking "at the grassroots" to build local economies for the future.
Too often, Jackson says, consumers aren't aware that the mahogany mask they're buying was made overseas by underpaid workers using designs from indigenous artists who are also inadequately paid for their work.
"In the indigenous art market now, there isn't a choice, so people don't know what they're buying," he says. "What this program does is, it sheds light on it. We think if people are given a choice, they'll do the right thing."

This article is part of a Tyee Presents initiative. Tyee Presents is the special sponsored content section within The Tyee where we highlight contests, events and other initiatives that are either put on by us or by our select partners. The Tyee does not and cannot vouch for or endorse products advertised on The Tyee. We choose our partners carefully and consciously, to fit with The Tyee's reputation as B.C.'s Home for News, Culture and Solutions. Learn more about Tyee Presents here.