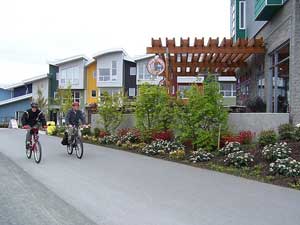 "Cities have the capability of providing something for everybody, only because, and only when, they are created by everybody."
It is a quote oft cited, written by the great urban activist Jane Jacobs in her seminal work, The Death and Life of Great American Cities, in 1961.
Today, Jacobs' words hold more relevance than ever. As our urban areas grow rapidly before our eyes, and both urban and rural areas are forced to rise to greater environmental and social challenges than ever before, it is no longer just the role of the architect or planner to save our souls -- the responsibility belongs to everyone.
That is why Leslie Van Duzer, director of the UBC School of Architecture and Landscape Architecture (SALA), hopes to see a vast spectrum of change makers represented in the applicant pool for the Margolese National Design for Living Prize -- a $50,000 award offered to a Canadian who has made and continues to make outstanding contributions to the development or improvement of living environments for Canadians of all economic classes.
Deadline approaching
With an Oct. 1, 2013 application deadline for the award, designers, architects, engineers, academics and planners are naturally encouraged to apply, but community advocates and activists who have had an impact on the built environment are just as welcome.
"The livability of our cities can refer to bike lanes, great buildings, beautiful parks; everything that enhances our quality of life. Some of this is designed by transportation experts, some by community activists, and some by architects and landscape architects," Van Duzer told The Tyee.
The broad-spectrum award was created by an estate gift made to the University of British Columbia by Leonard Herbert Margolese, and is awarded by the Faculty of Applied Science, administered through SALA.
By chance, the award also coincides with the launch of SALA's upcoming Master of Urban Design, a program that will launch in fall of 2014 and will heavily focus on the type of applied research locally and globally that the prize nods to.
Leaders wanted
The first prize was awarded last year to professor of civil engineering at the University of Toronto, Eric Miller, for his national and international work in vehicle emissions, pollution, and transportation modeling, including his now world-renowned Integrated Land Use, Transportation, and Environment model (ILUTE).
While Van Duzer emphasizes that this does not mean the prize is necessarily geared toward academics, Miller's broad impact on the built environment and leadership in his field points to the type of go-getter mindset the prize should honour.
"We're looking for people who are influential -- who didn't just do one nice project that was important for a community, but people who are really acting in a leadership role," she said. "It would be doing something innovative that had impact beyond their own immediate community -- an idea that had the ability to spread like wildfire and be applied elsewhere, like a seed of an idea for a bigger forest."
Scalable ideas rewarded
So instead of honouring one community member who created, for instance, a local community garden, the prize rather honours the type of person who would create a model of community gardens that has been scaled up and replicated elsewhere.
Van Duzer also hopes that over the years, the prize will encourage more of this kind of leadership and innovation in the field of design, both professionally and on the community level. "We hope that the longer this prize is offered, the deeper the pool of applicants will become -- that we're identifying real leaders, but also encouraging people to identify things that are important to them and take leadership roles in that."
The Tyee is a proud partner in helping promote the vision of the Margolese National Design for Living Prize, and encourages citizen advocates and professionals alike across Canada to apply. For more information on the Margolese National Design for Living Prize and eligibility, click here.

This article is part of a Tyee Presents initiative. Tyee Presents is the special sponsored content section within The Tyee where we highlight contests, events and other initiatives that are either put on by us or by our select partners. The Tyee does not and cannot vouch for or endorse products advertised on The Tyee. We choose our partners carefully and consciously, to fit with The Tyee's reputation as B.C.'s Home for News, Culture and Solutions. Learn more about Tyee Presents here.