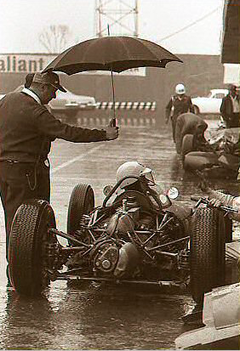 The great Argentine Formula One driver Juan Manuel Fangio had already won the Grand Prix world championship in 1951. Two years later he nearly did so again, but, driving a Maserati, lost on points. It didn't make a difference to me, eleven years old. I promptly went to a shop on Calle Florida in Buenos Aires and bought a wide, dark green silk tie with "el chueco's" face hand painted on. It read "Juan Manuel Fangio Sub Campión Mundial".
The beautiful tie disappeared soon after, but in 1954 Fangio won the world championship again and I was overjoyed. And then he went on to win in '55, '56 and '57.
My secret beauty
She has a beautiful cast aluminum Weber carburetor with the proud trident stamped on it. But I never open the hood. I try to forget that she is in my garage. She is a 1985 Maserati Biturbo.
I have not moved her for eight years. It has all to do with a grown man's diminishing excitement over exotic cars. As a Latin, cars to me have always been "máquinas", very definitely women to be desired. In the end she was too expensive to keep up and after many mechanical failures I gave up on her. She now lies forgotten like an overdue library book.
I tell myself that a car is a vehicle that is a useful and necessary evil. I don't get excited about cars. None of the local newspaper articles on the Vancouver Indy ever sparked my interest to attend a race. The articles seemed to hype sparsely dressed blond women and beer. German Formula One driver Michael Schumacher has surpassed by a wide margin any predecessors with seven world championships and 83 wins versus Fangio's five championships and 22 wins. I have no interest now in Grand Prix racing. Just the memory of caring.
Indy then
There is one event of the 1960s, besides President Kennedy's assassination, for which I can conjure the memory of exactly where I was. It happened on May 31, 1965. I was playing table tennis between classes at the University of the Americas in Mexico City, when my Yorkshire friend Andrew Taylor appeared and simply said, "He's done it." On that day, Scotsman Jimmy Clark in a Lotus Ford became the first foreigner since 1916 to win the Indianapolis 500. He led for 190 of the 200 laps and was the first driver to exceed the average speed of 150 mph which he did in the type of machine that A. J. Foyt, a couple of years before had labeled "funny cars … a bunch of tubes held together with chicken wire." Foyt had loudly stated he would never drive one.
While Clark had almost won the Indy a year before, his 1965 win marked the end of the Offenhauser powered roadsters that had dominated Indianapolis since 1934. In 1962 American driver Dan Gurney had lured Lotus car designer Colin Chapman to have a look. Chapman must have thought that the cars were unwieldy dinosaurs compared to his much lighter and nimble rear-engine cars that had no chassis with a separate body. They had an all-in-one welded body called a monocoque.
Since the Formula 1Grand Prix circuit was not to obtain lucrative tobacco sponsorship until 1968, Chapman must have looked at the technologically stagnant Indianapolis 500 with dollar signs in his eyes. The Americans looked ripe for the picking. And he seized the opportunity.
Mexican Grand Prix, 1964
I was specifically happy that day in 1965 because in October of 1964 I had been fortunate to obtain, with my friend Robert Hijar, a special pass to photograph the Mexican Grand Prix at the Magdalena Mihxuca Autodrome in Mexico City. I was 22 and I had a primitive knowledge of photography. The only film I knew was Kodak Tri-X and my cameras were an East German Pentacon-F and a West German Edixa Reflex. I had three lenses, a 50mm Tessar, an 80mm Komura and a 135mm Steinheil of questionable sharpness. I was much too shy to talk to any of the drivers. One of them, the Scottish Jim Clark asked me where I was from. When I told him I was from Argentina, Clark, who had a sheep farm in the Scottish border country, told me that he would like to raise sheep in the Patagonia.
For three days I photographed most of the cars and the drivers (some of the resulting images accompany this text). I did not find it unusual to spot the 1962 British champion, Graham Hill working on the engine of his BRM. Back then, drivers had to chip in with the mechanics.
On that day, October 25, three would-be contenders to the Grand Prix championship were Graham Hill, Jim Clark and British driver John Surtees. The race was won by American Dan Gurney when Jim Clark's Coventry Climax engine seized up in the last lap. (There was no spraying of champagne on the victor's stand. It was not until 1967, at his victory in Le Mans, that Gurney inaugurated the famous tradition of spraying his fellow drivers and the crowd with champagne.)
At the Mexican Grand Prix of 1964, British driver John Surtees, in a Ferrari, came in second to win the world championship. Surtees had previously won seven world championships, on a motorcycle.
Besides Surtees, four other Grand Prix Formula One world champions competed in the race: Graham Hill ('62, '68), American Phil Hill ('61), New Zealander Jack Brabham ('59, '60, '66) and the incomparable Jim Clark ('63, '65). Before he died in a car crash in 1968, Jim Clark surpassed Fangio's 22 Formula One Grand Prix wins with 25.
I remember other colourful drivers. There was Mexican Moisés Solana in a Lotus who at the time was one of the best jai alai players in the world. The most handsome driver was Clark's buddy, Trevor Taylor in a Lotus. There were two Italians in Ferraris. One, Giancarlo Baghetti, did not finish. The other, Lorenzo Bandini, banged Graham Hill's back wheel with his front wheel, retiring Hill and indirectly losing him the championship.
Bandini could have placed second but he let his teammate, John Surtees pass him. Surtee's second place gave him enough points to win the world championship.
The Mexico Grand Prix of 1964, I now see, marked a peak of interest for me. My excitement began to fade the next year, after Jim Clark the quiet sheep farmer stormed the Indy 500, and racing became a streaking billboard for big tobacco companies.
New era
I can't imagine, today, spying any of the current Grand Prix or Indy drivers with a wrench in hand.
Lorenzo Bandini was criticized (an inquest was held) for slowing down at the Mexican Grand Prix so that Ferrari teammate, John Surtees could win the Formula One championship. He was exonerated because they believed he did it in a spirit of comradeship. What I miss about car racing now is that feeling that back then drivers were gentlemen first.
British racing legend Stirling Moss said of Juan Manuel Fangio, "Most of us who drove quickly were bastards, but I can't think of any facets of Juan's character which one wouldn't like to have in one's own." While I never got to meet Fangio I sensed that in Clark.
Back in 1957 and at the age of 46, Fangio won a fourth title in a virtually obsolete Maserati. But Fangio's skill as a driver made up the difference.
"With most drivers, you figure 25 percent driver, 75 percent car," said Phil Hill. "With the old man, you know it's 40 percent driver, 60 percent car, so he's already got us beat with that something extra that's inside him."
Years later, a perfect car would mate with a perfect driver, Michael Schumacher, producing those seven championships. Seven oddly boring championships. Some might point out that there are now 19 Formula One races in one year while in 1964 there were 10. Others might note that modern racing machines are made with multimillion dollar budgets and that some of the finesse of driving has been taken away with clutchless transmissions and pit crews with 20 or more team members.
And yet, the world of Formula One may be changing. A dashing Spanish driver, Fernando Alonso, clinched last year's Grand Prix championship on September 25 with a third place finish at the Brazilian Grand Prix. At 24 he is the youngest ever in Formula One history. That's the same age when that great gentleman of racing, Graham Hill, passed his first driving test and obtained his license.
This season, Alonso continues to rack up victories, having won both the Bahrain and the the Australian Grand Prix. He is ahead of his closest competitor Giancarlo Fisichella (also driving a Renault ) at 28 versus 14 points.
I just might think of repairing my Maserati.
Alex Waterhouse-Hayward is a Vancouver writer and photographer whose blog can be found here.