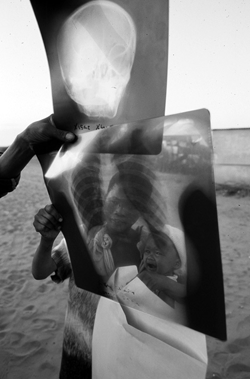 The Kalahari Bushmen are one of the world's oldest civilizations. For 30,000 years they have carved a life out the desert in what is now Botswana.
But for the last decade the Bushmen – or San, as they are also known – have been inexorably driven from their land in the Central Kalahari Game Reserve. In 1997 the government of Botswana began cutting off services and forcibly relocating them to camps and settlements outside the reserve.
The government, one of Africa's wealthiest, says they can no longer afford to supply the services. But representatives for the Bushmen and from Survival International, an NGO that works for the rights of indigenous peoples, say the authorities are more interested in developing diamond mining in the park.
The government counters that, off the reserve and in towns and villages, the San have renewed access to hospitals and schools. But when Bowen Island photographer Robert Semeniuk visited the camps he was less than impressed. "This whole fucking village is drunk every day," he told The Tyee, "this isn't success."
Removed from their traditional way of life the San scrape together an existence by working as hands on the local farms, or by relying on government aid. Alcoholism and AIDS are rampant.
"It's like taking wild fish and sticking them in pens," Semeniuk said, "they get sick. They get sick, they get drunk and they get miserable."
Because of the wealth that diamonds have brought to the country, access to AIDS fighting anti-retroviral drugs is better in Botswana than in most parts of Africa. But amongst the San, Semeniuk found that many patients aren't getting the right testing done and, if they do, they rarely follow up.
On one trip, Semeniuk visited a family where the children were on the treatment. "They bring out a box of drugs," he said "and there's the mother, drunk, trying to sort out who takes what and the pills end up all covered in sand."
For Semeniuk, the relationship between AIDS and the displacement of the San is clear. The photos that accompany this article are from his exhibition: The San: AIDS and Dislocation appearing at The Gallery on Bowen Island from July 20 to August 7.
"I'm convinced that if you don't have a home you get sicker than if you had one," he said. "And the first thing you want to do when you get sick is go home. So it's a double whammy for people who are sick and don't have a home."
Richard Warnica is on staff of The Tyee.