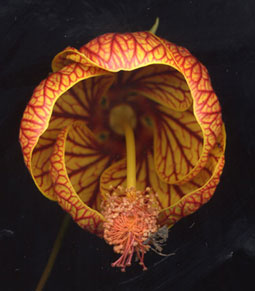 "The most transitory of things, a shadow, the proverbial emblem of all that is fleeting and momentary, may be fettered by the spells of our 'natural magic,' and may be fixed forever in the position which it seemed only destined for a single instant to occupy."
-- W.H. F. Talbot, Some Account of the Art of Photogenic Drawings,1839
On June 18, 2002 I placed two blooms from my garden of the Bourbon rose, Rosa 'La Reine Victoria', on my Epson Perfection1640SU flatbed scanner. I then scanned them at 1600 dpi, 100-percent size.
The result stunned me.
I could only think of English photographer William Henry Fox Talbot's photogenic drawings of the 1830s. While the image on my monitor was beautiful, there was a crispness and precision that reminded me of early photography's hope that here was a medium that was all reality with none of the abstractions of painting. Those pioneer photographers thought that photography, through the interaction of sunlight on light-sensitive silver salts, might capture the Platonic essence of things.
La Reine Victoria lay on my scanner because I had vowed 15 years ago not to ever photograph roses. My wife Rosemary had dragged me to a meeting of the Vancouver Rose Society. As I sat on a hard chair watching countless bad close-up slides of roses I understood the truth behind those cartoons making fun of people forced to see a bad slide show. This was my worst nightmare.
A promise on roses
As excruciating as it all was, I became hooked on roses, especially old roses with scent. Today I grow more than 70 roses and I am a card-carrying rosarian. But my enthusiasm for roses does not extend to taking pictures of them. I wouldn't want to impose pain on anyone with a rose slide show.
While the digital camera is a technological marvel, it is not too different from film cameras or even Leonardo's camera obscura. All are made up of three parts: the lens in the front; the box in the middle; and the film, the CCDs (charged coupled device), or the tracing paper (in Leonardo's case) at the back.
Fox Talbot's photogenic drawings circumvented this three-part system. He placed plants from his garden on to sensitized paper, which was then exposed to sunlight. These photograms (their modern name) had a directness that emphasized the intimate contact between plant and paper. His Pencil of Nature, published from 1844-'46 in six fascicles, was the first commercially produced book illustrated with photographs. The photogram has one important limitation. If the plant is not transparent, little detail besides its outline and shape can be observed. Fox Talbot ultimately had to use a box with a lens.
In 1928 the German sculpture professor Karl Blossfeldt published Urformen der Kunst (Archetypes of Art), his book of black-and-white plant studies to inspire his students Later colour attempts by other photographers to photograph plants in the same manner (with flat light to make them look like specimens) failed to equal, in my mind, the impact of Blossfeldt's photogravures or Talbot's photogenic drawings.
A scan is not a photo
Since 2002, I have scanned all of the roses in my garden and many of the other plants. I marvel at each one. Slowly I have come to understand why. Every time I scan I mentally tell myself that the two 8-inch matrix CCD line sensors (rated at 600 dpi per inch) record my plants with a cold cathode fluorescent lamp that mimics Blossfeldt's flat light. My two-year suspicion was finally confirmed (today!). An Epson technician told me: "There are no lenses, plastic or glass, on the CCDs. Light is bounced off the scanned object by the cold cathode light and the chips read both colour and shape." I have rid myself of the lens and the box.
"It is so natural to associate the idea of labour with great complexity and elaborate detail of execution, that one is struck at seeing the thousand florets of an Agrostis [the flowers of common lawn grass] depicted with all its capillary branchlet …. for the objects that would take the most skilful artist days or weeks of labour to trace or to copy is effectively the boundless power of natural chemistry in the space of a few seconds."
-- W.H. F. Talbot, Some Account of the Art of Photogenic Drawing, 1839