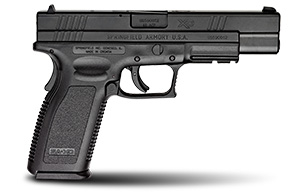 Canada is supposed to have tough gun laws. So how did a struggling Courtenay man with affiliations to organized crime legally accumulate 49 restricted firearms?
And how did some of his weapons end up in the hands of criminals?
Bryce McDonald was sent to jail for three years and four months in November. The sentencing decision was posted on the BC Supreme Court website this month.
And Justice Robin Baird was puzzled by McDonald's ability to get permits to buy so many weapons that are supposedly tightly controlled.
Especially as McDonald had first applied for a permit to buy a restricted weapon in 2006 and the federal firearms officer repeatedly rejected his applications over the next three years.
Not too surprisingly. McDonald was 24 then. He had been hit by a car when he was 19, and badly injured — fractured skull, broken bones. When he came to in hospital he remembered nothing about his life. He had to learn everything again — how to walk, talk, eat, care for himself. He suffered from chronic pain and the effects of his head injury, and lived on a "modest disability pension." He had a dated conviction for uttering threats. And the firearms officer was troubled that McDonald had a medical marijuana grow licence. Restricted weapons and a grow op, even a legal one, were a bad combination, he thought.
But "for reasons which I have yet to grasp," Baird said, in late 2009 the firearms officer changed his mind. He accepted McDonald's argument that he was keen on the challenge of learning how to shoot a variety of guns on a range. McDonald got permission to buy restricted weapons, but was required to store them somewhere other than his home.
Restricted weapons are supposed to be hard to get. But McDonald, an unlikely candidate, seemed to have no problem building a formidable arsenal.
Canada has three classes of firearms. Non-restricted are the basic rifles and shotguns used for hunting or target practice or killing sick livestock on a farm. They are easy to get — a little safety training, a background check and four-week waiting period and you're good to go.
Prohibited are automatic weapons, sawed off shotguns and easily concealed handguns, the kind of weapons criminals want. You can't legally acquire them, though many owners were allowed to keep them under "grandfathering" provisions that covered existing weapons when gun laws were tightened in 1998.
And restricted weapons — most handguns, semi-automatic rifles, short-barrel shotguns, assault-style weapons — fall in between. You need a special permit to own them, and a reason — target shooting, gun collecting, your job or, rarely, protection. You have to take a course and undergo a more detailed background check, and there are rules about where you can store the weapons. McDonald was barred from keeping them in his home; he had to store them at a separate location.
But McDonald somehow passed all those hurdles. In 2009, according to evidence at his trial, he bought his first restricted weapon, a Springfield Armory XD45 Tactical Semi-Auto Pistol described in ads as "meant for law enforcement, home defence, field carry and tactical deployments."
In 2010, he added three new guns to his collection, including a Kimber Pro Crimson Carry, described as "ideal for law enforcement, home defence or concealed carry." It comes with a laser sight; just tag your target with the red dot and squeeze the trigger.
He bought nine more restricted weapons in 2011 and five in 2012. And in 2013, he bought 31 — 19 in three months, five handguns in one day on Sept. 9, 2013. No one checked to see why he was stockpiling so many guns, or if he still had them. (McDonald had said he wanted the restricted weapons because he liked the challenge of mastering different guns on the shooting range. The judge noted that the purchase of 10 Glock handguns — many the same or similar — hardly seemed consistent with that claim.)
Eight days after the five-gun purchase, things started to unravel. A Lower Mainland homicide squad got a tip about a bag of guns dumped in Surrey. A rifle turned out to be one of McDonald's restricted weapons; he had never reported it missing, as required under the law.
Three months later — a period in which McDonald bought 13 more restricted weapons — police finally arrested him. They searched the designated storage location, and there were no guns. In his house, police found seven weapons. The other 42 weapons were missing — a "curious and sobering thing," Justice Baird said. (In fact, the Canadian Firearms Centre had concerns about McDonald as early as March; their only response was to call him and accept his assurances that he was following the rules.)
McDonald suggested police must have taken them, or didn't see them when they searched and left the doors of his house open and someone else stole them.
Then the guns started turning up at crime scenes — "more or less inevitably," Baird noted.
On June 16, 2014, RCMP responded to a Burnaby home invasion. The suspects fled, but police found their vehicle — and a loaded Sturm Ruger semi-automatic handgun registered to McDonald. On June 21, the RCMP responded to shooting at Brentwood Mall in Burnaby. Weeks later a suspect turned himself in and handed over the gun he had used, another handgun from McDonald's armoury.
In January 2015, Vancouver police arrested a man for shoplifting and found he was packing three Glocks, two from McDonald's arsenal. In June a man was arrested driving a stolen vehicle in Vancouver. The suspect had two Glocks in a bag. They weren't McDonald's, but a search of the suspect's home found a Beretta 96A1 handgun — offering "Ultimate Tactical Power," according to the company — that he had purchased.
And in February this year, Calgary police investigating a violent home invasion found the suspects had another Glock from McDonald's Courtenay collection.
All of which raises the question of just how restricted these weapons are if someone like McDonald can buy several dozens of them, ignore his permit requirements and come up with no explanation when they started showing up at crime scenes.
There are a lot of them out there. There were 796,000 restricted weapons in Canadian communities in 2015, according to the RCMP, 145,000 in British Columbia. (Plus 183,000 prohibited weapons.)
And the number of restricted weapons has increased dramatically — doubling from 399,000 in 2005. (There were 7.7 million legal guns in Canada in 2010.)
People who think it's a bad thing to have twice as many restricted weapons in their neighbourhoods — whether in the hands of McDonald or some more responsible gun buff — tend to blame Stephen Harper. And the Conservative government did make it easier to own guns, including restricted weapons. It killed the long gun registry in 2012, and Bill C-42, passed in 2015, reduced the regulations on owning and transporting restricted weapons and reduced the ability of provincial firearms officers to control access.
And the Liberals so far have failed to deliver on their 2015 campaign promise to "take action to get handguns and assault weapons off our streets." They pledged to repeal sections of C-42 that reduced regulations around transporting restricted and prohibited weapons, require enhanced background checks for people buying restricted weapons and implement regulations requiring dealers to mark guns so they were easier to trace.
So far, none of that has happened.
McDonald was sentenced to 40 months in penitentiary for failing to store his weapons properly. (He also was convicted for possessing brass knuckles and cocaine possession.)
But his guns are still out there. And so, presumably, are other people stockpiling arsenals of weapons that are supposed to be hard to get.