Sometimes it's no fun being right. Case in point: Three-and-a-half years ago I wrote a piece titled "Why Justin Trudeau may be more dangerous than Harper."
Flash forward to today, and barely a year into his reign Prime Minister Justin Trudeau is batting almost a thousand when it comes to approving controversial energy projects, from liquefied natural gas plants in Squamish and Prince Rupert to permits for the Site C dam — and now Kinder Morgan's Trans Mountain pipeline and Enbridge's Line 3.*
In that 2013 editorial, my main concern about the new Liberal leader was that his energy and trade policies were nearly identical to those of former prime minister Stephen Harper — they just looked and sounded better coming from Canada's prodigal son.
Moreover, I already had the sense Trudeau wasn't guided by a clear set of values, making him vulnerable to persuasive political advisors and powerful lobbies. With Harper, I noted three years ago, at least we had "a sense that his zeal for expanding Canada's fossil fuel industries through foreign ownership is something in which he believes on a deep, ideological level." With Harper, you knew exactly what you were getting — he loathed environmentalists and didn't care much for "radical" First Nations either.
The bitter battle over Harper's energy agenda was straightforward trench warfare in which Indigenous and environmental communities fared remarkably well, as they were forced to remain ever-vigilant and self-reliant. With Trudeau, it's evolving into a cold war of subterfuge. Some saw this coming from the get-go, but others were lulled into a false sense of security by Trudeau's "sunny ways" talk and demeanour.
A better salesman
The warning signs were there all along. Trudeau knew how to wrap heavy oil pipelines in a green bow. He argued the federal Conservatives were too ham-fisted, while dismissing the NDP as radical pipeline opponents. He saw himself fitting nicely in between. "I'm very hopeful despite the political games being played by the NDP… that we will see the Keystone pipeline approved soon," Trudeau proclaimed.
Addressing Calgary's Petroleum Club, Trudeau hinted at his marketing plan for pipelines: "Alberta's interests have been compromised more than just about anyone else's by Mr. Harper's divisiveness. It has made enemies of people who ought to be your friends, and turned what should have been a reasonable debate into an over-the-top rhetorical war."
His first year in office was all about trying to have his cake and eat it, too.
In Paris, he committed Canada to serious climate action. "Canada is back, my friends," he crowed.
More like right back to where we started. Since then, we've seen him default to Harper's climate targets and approve pipeline and LNG projects which ensure it is impossible to meet even those low standards.
Trudeau campaigned on rebuilding Canada's relationship with First Nations, but on respect for Indigenous title and rights, especially when it comes to energy projects, he's all but forgotten them. His government pledged to support the UN Declaration on the Rights of Indigenous Peoples, then earned rebukes from leaders like Grand Chief Stewart Phillip when Natural Resources Minister Jim Carr dismissed one of its key principles: free, prior and informed consent to any development on traditional territories.
Finally, the contorted thesis of the Trudeau government appears to be that it's possible — even necessary — to grow the fossil fuel economy in order to facilitate the transition to a green economy.
Words, not actions, are the key defence of this government, which provided itself cover for the Kinder Morgan decision by using terms like "social licence" and "world-class spill response" — whatever that means. The recent diesel spill near Bella Bella made a cruel joke of this notion, despite Trudeau's rhetoric and commitment to $1.5 billion in new spending on "ocean protection."
Though he makes frequent mention of his "B.C. roots," Trudeau clearly does not understand this place one lick, especially its wild coastline. No one who does believes for a second that it is possible to recover anything from a major spill, especially one involving bitumen.
Staying in the room
Perhaps the biggest disappointment of Trudeau's team is Justice Minister Jody Wilson-Raybould, whose comments to me in 2012 left no doubt of her strong, legally grounded opposition to the Site C dam.
"The country's reputation is at stake with approval of these projects like Site C... Running roughshod over Aboriginal title and rights, including treaty rights, is not the way to improve that reputation," she said.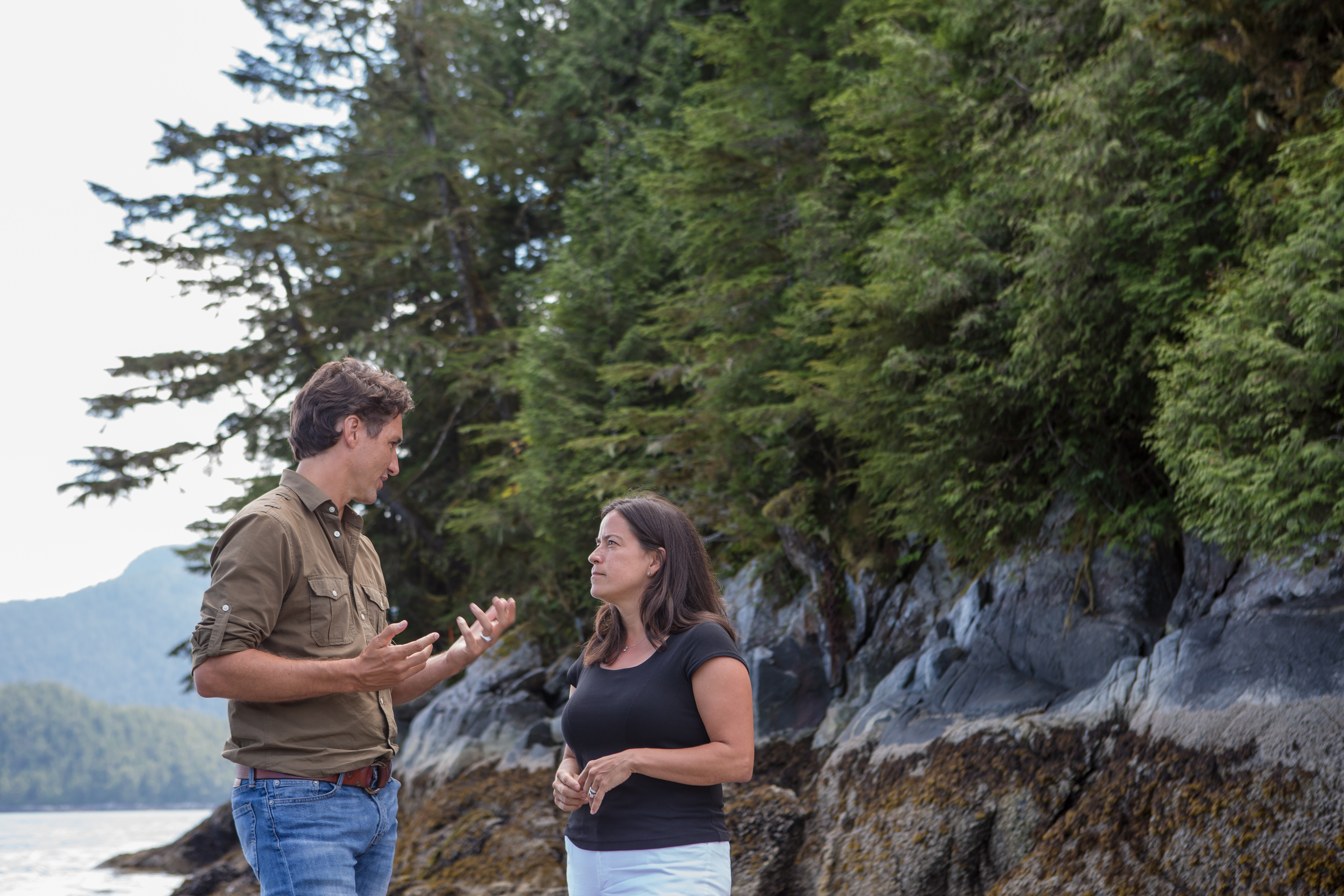 Wilson-Raybould is also well aware of where First Nations stand, broadly, on Trans Mountain and Petronas' Lelu Island LNG project. And yet, there she is, shoulder to shoulder with her leader, approving Kinder Morgan.
Granted, in our top-down parliamentary system it's difficult for a cabinet minister to sway her government's policies or to speak out publicly against her leader. Doing so almost always results in being bounced out of cabinet, even caucus.
But what's the point of being in the room where the decisions are made, if staying in that room requires taking no action on the principles you were once so firm on? Let's hear from Wilson-Raybould on that.
The mother of all protests
It's not hard to understand how we got here. By 2015, the country had grown plenty fed up with Stephen Harper. The avuncular Tom Mulcair didn't look remotely like change and made matters worse by watering down his progressive agenda in a failed attempt to claim the centre from Trudeau. Like so many Liberal leaders before him, Trudeau has proven adept at running from the left and governing from the right.
Yet there is a reckoning headed his way — perhaps bigger than even his predecessor faced. Because while no one expected wine and roses from Harper, Trudeau gave them high hopes.
The disappointment is that much greater when it's rooted in a deception — just ask former B.C. premier Gordon Campbell about the HST and BC Rail, or look back to the Liberal sponsorship scandal of the early 2000s. Trudeau's cutesy tweets, shirtless photo-ops and million-dollar smiles will prove no match for this kind of outrage.
The approval of Kinder Morgan has awakened B.C., and there's no end to the Vancouverites and other supporters ready to stand on the line.
Think Idle No More meets Standing Rock meets Occupy meets the War in the Woods meets Burnaby Mountain — all unfolding in a major urban centre, under the watchful eye of tens of thousands of camera phones, drones and social, grassroots and mainstream media.
Our prime minister has heard an earful already — even from the ministerial panel he commissioned to consult the public — and is "under no illusion... that this decision won't be bitterly disputed."
In his drive to get a pipeline built, Trudeau likely calculated it was better to risk his 17 seats in B.C. by approving Kinder Morgan than 40 seats in Quebec with Energy East. Yet something tells me he's not done yet — Energy East is still a distinct possibility, as is the resurrection of Keystone XL under Trump.
To some, especially in Alberta and Saskatchewan, this is all good news. It may be that Trudeau is pandering to these voting blocks or, as I noted in 2013, "If Bay Street and the energy sector see that Trudeau is prepared to fulfill the same key objectives as Harper, they will not think twice about swinging their support back to the Liberals."
By Election Day in 2015, Trudeau had the "change" vote behind him, but also the "establishment" that held strong against Jack Layton's Orange Wave. Now that he has their backing, he seems intent on keeping it, no matter the cost.
One can appreciate Trudeau's aim to stimulate the economy and create jobs, but there are other, less damaging ways of doing that. Tragically, while the rest of the world is already reaping the benefits of the burgeoning green economy, our bright-eyed leader appears to suffer from a total lack of vision and creativity.
The result of all this is that for many Canadians, the honeymoon is officially over. Whether divorce ensues sooner or later, we are bound for that nasty, bitter phase that afflicts all relationships on the rocks. I suspect by 2019, we will see a hunger for real change in Ottawa.
*Story correction: Due to an error by the editor (who claims to be a baseball fan), a previous version of this story included a terrible batting percentage.