As the Fort McMurray fire continues to grow, the economic and political implications are sinking in. The Bank of Montreal has estimated insurance claims alone will cost $9 billion. Rebuilding will involve not just houses but the oil industry itself, including reassembling and re-housing a skilled workforce that is temporarily scattered across the country.
But if rebuilt and repurposed, Fort McMurray could be an enormous and long-term success -- as a focus for the Canadian green-energy economy that must eventually replace fossil fuels. The transition will come sooner or later; it might as well come sooner.
It's still considered bad manners to mention the fire and climate change in the same breath -- it does seem to blame the victims. But the fire should remind us that Fort McMurray was built to meet the demand for oil that we all make. That demand has certainly contributed to climate change, and denying it is futile.
We forget that petroleum was once a disruptive new technology, replacing coal for many purposes. It drove horses out of urban transportation, transformed the railways, and changed international shipping. Oil allowed cities to grow and sprawl and link to one another in vast highway systems.
But in the process we burned so much oil and gas that we are now suffocating in the fumes. And thanks to the technology sustained by that oil and gas, the world's population has more than tripled in my lifetime, from 2.1 billion in 1941 to 7.4 billion in 2016. By 2050, the UN expects 8.3 billion to 10.9 billion of us.
Most of those billions will have the same sincere desire that we have for a long and comfortable life sustained by cheap energy. Well, relatively cheap energy. In the 1950s, we thought nuclear energy would soon be "too cheap to meter." Until then, the smog from burning coal and oil was a trivial price for progress.
A tantalizing prospect
The oilsands of the Athabasca River first inspired Canadians' imaginations a century ago before the first serious effort to exploit them began in 1967. For the decade or two after that, oil from the sands remained a tantalizing prospect, like nuclear fusion. But it couldn't compete with the cheap oil from places like Saudi Arabia (not to mention southern Alberta). Several ugly Middle East wars and the 1973 oil embargo were needed to raise the world price and make the oilsands worth the investment.
Thereafter, the oilsands dictated the course of Canadian history far more than Quebec separatism or free trade. Pierre Trudeau's National Energy Program drove Alberta into a more sophisticated kind of separatism: rather than leave Canada, right-wing Albertans patiently worked toward a hostile takeover of the whole country. They drove the Liberals, and then the Progressive Conservatives, out of the west and then out of power.
Stephen Harper strongly supported the oil industry, but he couldn't stop climate change or the free market's search for ever-cheaper ways to get energy out of the ground. American demand for our oil softened as fracking -- another disruptive technology -- spread across the United States.
Oil prices began to fall in 2014, but alternative-energy prices have been falling faster and longer. In 1977, silicon photovoltaic cells cost $76.67 per watt; by 2013 the cost had fallen 100 times, to 74 cents per watt. Even the Saudis have declared a Vision 2030 plan, calling for a Saudi Arabian economy no longer based on oil.
Great expectations disappointed
Meanwhile, we have subsidized the oil and gas industry for many years. One recent report by Oil Change International estimates that between tax credits, tax deductions and royalty relief, our national and provincial subsidies amount to $2.93 billion every year. We throw another $2.89 billion into financing fossil fuels production. Without those subsidies, oil and gas would be far more expensive to consumers -- and sustainable energy would be much more competitive.
The International Monetary Fund, however, says the subsidies are much greater: we don't tax the externalized costs like traffic accidents, carbon emissions and air pollution (which kills an estimated 5.5 million people worldwide each year). So the true subsidies to oil and gas amount to some $34 billion a year.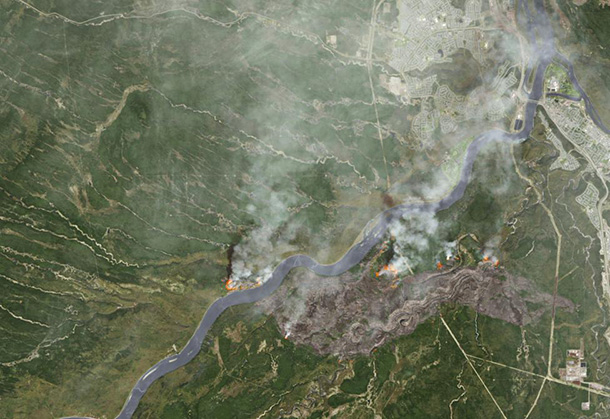 Those subsidies will need to be sustained and increased. We will have to rebuild Fort McMurray almost from the ground up, just to build homes and schools for the workers –- assuming that they come back. Infrastructure will add billions more, especially the obvious need for another road besides the notorious Highway 63.
Pipelines to tidewater, however subsidized, will deliver oil and diluted bitumen to a glutted market. Meanwhile, we have good reason to expect temperatures to continue to rise, and still more scorching summers will again stress the boreal forests to the ignition point.
Nevertheless, we should indeed rebuild Fort McMurray so it can continue to exploit the oilsands. But with this difference: after reconstruction, cut the subsidies sharply. Every penny of increased revenue from the oilsands, and from all Canadian fossil-fuel extraction, should not go into general revenue and maintaining the status quo.
Funding the post-petroleum economy
Instead, fossil-fuel royalties should be invested in a post-petroleum economy based on renewable energy sources -- solar panels, hydroelectric, wind turbines, tidal power, geothermal energy -- whatever will heat and light our homes and get us to work and back without pumping carbon dioxide and methane and smog into the atmosphere.
Ideally, we should dominate the field and export our new panels and turbines to other countries (including the Saudis). That would be a lot less messy and dangerous than shipping bitumen and liquefied natural gas overseas.
Developing those sources should take place in cities like Fort McMurray and regions like the Peace River gas fields. The people there are the energy experts, and they know technology. This is just a matter of applying their skills to new technologies, the way builders of horse-drawn wagons designed the first horseless carriages. If the oil corporations can't adapt and reinvent themselves, they don't deserve to continue.
Smart, ambitious people from all over Canada migrated to Fort McMurray to build good lives for themselves and their families. That goal is still very much within reach, but not if all we do is throw them back into the dead end they were already facing before the fire. We owe them, and ourselves, better than that.