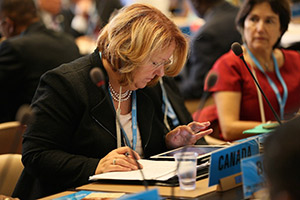 The World Health Organization has had a bad five or six years.
As the UN's health agency, it has more tasks than resources. On this front it's like most national and regional health agencies. UN member states find it politically convenient to underfund WHO, but this has led to a stiff, cautious, bureaucratic organization -- just when globalization is creating a crisis in global health.
The so-called swine flu outbreak in 2009-10 might be considered the start of WHO's current problems. The disease spread so rapidly from its origins in Mexico and the U.S. that everyone was caught off guard. Millions contracted it (including thousands here in B.C.), and some died or were seriously disabled by it.
WHO dithered for months before finally calling it a pandemic, which it was. But too many dumb movies have defined pandemics as "everyone dies except the zombies in the streets." With a small case fatality rate, swine flu didn't seem to qualify, and the public mocked WHO's warnings.
This was politically embarrassing, and seems to have contributed to an organizational culture that didn't want to get in trouble. Matters got worse during the 2010 cholera outbreak in Haiti: as a UN agency, WHO evidently couldn't criticize the UN even when it had clearly imported cholera in the Nepalese peacekeepers it had hired for service in that country.
Today, Cholera has infected at least 744,000 Haitians (out of a population of about 11 million) and killed almost 9,000 of them. The true numbers are likely much higher, and cholera is now considered endemic, a permanent problem. WHO's failure to assign responsibility to the UN is a serious lapse in medical ethics.
Less proactive, more reactive
Haiti brought out other problems in global health: a swarm of non-governmental organizations went into the country after the 2010 earthquake, doing disorganized good while bypassing the Haitian government. This has become a chronic issue because underfunding has forced WHO to shift from direct intervention in poor countries' outbreaks to training those countries' healthcare workers. These countries are often too poor to provide the clean water and sanitation that would erase many diseases -- let alone fund their own health systems.
Worse yet, WHO is global in name only. Its regional offices are often staffed by local political appointees, who don't want to embarrass the governments that hired them. When Ebola turned up in West Africa, neither the regional office nor WHO itself wanted to act quickly. They were afraid that making Ebola a "public health emergency of international concern" would ruin the West African economies. With both Liberia and Sierra Leone still struggling to recover from ruinous civil wars, that was a reasonable worry.
But their economies were knocked sideways by the sheer scale of the Ebola outbreak, which rapidly travelled from one rural village to larger towns and then to the overcrowded capitals of Guinea, Liberia and Sierra Leone. In earlier outbreaks in Uganda and the Democratic Republic of Congo, Ebola could be bottled up and smothered; now it was almost unstoppable, and even reached Nigeria, Europe and the U.S.
Dr. Liu takes charge
Weeks passed with nothing done apart from some NGOs -- especially M&eacutedecins Sans Fronti&egraveres (MSF), also called Doctors Without Borders. MSF is well-funded and owes no political favours, so it can be blunt. And the Canadian who runs MSF International, Dr. Joanne Liu, is the bluntest of them all.
In 2014 Dr. Liu reamed out both the European Union and the UN General Assembly, demanding rapid action on a military scale. And she got it.
But the help arrived late, and much of it was wasted (the U.S. built many Ebola clinics that never saw a single patient). WHO's fumbling was so obvious that it had no choice but to overhaul itself.
Part of that overhaul consisted in inviting an outside assessment team to study what went wrong in the Ebola outbreak (which has now killed over 11,000 people and is still going on).
The Ebola Interim Assessment Panel released its report on July 7, and like Dr. Liu it offers blunt and urgent criticism -- not only of WHO, but of its International Health Regulations, the UN Secretariat and the member states as well.
Among other things, it reminded the world that a similar panel had made recommendations after the swine flu pandemic, and they were ignored. If they'd been acted on, the Interim Assessment Team said, "the global community would have been in a far better position to face the Ebola crisis."
Medical negligence as government policy
According to the team, the International Health Regulations adopted in 2005 have received only lip service from many member states, and have failed to develop and fund "core capacities" to improve public health and stop outbreaks early. Nearly a quarter of member states have slapped travel bans on other countries experiencing outbreaks -- politically convenient, but crippling travel and trade. (MSF had problems shipping equipment and people into West Africa because airlines stopped flying there.)
Those same member states have also maintained static funding of WHO, causing a steady erosion of its purchasing power -- and nothing for emergencies. In effect, WHO fundraises for outbreaks with a begging bowl. It estimates it needs US$279 million just to fight Ebola in the next six months -- it's still $138 million short.
The team therefore calls for member states to cough up $100 million just for a contingency fund -- and it calls on WHO to "develop an organizational culture that accepts its role in emergency preparedness and response." It also wants the UN to understand what declaring an international health emergency means for all involved.
As much as it wants WHO to change, the team wants the UN member states to change as well. Developing countries consistently starve their health sectors (healthcare workers in Liberia were protesting last week because they still haven't been paid their Ebola hazard pay). Wealthier countries promise far more emergency aid than they ever deliver. And some just don't like to be embarrassed.
The delinquent House of Saud
Take Saudi Arabia, for example. Despite their immense wealth, the Saudis run a mediocre healthcare system. Since Middle East Respiratory Syndrome (MERS) was first identified there in 2012, the Saudis have done the least they could possibly do to research it, let alone control it.
Like Ebola and SARS, MERS tends to amplify in hospitals: patients pass it to other patients and healthcare workers, especially if infection control is poor. When hospitals bear the names of Saudi kings and princes, this makes the House of Saud look bad.
So they publish almost no research on MERS. Their policy is to fire the health minister every few months while promising that the millions of pilgrims that arrive each year are safe from MERS. They report each day's new cases, but with so little detail that outside experts can see little pattern in them.
The Saudis and their Gulf-state cousins have been getting away with this for years, but now a single South Korean businessman returning from the Gulf has triggered a serious outbreak in the past two months -- 186 cases and 33 deaths, half of them contracted in the country's best hospital. Thousands have been quarantined.
A $20 billion outbreak
While the number of cases is relatively trivial, their impact is immense: MERS has been a huge blow to the government and the healthcare system, as well as the economy. A few days ago the South Korean government pumped an extra $20 billion into its budget to make up for the sudden absence of tourists (the Chinese love to shop in Seoul).
In effect, South Korea has taken a serious hit because the Saudis couldn't be bothered to learn anything about MERS. Now the Philippines has a second MERS case (the first was a Filipino healthcare worker, one of thousands, returning home from his job in the Gulf). Thailand's had a case, and China spent about $2 million caring for a South Korean who broke quarantine and ended up sick in Guangdong province.
At some point even the Saudis will feel the international pressure. Maybe travel bans are a bad thing, but if largely Muslim Indonesia bans its nationals from going to Mecca, or the Philippines refuses to allow its healthcare workers to work in Saudi Arabia, the Saudis will take a financial and political hit of their own.
Or other countries might demand proof that visiting Saudis, Omanis, Bahrainis and Emiratis are free of MERS -- including even King Salman and his family.
Put that kind of pressure on malingering countries, and they would find it cheaper to run a competent healthcare system than put up with the hassle. For truly poor countries like Haiti and Sierra Leone, investment in clean water and sanitation -- and in subsidizing the return of expatriate doctors and nurses -- could sharply reduce the general death rate as well as prepare them to deal with new outbreaks.
Canada would benefit from adding our share of money and pressure. We took economic hits from SARS and swine flu, and the next pandemic could arrive on any given flight from Hong Kong or Heathrow. If we can stop that pandemic at its source -- or prevent it from breaking out in the first place -- we'll save ourselves untold grief.