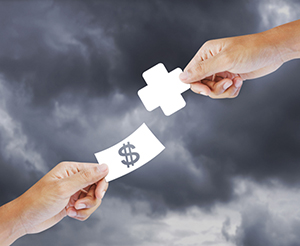 A lot of international graduate students at Simon Fraser University could unwittingly end up paying too much or even being double billed for their health insurance, says a little union waging a David and Goliath fight against administrators who appear mysteriously slow to address the situation.
A grievance filed by the union raises the larger issue of who looks out for the best interests of foreign students who bring millions of dollars into the province's education system – students whose good word back home insures more keep enrolling in our institutions.
This issue, like many involving insurance, can get a bit technical. Bear with me.
A private insurance place-holder
Some 900 international graduate students at SFU are members of the Teaching Support Staff Union. They, like all students from outside of B.C. are not eligible to enroll in the non-profit public Medical Services Plan operated by the province until they have been in province for three months. But the university is required to make sure the students are covered during that gap.
SFU therefore compels international students to enroll in the Guard.me plan.
The union has problems with how that plan was selected and, it says, forced on the international students. On top of those concerns, it's too easy for those students to accidently pay twice for insurance once their MSP kicks in -- this according to a letter from the SFU Graduate Student Society to university Andrew Petter last November.
The letter says many students end up paying for the more expensive private plan long after they are eligible to join MSP coverage, and in some cases long after they have obtained the more affordable public insurance, because Guard.me and SFU operate on a "negative option" basis on the private coverage, continuing both coverage and billing until the students involved take the initiative to end their Guard.me coverage. (MSP coverage for a semester is about $290.00, and other private firms offer coverage for around $200.00 a semester, in contrast to the $353.00 a semester international students are required to pay Guard.me.)
I said this would get a bit technical.
But the controversy matters because, while a victory by the Teaching Support Staff Union filing its grievance would only directly affect the international students who belong to that union, it might arguably influence how the university deals with the health insurance issue for the over 5,000 international students who attend SFU each year and for out of province Canadian students as well.
If the union prevails, it will serve as an example of how union struggles, precisely by paying attention to technical stuff, can have a positive impact on many workers outside the union membership.
In this case, the people protected are those who arrive in B.C. often with little knowledge of how our system works. Tuition costs are higher for foreign students, but that doesn't mean all are rich. In fact, in many cases, it means their resources are stretched more thinly than for Canadian students. Yet everyone from the premier on down has stated how important to B.C.'s education bottom line are foreign students.
So is SFU, in this case, treating foreign students fairly?
Some dollars flow back to SFU
The TSSU grievance, filed against Simon Fraser University in November of 2014 suggests the school may be unfairly milking international students on campus for cash by requiring that all international students be registered involuntarily in a high cost private sector plan provided by Guard.me International Insurance. Guard.me, by the way, pledges to donate back to SFU up to five per cent of its billings to international students. The RFP document including this promised rake off was provided to the Tyee by TSSU.
If the grievance is successful, international students who belong to TSSU will be relieved of the mandatory enrollment in the private sector plan that the union says is over loaded with unnecessary "bells and whistles."
The TSSU grievance alleges that the mandatory insurance coverage the school has imposed on students from abroad since 2013 is a breach of the contract between the university and the union, a contract that explicitly states that newly arrived students who are TSSU members will have the option of obtaining alternative coverage during their first semester. Nothing in the contract, union sources told me, gives the university the right to impose a particular coverage.
The breach of contract is bad enough, says TSSU spokesperson Derek Sahota, but the coverage that is imposed on their members is expensive. I reached Guard.me's Vice President for sales, Clark Hortsing at the international company's Canadian headquarters in Thornhill, Ontario. He declined to comment on the union's grievance with SFU, noting that it is currently in mediation. However, he did emphasize that the cost to students of his company's coverage at SFU was a consequence of the kind of coverage the university specified in its request for proposals from various insurance companies.
"We responded to a RFP," Hortsing said, "and we provided the coverage that SFU wanted."
"SFU is not working in the best interests of students here," Sahota told me. "They chose the most expensive provider, ignored our contract and failed to consult with students." He said that mediation meetings held December 4 and 5 between his union and SFU with arbitrator Vince Ready will eventually result in non-binding recommendations, which have not yet been issued. Absent a settlement acceptable to both sides, a full arbitration hearing with Ready will follow.
The TSSU provided the Tyee with a group of internal email among SFU managers it obtained both through a Freedom of Information application and through disclosures required during the grievance process. Several troubling items are included in these email exchanges, including an estimate that 20 per cent of international students will end up still paying for Guard.me coverage in a second semester, when they are already eligible for MSP coverage. Patrick Lougheed, director of business and policy analysis for the registrar at SFU, whose name appears as the sender on the email making this estimate, told me he was not allowed to comment because of the ongoing arbitration process.
Another troubling comment found in the emails obtained by the union occurs in a November 9, 2011 email from Lindsay Neilson, who is listed on SFU webpage as a university expert on International Services for Students. Referring to earlier discussion about setting up the Guard.me coverage, Neilson writes. "Hi -- regarding this, we are not going to go forward with the group MSP idea though now, right. We're going to ding everyone every term instead, right?" On January 23, I asked Ms. Neilson to clarify this passage, but she refused to comment, claiming that the mediator had asked all parties in the dispute not to talk to the press.
'We have a duty of care': SFU official
The SFU Graduate Students Society echoed TSSU concerns about the compulsory enrollment in Guard.me in a letter to university president Andrew Petter on November 26, 2014, telling him in reference to a survey of their members:
"[W]e wanted to draw your attention to the results around MSP and Guard.Me as they confirm that 62.4 per cent (or, 78/125) of the international graduate students surveyed are receiving overlapping primary medical coverage unnecessarily. Furthermore, only 12.3 per cent (or, 17/138) of them have made a claim to Guard.Me and been reimbursed; two respondents have a claim pending. We take this to indicate, on the one hand, that our international graduate students are not well-informed of their medical coverage and related processes; and that few of them are finding Guard.Me valuable, perhaps more importantly, on the other."
I asked Tim Rahilly, SFU's Associate Vice President, Students, for an interview about this matter, but he declined. He did provide an emailed statement, after noting that the dispute was currently under arbitration. He wrote:
"International students are required to carry basic medical insurance, but in our experience we discovered many of them did not purchase coverage. We have a duty of care for our students and believe that providing a mandatory medical insurance plan for all international students is the best way to ensure their well-being. The welfare of our students is an important issue and something we will further discuss with the TSSU through the arbitration process."
Even setting aside the question of whether the university is breaching its contract with TSSU by making Guard.me coverage mandatory, it is curious that SFU's administration is comfortable enrolling new international students in private, for-profit coverage automatically when they arrive on campus, but does not intervene to see that these students are automatically enrolled in the public MSP coverage as soon as they are eligible after three months in B.C.
Time for SFU to fix this situation promptly by responding positively to the TSSU grievance. A further, long drawn out process arbitration process just leaves more room for confusion, and overpayment, by the international students SFU needs and prizes.