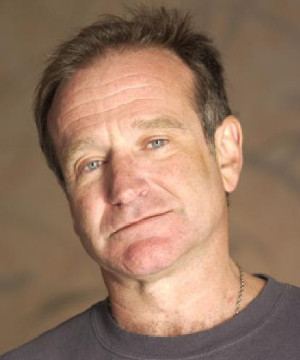 The suicide of Robin Williams exploded silently in the twittersphere, instantly going to the top of the trending lists around the world. A billion tweets did nothing to rescue a much-loved actor and comedian, but his loss may help us deal with a pandemic disease we prefer to ignore: depression.
It is a fundamental of most cultures that individuals are responsible for their actions, deserving praise for some acts and shame for others. That is why General George S. Patton, in World War II, slapped a GI for cracking up in combat. Patton had no patience with what we now know as post-traumatic stress disorder.
In that war, psychologists learned that no one could endure more than about 30 days of continuous combat without showing signs of mental disease -- except the psychopaths. They were fine. Patton himself was likely a high-functioning psychopath. Healthy people like the young GI were just healthy people, plunged into a psychopath's paradise.
Depression is to us something like Ebola in West Africa, a disease we prefer to deny rather than confront -- even if it kills us.
Depression doesn't care, any more than smallpox cared before we figured out it had an identifiable cause that we could stamp out. Depression has probably ruled the course of human history more than we would like to think, especially when it's sickened warlords and politicians.
In 40 years of teaching I ran across a lot of depressed students, few of whom understood what they were down with. Neither, usually, did I. Only later, when they emailed me, did I realize what had made them do what they did.
Growing up with depression
But I'd grown up with people dealing with depression, though neither they nor I had understood what was going on. I assumed my parents' depression was due to their breakup, rather than the other way around. In hindsight, I can see many of my friends and relatives as holding themselves together like mountain climbers clinging to life by their fingertips.
I also learned that depression itself gave them the strength to cling. It gave them the energy to do what un-depressed people couldn't even imagine.
Years ago I ran across a book called The Key to Genius, which argued that depression is the foundation of art and science. Beethoven, Mozart, Sir Isaac Newton, and many others had endured the "black dogs" of depression, surviving long enough to build our modern world. I haven't since run across a persuasive refutation of that argument.
If anything, the evidence shows us that the victims of depression rule us in life and even from beyond the grave. Many of the leaders we have followed for centuries, especially in crises, were probably fighting off the black dogs, including John F. Kennedy and Winston Churchill.
Anything to self-medicate
Depressives don't like the way they feel, and their default response is to self-medicate: nicotine, alcohol, marijuana, heroin, sex, whatever. Now we've got specific anti-depressive drugs, something else to be addicted to. In the mid-20th century, depressives created our whole environment, made tobacco and alcohol and sex what anyone should resort to whether under stress or simply to be cool.
My own brushes with the black dogs have been mercifully brief; I seem to have escaped inheriting my parents' depression genes. But I've learned that when someone makes me really laugh, that person is seriously depressed.
I laughed a lot in the US Army, back in the early 1960s when Vietnam was still something you had to apply for. In those days you couldn't walk from one building to another at Fort Ord, California, without hearing the latest Beatles hit, and the Beatles themselves were likely deeply depressed young geniuses.
Well, I got out of the army and out of the U.S., into a calmer, less manic country. Or so I thought. But the more I learned about Canada, the more I saw the depressed people who had built its culture, right from the alcoholic Sir John A. MacDonald to West Vancouver's Margaret Trudeau, who could have been one of my students.
The silent veterans
To go on teaching at Capilano College, I'd enrolled in a master's program at SFU and written my thesis on "World War I and the Canadian Novel, 1915-1926," a deservedly obscure corner of CanLit. The books I'd studied were mostly propaganda, but some of them described PTSD long before today's Canadian Forces took note of it: a veteran suddenly feeling his heart stop in the middle of the night, and lurching downstairs to try to pop-start it. A postwar dinner party where the veterans can't speak about their experience in the trenches.
As a young dope in the early '70s, I didn't get it: These were real experiences of real combat veterans, utterly ignored by Canada's rulers and people. It was easy to sneer at the "ultimate sacrifice" cant of the World War I media, but much harder to grasp the longer, harder sacrifice of the survivors who came home and fought in silence for the rest of their lives.
When Canada was dragged into the Middle East as a combatant rather than a peacekeeper, I could sympathize up to a point. OK, Chretien had to support his NATO allies if they were going into Afghanistan.
But until then, I had had little contact with the people in the Canadian Forces who were ready to go into combat: Most of them were middle-aged guys from CFB Chilliwack looking for post-retirement careers. (How do you modify a middle-aged guy's resume when his previous career specialty is "nuclear bomber"?)
Now, from the height of my eighth decade, I can look back and see countless of my fellow-soldiers, colleagues, and students who were gravely, fatally ill. And only now can I understand that we are running the 21st century on the grief and laughter and genius and malevolence of some desperately sick people, from entertainers to entrepreneurs to politicians.
On Monday, the Canadian government released the 2013 Canadian Armed Forces Mental Health Survey, which confirms what is only logical -- that the experience of war is a crucible for depression and other mental illnesses.
Even if we accept that depression ironically inspires many of our brightest artists and entertainers, the insights and laughter they give us are no compensation for the vast majority who silently succumb to the disease: the young men and women who march off to war, the adults who somehow break the promise they showed as children, the elders who lose their lines and stumble offstage.
Your death will not trend on Twitter
They are the ones who do not trend on Twitter, whatever ache they leave in their families' hearts. Like Robin Williams and Ernest Hemingway and countless others, they simply depart and leave others to clean up the mess.
Once upon a time malaria was "bad air," not a parasite living in the guts of mosquitoes. Once upon a future time, we will recognize depression not as a failure of character but as the expression of a gene we bless and curse our children with, or the collateral damage of some still-unknown virus.
Until then, whether depressives or not, we will contemplate our mortality and seek some kind of self-medication: in Mozart or Janis Joplin, in the Old Testament prophets or their carbuncular descendant Karl Marx, in anyone whose wiring gives them an insight we lack. When they make us laugh, or make us gasp, we feel we have connected with reality and resolve to stay connected.
But we connect to those who have contemplated their own mortality far more closely than we can dare, whether 15-year-old Omar Khadr in Afghanistan or 63-year-old Robin Williams in Marin County. As the famous depressive Friedrich Nietzsche warned, "When you gaze long into an abyss, the abyss also gazes into you."
The abyss has been gazing into us all for centuries. If we can only step back from the brink and look away, we may save ourselves and future generations.