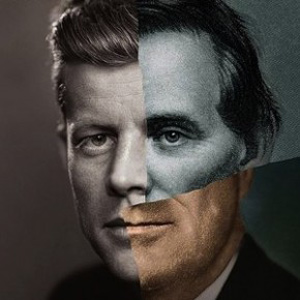 A First Rate Madness: Uncovering the Links Between Leadership and Mental Illness
Nassir Ghaemi
Penguin (2011)
FDR, Winston Churchill and Adolf Hitler all fought World War II on speed. John F. Kennedy's presidency was a function of which drugs he happened to be on at the time. And he was always on drugs.
In the U.S. Civil War, General William Sherman's bipolar issues made him a failure in peacetime; but they also inspired his March to the Sea, which devastated the economy of the South and prefigured the wars of the 20th century. Abraham Lincoln's depression, which ran in his family, made him realistic enough to support Sherman's destruction of the Confederacy.
Psychiatrist Nassir Ghaemi raises these points in proposing a strange argument: mentally healthy political leaders do well in untroubled times. When a crisis hits, however, only the insanely great will do.
The stigma we impose on mental disease makes this a hard thesis to accept. But Ghaemi provides intriguing evidence, and his book raises questions about Canada's political leadership, past, present and future.
Of course we have no psychiatrists' notes for people like Adolf Hitler and John F. Kennedy, but Ghaemi bases his argument on four types of evidence: symptoms, genetics, course of illness and treatment. He has pretty solid documentation, for example, on mental illness over several generations of the Lincoln and Kennedy families, and on how doctors treated (and mistreated) Churchill, Hitler, and JFK.
Sanity as cheerful dullness
Ghaemi also introduces us to gradations of illness. A hypothymic personality isn't quite depressed, but close to it. A hyperthymic personality is the life of the party but somewhere this side of outright mania. A mentally healthy person is a "homoclite" -- and most of us fall in that cheerfully dull bracket. (Most of the Nazis on trial at Nuremburg, when tested, were as sane as a similarly tested group of Kansas state troopers.)
Homoclites, we learn, are contented people who prefer to follow than to lead. Some homoclites certainly go into politics, and they do very well as long as they don't run into a crisis. Ghaemi argues persuasively that Richard Nixon was a homoclite who created his own crisis in Watergate and couldn't find a way to resolve it outside of resignation.
Similarly, healthy Neville Chamberlain had a long, successful political career but couldn't believe that bipolar Adolf Hitler was deliberately planning a war. Winston Churchill, a bipolar who self-medicated with alcohol, spent the years between wars warning against a Nazi threat that only a "depressive realist" could recognize.
Such politicians, Ghaemi tells us, have greater empathy with other people, and their experiences often make them more resilient when they fail. They understand their country's problems perhaps better than they understand their own, and they often find creative solutions that homoclites would never imagine.
Mentally ill leaders have other strengths. After the Nazi invasion of the U.S.S.R., Stalin went into a profound depression that nearly lost the war. When senior communists came to his dacha, Stalin expected to be taken out and shot. Instead his comrades begged him to take charge again, and he responded with a swing into mania that led to millions of Soviet and German deaths but also to victory.
JFK as dope fiend
Treating such leaders, Ghaemi says, can improve them or destroy them. During the terrible first year or so of his administration, Kennedy was taking bizarre cocktails of steroids and amphetamines from different doctors. After a "medical coup d'etat," the winning physicians stabilized him on a drug regime that enabled him to resolve the Cuban missile crisis and to launch the civil rights act.
By contrast, Hitler's bipolar swings were aggravated by the amphetamines and testosterone he began to take in 1937 to deal with insomnia and depression. Ghaemi says this made him far less open to expert advice, and more likely to explode in raging tantrums. The drugs in his system were more fatal to the Third Reich than the Red Army and all the bombers in Britain.
We always like to think of ourselves as mentally healthy, and of our preferred political leaders as equally healthy. It's the other guys who are corrupt, stupid, and obviously insane. This is to confuse psychiatric assessment with moral judgment.
Ghaemi argues that George W. Bush is a mentally healthy homoclite, and for that very reason was the wrong man to deal with 9/11. He couldn't understand the mind of a Bin Laden, but he could launch orthodox wars that cost millions of lives and trillions of dollars... and feel as good about it as the Nuremburg Nazis felt about their own deeds. (Ghaemi finds Tony Blair equally healthy and equally unrepentant.)
Just for the sake of argument, let's assume that Ghaemi is on to something. What does his thesis imply for Canadian politics?
Well, Mackenzie King conducted seances while steering the country through the Depression and World War II. The eminently sane Lester Pearson won the Nobel Peace Prize but then had Lyndon Johnson shaking him by the lapels about Pearson's quiet criticism of the Vietnam War.
Nobody knows the troubles they've seen
Given the stigma about mental illness, very few current politicians share their psychological sorrows with their voters. Bob Rae is a notable exception, speaking openly about his own experience with depression.
Jack Layton's likable exuberance may have stemmed from a hyperthymic personality like Jack Kennedy's (though Layton's alleged massage-parlor episode pales in comparison to JFK's awesome hypersexuality). Like Kennedy, Layton repeatedly confronted death and emerged the stronger for it.
Stephen Harper may well be a homoclite like Bush, Nixon and Pearson. His enemies may want to tar him with the brush of mental disease, just as Bush's enemies like to think of him as a moron.
But we have little if any evidence about Harper's mental state. If anything, his sluggish responses to climate change and the financial collapse of 2008 ("Good time to buy stocks") suggest a mentally healthy leader's inability to recognize a really serious crisis.
Political discourse in the U.S. has degenerated to the amateur-psychiatrist level of "You're crazy," precisely because mental illness carries such a stigma and many Americans have abandoned reasoned argument. They don't want facts and arithmetic: they want something they can see as sanity. Our own discourse is trending that way.
But if we could get over our dread of madness, we might find a bipolar or depressive leader (properly medicated) just the person to deal with terrorism, natural disasters, pandemics, or an economic crash. The leader's drunkenness or philandering would be a trivial price to pay for getting us out of a very dangerous place. And a sober, faithful leader who took us into a catastrophic dead end would be a person for sane voters to shun.