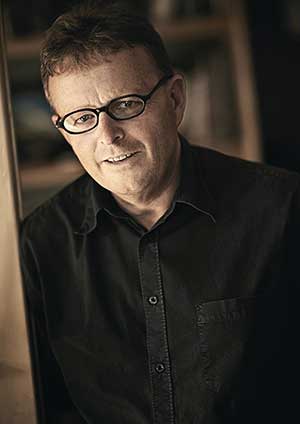 [Editor's note: Veteran journalist and social entrepreneur Ian Gill will be writing a column for the Tyee twice a month. We asked him to introduce himself to you and, well, this is what he submitted.]
"A curious bird is the columnist. Among the qualities he needs, if you can call them qualities, are blinkered prejudice, a natural cantankerousness tempered by maudlin sentimentality, a magpie regard for unconsidered trifles, an elephantine memory, the inquisitiveness of a cow, the passion of a tub-thumper, the preoccupation of a rising backbencher, the combined repertoires of a Scheherazade, a Max Miller and Moody & Sankey, a capacity for strong drink and low bars, an overdeveloped sense of the ridiculous, a scorn of authority, and a Black & Decker tongue that serves as a rasp, rapier, dentist's pick, jester's bladder, big drum, piccolo and strings.
"Add whimsicality applied with an optic measure, plus impetuosity, paranoia, delusions of grandeur and brooding nostalgia, all within reason. Throw in serendipity and blind faith that an idea will come down off the ceiling like a tossed pancake. If the mix is right, you have a Cassandra, a Levin, a Herb Caen, a Myles na Gopaleen. If the pudding is under-egged or over-syruped, it's back to reporting the magistrates' courts."
Call it sentimentality on my part, but I have kept that marvellous bit of virtuosic prose in a notebook I've dragged around the world since 1986, when I spent a year in Paris, France, and when I apparently had time to clip things out of the newspaper that caught my eye and paste them in a tattered, spiral-bound depository that also includes my mother's recipes for rabbit stew and lemon potatoes, and a prescription for huitres au champagne that went untested because I couldn't afford bubbly at the time.
Having rashly acceded to an even more rash offer on the part of the editor of The Tyee, David Beers, to join the ranks, or at least the rank company of the columnists who expound astride his august "platform" -- news, yes; paper, alas no longer, so now we toil in a sort of digital gazebo, where once there were news "rooms" and now there are just urls and uploads and views of "pages" that you can't cut out and stick in your cahier -- it seemed appropriate to begin in the spirit in which I intend to continue: take the ideas of people a lot smarter than me, gussy them up in a style that befits the subject matter -- in several octaves that will quaver between reverence and ridicule but mostly favour the latter -- and generally seek to be as offensive as Canadian law and a native Australian's natural sense of decorum allows.
Jug, brimming
The opening quotation is from a book review -- of Robertson Davies' The Papers of Samuel Marchbanks -- that appeared in a British newspaper in the '80s and was written by Keith Waterhouse, a legendary columnist at The Daily Mail and a true stylist, lampoonist and provocateur. His reference to Myles na Gopaleen might bewilder readers this far removed from the Celtic Sea, but possibly some folks will recognize the name Flann O'Brien, which was the nom de plume of Brian Ó Nualláin. As O'Brien, Ó Nualláin wrote several brilliant books, including The Third Policeman, The Poor Mouth, and my favourite, At Swim-Two-Birds in which I learned at a tender age that "there is nothing so important as the legs in determining the kangaroolity of a woman." I have dissipated much of my life in search of proof of that axiom, which seems like a challenge that only an Australian is qualified to take up or would bother to prosecute.
Brian Ó Nualláin wrote books as Flann O'Brien, but he wrote a celebrated column for The Irish Times as Myles na gCopaleen (or na Gopaleen in some renditions). The column itself was labelled Cruiskeen Lawn, transliterated from the Irish crúiscín lán, or "brimming little jug." The column was brimful of sly wit, devastating satire, and an absolute mastery of the Irish and English languages, along with odd disquisitions on everything from the justice system to the inner workings of steam engines.
In the last few years before na gCopaleen died, The Irish Times was edited by Douglas Gageby. During my year in Europe in the '80s, I had dinner one night at the American Embassy Club in Bonn, Germany, and I had the good fortune to be seated next to Gageby. I asked him what it was like to edit na gCopaleen, which caused Gageby's eyes to light up and his luxurious eyebrows to take on a life of their own. One didn't really "edit" na gCopaleen, Gageby said, given the man's erratic view of his obligations as a columnist. For a start, he didn't always write in English but in Gaelic. Sometimes he didn't write at all -- he'd just send over a rough drawing of a steam engine and that was it, that was the column. When he did write, the columns varied enormously in length and comprehensibility. Gageby said that in the end it didn't matter. Myles was Myles and whatever came into his head made it into the paper.
These are different times, not Irish ones, and na gCopaleen had a comic genius that is impossible to even do honour to, let alone replicate. But I invoked his name recently before His Lordship, as the editor insists on being known at The Tyee, when he recently put to the test my taste for strong drink, and issued instructions to me about writing a column for The Tyee. He didn't express a strong appetite for hand-rendered illustrations of steam engines, but by the same token he didn't want to read "stuff that's already in The Tyee." By that measure alone, I have probably succeeded here beyond his wildest imaginings, and maybe I should quit while I'm ahead.
Unreconstructed
But actually I have a few other things to say. While I don't intend to retread what you can already read in The Tyee, I do intend to keep writing about energy issues, about water, forestry, fisheries, about our almost pornographic infatuation with resource extraction at the cost of our environment, and about the spectacular mismanagement of our country and our province by pampered ideologues whose view of the world is so narrow it can only be measured in microns. I do intend to keep writing about indigenous issues, especially our failure to even begin to take seriously the need to achieve real reconciliation with First Nations in ways that have force and that we honour. I intend to write about social policy, about urban development, about environmentalism, about the media, about economic policy, and about politics more broadly. I hope to occasionally have to confess a conflict of interest, because in the real world I get to work on a variety of interesting things that I think the world should know and care about, a lot of which are at the intersection of many of the subjects mentioned above.
As an unreconstructed journalist, I remember a couple of admonitions from editors or colleagues I admired, one of which was "go to the scene," the other of which was "write what you know." My trapline, so to speak, is Western Canada and in particular B.C., although my travels enable me to cast a wider net that occasionally will include Europe, Asia and especially Australia, whose socio-economic patterns and pathologies mostly closely resemble our own. So I expect to write about that, in English and sometimes in Australian, as time, fortune and His Lordship allow. And while I've promised Himself that I won't send in drawings of steam engines, I do have some illustrations of my favourite knots that I might inflict upon readers of The Tyee, and maybe I'll one day publish my mother's recipe for rabbit stew. My Paris diary has a few other things that might surface from time to time, too.
In sum, I intend for this column to be serious, expository, unafraid, occasionally quirky, and never, never dull. I hope it to be amusing, because there are few people I can less abide than the proselytizers, whatever the nature of their bunkum. We don't need sermons, we need solutions. We need a new narrative of what it means to live well on this Earth, and if that means driving politicians to drink and provoking people to think, then that sounds worth doing to me. I hope to contribute a vigorous reimagining of Canada, even if I have to visit a few low bars along the way. See you there. I'll have the champagne.