Four years after Vancouver, it is Sochi's turn to stage the biggest winter spectacle on the planet. Here are five predictions for the five-ring circus on the Russian riviera.
Terrorist threat overblown
Yeah, I know what you're thinking: "Are you a moron? Are you living in a cave? Didn't you see the stories about the deadly bombings in Volgograd and the Black Widows on the loose?"
Yes, I did. I also know that the U.S. Department of Homeland Security is warning of toothpaste tubes of terror.
True, there are people angry with Russia's spy who became president, Vladimir Putin, over conflicts in Abkhazia, South Ossetia and Chechnya. Some of them have threatened to get even and possibly harm innocents. That is why there are 40,000 cops and troops on the ground, in the water and in the air in Sochi. The region is, essentially, under martial law. Even more so with the help of the Russian-developed System for Operative Investigative Activities electronic eavesdropping system. The would-be terrorists have already met one objective: stoking fear.
Tragedies at the Munich 1972 and Atlanta 1996 Summer Games are sad legacies of incompetent and/or inadequate security and have given rise to the sports subset of the security/industrial complex. The Winter Games have yet to see anything similar to Munich or Atlanta, and let's hope that doesn't change in Sochi. The chances of another mass-shooting at a school in the U.S. between now and Feb. 23 are, sadly, far greater.
These Games are more likely to be a white collar crime fest. At $51 billion, they're already more expensive than the Beijing 2008 Summer Games, which were also promoted and protected by an authoritarian government seeking self-glory in an unstable country. The Chinese, however, used their Games as a tourism marketing opportunity. Russia, not so much.
If anything, the wallets of Russian citizens have been already been terrorized. Putin foe Alexei Navalny published his online Sochi Encyclopedia of Spending, with its Champions of Corruption Race.
Foreign Games visitors are next on the hit list. NBC reported on hacking in Sochi. Can stories of pickpocketing and counterfeiting be far behind?
Montreal 1976's reign as the most-corrupt sporting event in history was usurped by the Commonwealth Games in Delhi in 2010. Now Sochi wears the dubious crown.
Operations nightmare
While these are the most compact modern Games, they are also the most costly. Infrastructure projects helped drive up the budget: there is a new highway, high-speed train, power system and port.
The buildings, especially the Disney-like group in the Black Sea coastal cluster, may look spectacular, but will public transportation run on time in Sochi? The Atlanta 1996 Summer Olympics were notorious for late buses. Sochi is a resort area where the notion of rapid transit was, until recently, only a dream of those stuck in traffic jams on the region's limited roadways.
Sochi has never hosted anything remotely similar to the Olympics in size or scale. It is not an international event destination like Vancouver or even Turin were. English, the lingua franca of the Olympic movement, is not widely spoken in Sochi. The Games were planned mainly from Moscow and the International Olympic Committee had to ask organizers to spend more time and put more people in Sochi.
So it's not surprising that too many toilets were installed, some of the tap water in buildings was deemed toxic and odd signs and menu entries were photographed and tweeted. Ticket sales won't match Vancouver's; visitors must apply for and receive a Spectator Pass, an added bureaucratic burden that will allow Russian officials to know precisely who's sitting where for the first time in Olympic history.
Meanwhile, many world leaders are either avoiding the opening ceremony or the Games entirely. Voices from the more-tolerant Western Europe and North America have censured the Russians for their anti-gay propaganda law. Meanwhile, feral dogs in Sochi are being executed for the crime of being stray. Photographs of potholes and unfinished sidewalks are on locals' blogs.
These Games are a baptism by fire and dry run for other events. The lessons learned in Feb. 2014 will better prepare the area to host Formula 1's Russian Grand Prix and the 2018 FIFA World Cup. Vancouver had the luxury of Expo 86, the Molson Indy Vancouver and Grey Cup football championships.
Former chess grandmaster and Putin foe Garry Kasparov put it all in perspective in a series of tweets timed to coincide with the Games' first day of action on Feb. 6.
"It is hard not to laugh at the mess in Sochi & journalists having bad time with nothing ready, but is distraction from true catastrophe. I hope the journalists in Sochi complaining about a lack of doorknobs & wifi pay as much attention to the lack of free speech & elections," he wrote.
"In two weeks Games will be over & journos will go home w funny stories. Russians will be left with mess, debt, & the same crooks & thugs."
When the Games are on, the rough conditions for reporters in their hotel rooms will give way to the athletes. The athletes always save the Games. But if the athletes' shuttle buses break down, their dressing room toilets get plugged or they get ill on the food and drink at their village, that will be an even bigger black eye.
Ultimately, Sochi has a chance to achieve one thing that Vancouver didn't: sending all athletes home alive. The death of Georgian luger Nodar Kumaritashvili on opening day remains the darkest legacy of Vancouver 2010 and is a reason for new safety measures, such as an incline, built into the 2014 Games' sliding track.
Russian reign
You thought Putin spent $51 billion of other people's money only to help his friends get richer? He wants a front row seat to watch Russian athletes win the Games, by any means necessary.
Putin wants to put both the boycott-plagued Moscow 1980 Games and the dismal performance in 2010 in the rearview mirror.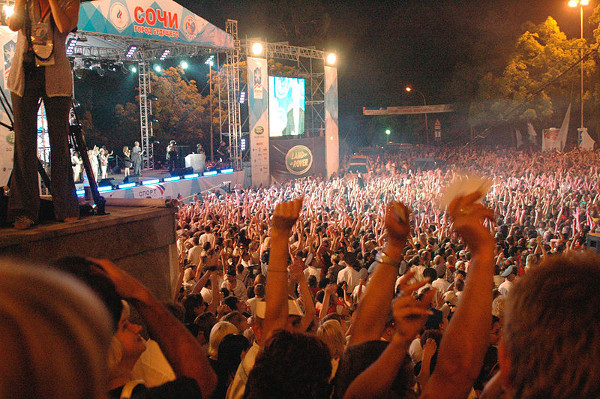 The Russians had their worst post-Soviet era performance four years ago in Vancouver with only three gold, five silver and seven bronze. The hockey team was humiliated by Canada.
All efforts will be made to ensure the maximum comfort of Russian athletes and the Russians will rebound to own the podium this time. Expect judging controversies along the way.
When the Russians claim victory, some of the credit will go to ex-Vancouver 2010 sport executive vice-president Cathy Priestner Allinger. The author of Canada's Own the Podium strategy was hired by the Russian Olympic Committee to help it find the secret to success at home.
Canada won't own the podium
At Vancouver 2010, Canada won a host record 14 gold medals (plus seven silver and five bronze) when there were 82 nations vying for medals in 86 events. At Sochi, 88 nations will compete in 98 events.
The previous host country's production tends to drop at the next Games by about 20 to 30 per cent, which means Canada's gold haul could easily fall back to single digits like at Turin 2006 (seven gold, 10 silver, seven bronze). Canada's always optimistic Olympics boss Marcel Aubut is banking on Canada succeeding in the influx of new events to keep Canada close to the Vancouver tally, but don't bet on it.
An early barometer will be Feb. 8, the day after the opening ceremony, when eight golds are up for grabs in biathlon, cross-country, freestyle, snowboarding and speedskating.
Women's hockey begins Feb. 8. The men get going on Feb. 12.
The reigning men's champion will be in a tough spot. Canada's National Hockey Leaguers have a poor record since 1998 competing at offshore Olympics on the wider international ice. There was no trip to the podium at Nagano 1998 or Turin 2006. It's not an easy thing to travel so far and create team chemistry literally overnight.
Odd spot
Subtropical Sochi is just a weird place to stage the Games. There are tea plantations in the hills. There are dolphins by the Black Sea shore. A couple of orcas were supposed to be on display in the aquarium, which is more of an entertainment attraction than a place for serious marine science. A cartoon bear, a hare and a leopard are the mascots. Three animals that might cause each other harm in the wild.
In the mountains, the peaks are high and filled with snow. The sunsets by the shore will be epic.
One of the most pleasant places for Games visitors to see is, ironically, Joseph Stalin's summer home. Yes, the place where one of history's most evil dictators went to relax and get away from it all.
The coastal cluster at the Imeritin Valley is walking distance from the Georgian border. The mountain cluster is Krasnaya Polyana, or "fields of red." They're connected by the Mzymta River, which means "crazy river." Crazy is one word Russian environmentalists have used against Games organizers because of logging on the banks and dumping of toxic waste.