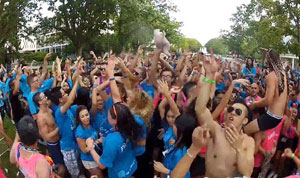 D is for disgraceful! U is for unconscionable! C is for cynical... Oh never mind. I was about to chant D-U-C-K in honour of the administrators who are still ducking responsibility after failing their midterm exam on how to handle the potty-mouthed chanters at the University of British Columbia.
Earlier this month the Commerce Undergraduate Society declined to pony up the additional $200,000 for sexual assault counselling that is part of the $250,000 they had promised as penance for their antics in September.
And what was UBC's response? A university spokesperson offered what amounted to a shrug and what-are-ya-gonna-do explanation to The Province.
Apparently the money for counselling was something offered by the undergrad society's leadership when what I've dubbed ChantGate hit the headlines. They offered $50,000, but they couldn't commit the balance of the money without approval from the student society, which voted down the expenditure by an overwhelming margin of 815 to 245.
Robert Helsey, dean of the Sauder School of Business, followed that up with another of what I've come to think of as his Gentle Victorian Lady statements. He was "deeply disappointed" by the decision of the undergraduate society, he wrote, conjuring images of some delicate flower waving her hanky and calling for smelling salts.
"I will continue to work with the CUS to ensure that their commitment to the university is honoured," Helsey said.
Personally, I'm deeply disappointed with yet another round of ineffectual hand-wringing coming from a dean in a publicly funded university. Particularly given that Sauder is a business school.
Helsey is providing a role model for the future captains of industry. And I don't know about you, but I don't much like the lessons students may be learning from his administration's lack of action.
Shhh, just sing along
This story began in September during the celebration of frosh (orientation for first year students) when senior students led the newbies in a chant celebrating how the man-boys of Sauder like 'em Y-O-U-N-G -- as in under-age, not consenting, and tight! (Really: the chanters mentioned tight.)
I was mildly amused by the uproar over the children's naughty behaviour. These kids think it's fun to chant about rape for the same reason four-year-olds think it's fun to make fart jokes. Thumbing their noses at the grown-ups is hi-larious. Right up until they're disciplined, that is.
But I watched with growing disbelief as adults who ought to have been teaching them to behave like responsible professionals played a game of duck-and-cover.
First Sauder announced they were unaware of their students' inappropriate behaviour and said the cheer was "completely inconsistent" with the values of the school.
They might want to consult with the law school about the value of pleading ignorance as a defence. It also raised more questions than it answered. If officials at the Sauder school had no idea what was going on under their noses, shouldn't they have been embarrassed to admit it?
Then we heard the administration may not have been utterly clueless when the student newspaper revealed that YOUNG is fairly old and well known. The Ubyssey (which did a bang-up job reporting the story) interviewed a number of students who confirmed that the chant is a tradition that goes back "forever" and they had learned to be discreet about it.
Jacqueline Chen, a frosh co-chair at UBC, said complaints were nothing new and the Commerce Undergraduate Society had been warned to knock it off.
"We had problems a very long time ago with the cheers," Chen told the student paper.
Although "very long time" is a relative term -- Chen's LinkedIn profile says she's a third year Commerce student.
She explained that the chant was permitted to continue as long as it stayed "in the group."
"There's only so much you can do with somebody who wants to publicly state something. But we do get them to remove it [from social media] if we do find it... That's a big thing for us. "
Jeffrey Wang, a second-year commerce student, confirmed Chen's view and added that while he didn't support the rape message, he was comfortable singing along.
"I'm not saying that underage rape is okay or it should be encouraged, but [the cheer] maybe gets people out of their personal boundaries and bubbles, you know?" Wang said.
All of which raises the question of what UBC business students are learning about the appropriate response to immoral behaviour.
Hide it from the public and just sing along?
Hollow upset
At the time, the dean issued another of his lavender-scented statements. He found the events "deeply upsetting."
"The events are deeply, deeply troubling to us," Helsley also told CTV news. "These events are completely inconsistent with what we try to accomplish as a school."
That's an ominous quote. As this story has unfolded, I've grown increasingly uneasy about what Sauder may be trying to accomplish.
Just consider their own response to what the business world euphemistically refers to as "a communications crisis." (What that used to mean was a screw-up so significant that reporters stop repeating their news releases and start ringing up company leaders and grilling them on behalf of the public. These days it also comes with the public firing Twitter questions directly at the players in front of an often disapproving mob.)
Textbooks advise those at the centre of such media kerfuffles to begin by telling the truth. Moving right along, the books suggest the next step is to make a point of being seen to be "taking action" to solve the problem.
So after days of international Twitter-fuelled embarrassment, UBC's leaders boldly announced they would strike a committee. Or rather, a "fact finding team" to investigate ChantGate. (Huzzah!)
In another of the university's written statements, the dean also promised that "the Sauder faculty will be increasing emphasis in the curriculum on issues related to respect, dignity and ethics as well as the university's respectful environment statement for students, faculty and staff."
And that's when I really started to worry. They think that the existing curriculum has worked so well in teaching ethics that they are just going to give students larger helpings of the same?
Public reaction to the school's wishy-washy statements was swift and decisive. Vandals spray-painted the Sauder school with graffiti: "Sauder teaches rape" and "F**k rape culture" (The subtle asterisks are mine.)
I can see why their critics were irritated to the point of spray paint. While it's clear Sauder has been trying to put a gloss back on their increasingly tarnished image, their claims of how upset they are ring hollow.
What teaching looks like
By contrast, Carleton University in Ottawa is taking the university's in loco parentis role seriously and doing something that looks almost radical amidst all the hypocritical hand wringing on campuses dealing with the tasteless chanting.
They're teaching.
Ryan Flanagan, director of student affairs at Carleton, called the practice of letting the undergrads run wild during frosh a "dinosaur" model that ended at his school four years ago.
"If young adults aren't provided with appropriate guidance and appropriate monitoring then stuff like [the chanting] is going to happen," Flanagan told CBC.
So Carleton works with the student unions to organize frosh activities and they supervise the little darlings, some of whom are not yet adults. In other words, Carleton is teaching these children how to behave like responsible professionals, partly by doing so themselves.
There's no getting around it: professors, particularly in the trade and professional schools, are role models. Given that, what exactly has the Sauder School of Business been modeling?
At best, I'd call it Clumsy Spindoctoring 101 and it doesn't bode well for them teaching business communications. Although I'd say there is a far more serious problem here. For years now students have been getting the message that they can do something they know is offensive, and possibly harmful to others, so long as the public doesn't get wind of it.
That's just the attitude that leads to the current Senate scandal, Rob Ford in all his glory, and the financial hijinx that triggered the most recent recession.
Perhaps UBC's business school is only reflecting the real world, a landscape in which the Duffys and the Fords prosper. In which case, I think it's time to ask why the public is funding this sort of training?
As any educator will tell you, university training extends far beyond the students' classes. The purpose of university in a democracy isn't job training alone -- that's what trade schools are for -- it's to develop responsible citizens.
Which is what makes the Sauder business school's latest response to ChantGate so disappointing.
They promote themselves as a school that teaches leadership. It might be nice if they showed some.
© Shannon Rupp. For permission to reprint this article please contact the author: shannon(at)shannonrupp.com.