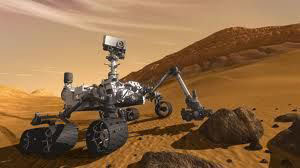 When news reports started appearing a few months ago about Mars One, a project to send humans to Mars on a one-way trip starting in 2023, I tried to ignore them. As a science fiction novelist, I took it as a dubious idea.
Recently, however, The Canadian Press told us that 7,000 Canadians have volunteered for the trip. As an educator, I took this as a sign of gross failure by my colleagues and me to build critical-thinking skills in our students.
It's certainly a dramatic idea: launch four people to Mars after unmanned vehicles have dropped living quarters and supplies onto a suitable spot on the surface. Two years later, launch another four along with more habitats and supplies. And so on until cooler heads eventually prevail.
The show-stoppers are almost too many to count, and others have already pointed some out.
First, this is a venture of a Dutch nonprofit foundation whose for-profit subsidiary, Interplanetary Media Group, exists "to secure funds from its investors." What the return on investment might be is unstated. The Dutch certainly profited for centuries from their spice-trading empire in Indonesia, but Mars offers fewer opportunities.
The only real funding would have to come from developing a series of highly successful reality shows around the project: Who will be selected? Who will wash out during eight years of training? Who will survive the journey, and who will self-mummify when something goes wrong with the Martian settlement's water-extraction system?
No physiotherapy on Mars
I well recall listening to Ray Bradbury (author of The Martian Chronicles) in 1958, not long after Sputnik, telling us that we would be on the moon in five years and on Mars in 20 -- during what turned out to be the Carter and Brezhnev administrations.
Sputnik was thrilling and challenging, but even the vast efforts of NASA couldn't put two guys on the moon until 1969. When the thrill wore off, the whole moon thing soon became a nostalgia item. At least it taught us that getting to the moon was a tough, expensive stunt, and getting to Mars would be far, far harder.
And dangerous. The astronauts got to the moon in four days. A trip to Mars would take around 220 days. During that time, the four "astronauts" would be in free fall for longer than Commander Chris Hadfield was during his last stint on the International Space Station. When he returned, he needed extensive physiotherapy to recover; he reported that he was even aware of the weight of his own tongue.
The Mars colonists would land on a planet with much lower gravity, but they would have to decelerate brutally to arrive safely. They could expect no rest or physiotherapy, only an urgent need to set up their habitats or die.
These habitats would be on the surface, and inflatable. They would offer little shielding from the radiation pouring down on the martian surface. The colonists would have to wear "Marssuits" to venture outside the equivalent of big tents. They would have to do so to hook up new habitats for the next arrivals, to set up and maintain solar panels for energy, and to feed soil into a heated container to extract water.
What about the bathroom?
Here's another show-stopper. In 220 days en route, each four-member team will produce about a kilo of feces every day -- almost 500 pounds of shit by the time they reach Mars. This cargo, if not ejected, will at any rate be left behind when the colonists descend to the surface. But once on the surface they will continue to defecate.
While Mars One describes the availability of showers, it is silent on its planned sewage system. Even if it is some kind of compost toilet, defecation and urination will dehydrate the colonists; their water supply is absolutely critical, whether or not it's used to pump waste into an airlock and then into a frozen-solid septic field.
Mars One blithely promises that "Potable water will be created through the heating of water ice in the local ground soil," with 1,500 liters generated every 500 days (along with 120 kilos of oxygen). No doubt there is ice under the martian surface, and we have evidence that liquid water occasionally flows.
But Mars is a cold, dry planet where an equatorial summer heat wave may lift the temperature just past zero degrees Celsius. Any liquid water must be a very salty brine, requiring immediate desalination. And much, if not all, martian ice would be salty as well. The salt, once extracted from the water, would have to be lugged outside into some kind of slag heap.
The UN High Commission for Refugees estimates that we need 20 liters of water a day per person, so the first four colonists would consume 80 liters daily or 40,000 liters in 500 days.
And that doesn't include water for whatever plants could be induced to grow in a mixture of martian soil and human waste. So Mars One would have to launch and accurately land around 30 life support units per colonist. Each of those units, working perfectly, will need 60 kilos of soil fed into it every day.
Printing out a kidney
Mars One says this can all be done with present technology, and by 2023 that might include 3D printers that can crank out anything from a fresh kidney to a Mars bar to a patch for a leaky suit.
Such technology might be upgraded by radio transmissions from Earth, improving the efficiency of water and oxygen production. Robots might do some of the grunt work of feeding soil into the life support units and removing the slag.
But the colonists would be engaged in a nonstop struggle for survival, with little time to marvel at the wonder of it all. Living under martian gravity, only 38 per cent of Earth's, would mean a 75-kilo human would weigh less than 30 kilos.
Even hours of daily workouts wouldn't maintain bone mass and muscle tone forever. Bacteria and viruses, having come along for the ride, could well mutate into lethal forms -- whether in the colonists or their plants.
Even assuming the first four colonists arrived safely and set up housekeeping, would anyone want to join them two years later? And two years after that? Or would the early arrivals find themselves marooned, dependent on continued shipments from home until they died of old age, dehydration, or accident? And in the awful event that they had children, what lives would those kids face?
Ray Bradbury imagined the settling of Mars as a repeat of the settling of the Americas. That experience has dominated European thought for over 500 years, and much modern science fiction echoes Europeans' delight at what they gained, and how easily they gained it.
F. Scott Fitzgerald imagined Dutch sailors contemplating "a fresh, green breast of the new world... for a transitory enchanted moment man must have held his breath in the presence of this continent... face to face for the last time in history with something commensurate for his capacity for wonder."
But Mars offers nothing fresh or green or wonderful, still less anything that might be shipped home to cover the cost of the trip. It's not even a hideout we might run to when we've made our own planet uninhabitable.
For good or evil, Earth is all we've got. If we can ever figure out how to live here, sustainably and happily, we will have achieved more than any interplanetary adventure could promise.