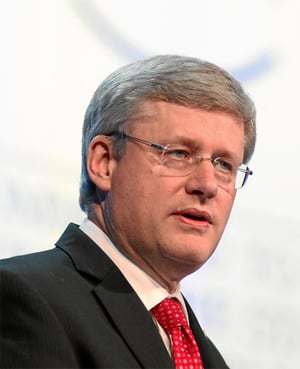 The controversial Canada-China Foreign Investment Promotion and Protection Agreement, or FIPA, is still not ratified. It's hard to know exactly why that is given the Conservative government's enthusiasm for these corporate rights treaties. But the surprising strength and size of the public backlash to the China FIPA surely played a role.
One big reason people are so worried about this specific treaty (versus Harper's FIPAs with Tanzania, Cameroon, Zambia, etc) is how it will empower corporations from the world's largest consumer of energy and natural resources to sue Canada for hundreds of millions of dollars for delays in getting oil, gas and minerals out of the ground. Delays like a moratorium or ban on hydraulic fracturing, for example, or stricter environmental rules that make projects more expensive, will be vulnerable to investor-state lawsuits that can cost hundreds of millions if not billions of dollars at the end of the day.
This becomes a bigger problem for Canada as the China National Offshore Oil Corporation (CNOOC) finishes its takeover of Nexen. The formerly Canadian energy company has fracking operations in northern British Columbia and a desire to expand them. But public trepidation over fracking is leading to calls for action against the environmentally risky drilling technique. It's not a matter of if but when CNOOC would file a FIPA challenge against any crackdown on fracking. The absurd scenario is playing out right now in Quebec.
Demanding $250 million from Canadians
Last year, a U.S.-owned energy firm Lone Pine Resources sued Canada using investment rules in the North American Free Trade Agreement (NAFTA). The firm is challenging Quebec's 2011 moratorium on fracking in the St. Lawrence Valley, which was extended indefinitely by the new Parti Quebecois government. Lone Pine wants $250 million in compensation for what it calls the "arbitrary, capricious, and illegal revocation of [its] valuable right to mine for oil and gas."
Fracking uses massive amounts of water, thousands of litres of chemicals, and thousands of pounds of sand. This toxic stew is forced into the ground at high pressure in order to fracture the rock, allowing gas to flow up the well. Fracking fluid can contaminate drinking water with substances that cause cancer and organ damage, and affect neurological, reproductive and endocrine systems. Safely disposing of fracking wastewater is incredibly difficult. The process has been linked to earthquakes.
Despite these risks, Lone Pine's NAFTA claim says the Quebec government acted "with no cognizable public purpose," even though there is broad public support for a precautionary moratorium while the environmental impacts of fracking are studied. Milos Barutciski, a lawyer with Bennett Jones LLP, which is representing Lone Pine in the arbitration, told The Globe and Mail the moratorium "was done for purely political reasons -- exactly what the NAFTA rights are supposed to be protecting investors against."
How level?
The investment chapter in NAFTA, like the FIPA with China, is often described as a way to level the playing field between national and foreign firms. But scratch the surface and you find that the non-discrimination rules are the least important part. The treaties actually give foreign firms more rights and legal protection than local companies.
As a Canadian firm, Nexen would have to challenge a hypothetical freeze on fracking in B.C. before a provincial or federal court. New company owners CNOOC can bypass the courts to challenge B.C. or Canadian policies in front of largely unaccountable, paid arbitrators deciding the matter behind closed doors at the World Bank or elsewhere. Arbitrators have leaned heavily in favour of companies over governments in disputes related to energy and mining projects. Even when cases don't reach a final decision, there can be high costs to governments for getting in the way of mega-projects.
On March 8, the Canadian government announced it had settled outside of arbitration in another NAFTA investment claim from St. Marys Cement. The formerly Canadian (now Brazilian) cement and aggregate company had challenged a decision to rezone a large section of farmland in the province of Ontario so that a highly controversial quarry could not be built. The rezoning decision was celebrated by the nearby community but St. Marys claimed it violated NAFTA's minimum standards of treatment guarantee, and the treaty's prohibition on so-called indirect, or regulatory, expropriation.
The firm retracted its claim but only after the Ontario government agreed to pay $15 million of its stated $21-million investment in the quarry to date. In the middle of a recession, Ontario taxpayers basically paid St Mary's to not dig a quarry. That looks more like extortion than respecting minimum standards of treatment. The club these treaties give to investors to bully governments over conservation and environmental measures why Canada's mining sector is so supportive of the recent FIPAs with African countries where they are currently invested or interested in expanding.
The club swings both ways. Of the nine active NAFTA investor-state lawsuits against Canada, which total more than $5 billion in corporate claims, all involve reported breaches minimum standards of treatment, and most involve claims of indirect expropriation without compensation. It is a sad record that shows just how broadly investors will interpret their rights in treaties like the FIPA. Even where Canada wins a case, we have still paid sometimes millions of dollars defending it.
In the Lone Pine case, as with many investor-state claims involving resource projects, the company says that Quebec failed to provide a "stable business and legal environment." But there is nothing in NAFTA or the FIPA with China on minimum performance requirements for corporations – no way to hold investors accountable for environmental, human rights and other violations. In fact performance requirements are banned outright, as Newfoundland and Labrador learned after Exxon Mobil and Murphy Oil successfully sued Canada under NAFTA to get out of a profit-sharing plan for offshore oil development.
Resistance to FIPA with China
For these reasons, and in particular the way investment treaties give foreign firms greater rights than national firms, the Australian government has discontinued the practice of including investor-state dispute settlement in its trade agreements. Like Canada, Australia loves its mining companies. But it doesn't feel the need to socialize the risk they take when they invest at home or abroad. In Australia's 2011 trade policy, the government says Aussie companies should find other ways, outside of investment treaties, to secure their investments.
In B.C., resistance to the FIPA with China is very strong. The Hupacasath First Nation has filed for an injunction against the treaty, to stop the Harper government from ratifying until it has consulted with First Nations as the Constitution requires. The impact of the FIPA on Indigenous and Treaty rights could be pronounced, especially if it creates added pressure to approve unpopular tar sands, fracking, mining or pipeline projects containing Chinese investment. The Hupacasath will go to court for the first time in early April and are looking for support at www.westandtogether.ca.  
It was clear before the Lone Pine lawsuit against Quebec's fracking ban that the investment protections in NAFTA and Canada's many FIPAs were excessive. But the case brings new urgency to the need to drastically reform or abolish the investor-state dispute settlement process. This is even more important as leaks from the ongoing Canada-European Union free trade negotiations show the Harper government entertaining even more pro-investor rules for European firms in Canada than the FIPA granted Chinese firms.
The chill effect from investor-state arbitration -- the worry in government that a policy will attract a lawsuit -- can be enough to deter strong public health and environmental protections. We have to be able to say "no" to fracking and other destructive mega-projects without paying hundreds of millions to oil, gas and mineral companies. If Harper ratifies the FIPA with China, or signs an even worse investment treaty with Europe, it will be much more difficult to do that.
Then again, with this government, that might be the treaty's biggest selling point.