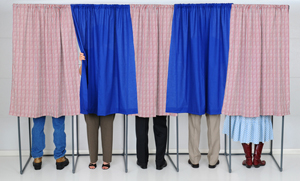 "Polls? Nah... they're for strippers and cross country skiers." -- Sarah Palin, ex-American vice-presidential candidate.
A national research firm is attempting to call every single one of British Columbia's estimated 3.27 million eligible voters with election polling and voter identification questions, The Tyee has learned.
But who is paying for what is sometimes controversially referred to as "robocalling" and why? All four major B.C. political parties say it's not them and they don't know.
The Tyee obtained all the questions conducted by Probit, owned by public opinion polling firm Ekos, in the five-minute call, which could cost up to nearly $500,000.
Probit head Elliott Gauthier confirmed Monday that: "We have been hired to conduct an Interactive Voice Response (IVR) survey. The questionnaire is for all eligible voters in British Columbia."
Gauthier says another research firm hired Probit, but their name is "confidential."  
However, B.C. Liberal, New Democrat, Green and Conservative Party representatives all said they weren't conducting the calls, as did the B.C. Federation of Labour.
The pro-Liberal group Concerned Citizens for BC, which 24 Hours Vancouver newspaper and The Tyee exclusively revealed has a $1-million advertising campaign budget and is running anti-NDP radio ads currently, didn't respond to email inquiries by deadline.
What they want to know
Bryan Bedera of GrassRoots 2.0 -- a Reno, Nevada calling firm, estimated the Probit calls would cost about 15 cents each.
That would price the calls at up to $491,000, but Bedera notes a volume discount might bring the price down to as low as 10 cents a call or $327,000. And since not every voter has their own phone, the potential total calls and the price is more likely half that.
Steve Griffiths of Ifbyphone, a Chicago-based telemarketing firm which does call in Canada, said Monday its rates usually average five cents per minute but with a high volume of calls the price would come down to 3.5 cents a minute, or around 20 cents a call with the length of the Probit script.
I received automated Probit telephone calls twice last week, on Thursday and Sunday evening at my home in the Vancouver-Point Grey riding, recording one call and taking notes for the second identical survey.
The questions seem to combine polling and voter identification, where the party commissioning the Interactive Voice Response [or Recognition] survey is provided with results on the party preferences of the person who answers, reaction to issues raised, approval rating of party leaders and demographic information.
The cheaper IVR automated campaigning is a means by which a party can reach far more people than with a traditional live phone call, making it a cost-effective method of determining where your candidate stands with voters and which ones to concentrate efforts on, i.e. the undecided or soft support voters who might be convinced to back your candidate with the right argument.
IVR is also used for Get Out The Vote efforts on election day, candidate endorsements, advance voting reminders or any other messaging a party may wish to send to voters.
The Probit poll was just five minutes long but packed in key questions, including these:
"Would you say the provincial government is on the right track or the wrong track?"
This is a classic question almost always asked in party polling -- a general indication of political environment that sometimes is at odds with party preference numbers but usually shows the way the wind is blowing.
"If a B.C. provincial election were held tomorrow, which one of the following would you vote for here in Vancouver-Point Grey: Christy Clark, the BC Liberals' candidate; David Eby, the BC NDP candidate, Francoise Raunet, the BC Greens candidate, the BC Conservatives' candidate [not yet nominated], an independent candidate or are you undecided?"
If undecided, the poll asks: "Which party's candidate are you leaning towards supporting?" with the same choices.
This again is classic, a way to attempt to get a "forced choice" answer out of those who don't want to give their party preference.
The poll then asks if "you approve or disapprove of" Premier Christy Clark's and NDP opposition leader Adrian Dix's performance or have no opinion.
The poll also asks who you voted for in the May 2009 provincial election, followed by demographic questions on gender, age, education level, household annual income, ethnic background, what kind of phone service you use and your postal code.
The past election voting allows the pollster and/or party to track voter retention --- how many previous supporters are still on board, while demographics help a pollster ensure a balanced sample.
Probit also asks if you wish to join its research panel for future surveys "on a variety of topics".
Probing Probit
Probit does not mention voter identification on its website as one of its services but it does state that it is suited to "market research" among other purposes.
"Probit is EKOS' new Internet-telephone survey tool for answering serious research questions. It is the most rigorously constructed hybrid survey tool in Canada. Probit is perfectly suited to polling, communications, evaluation, market research or any project that requires valid, representative sampling."
The BC Liberals polled heavily in Vancouver-Point Grey during the lead up to the May 2011 byelection that Clark narrowly won by 564 votes over Eby -- and at that time I also revealed details of the polling.
Regardless of whether we ever find out all the details of the Probit polling or who is behind it, what is clear is that the battle for B.C. will be both fierce and expensive.