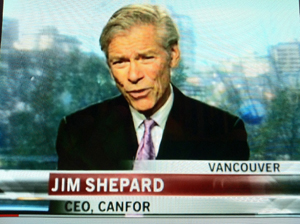 "Christy has not been given a fair shake. She has not been identified as a competent premier." -- Jim Shepard, Concerned Citizens for B.C.
A political action group formed by a retired corporate leader will soon launch a $1 million "blanket coverage... full multi-media campaign" to attack the BC New Democrats and help re-elect Premier Christy Clark's BC Liberals, according to leaked documents obtained by 24 hours Vancouver and The Tyee.
And Concerned Citizens for B.C. -- created by Jim Shepard, the right-wing former Clark economic advisor and ex-Canfor and Finning International CEO -- is running the campaign with the help of prominent lobbyists with strong ties to the federal and BC Liberal parties.
CC4BC, as it refers to itself, told supporters in a Nov. 30, 2012 email obtained by 24 hours about advertising plans that "the cost of such a bold undertaking is $1 million" and that it is "already to $520,000."
"The positive feedback we get from all quarters indicates we will reach our goal well before year end. That will enable us to come out with a full multi-media campaign early in the New Year," the email sent by Shepard states.
No spending limits or disclosure
Shepard has been a vociferous critic of the NDP, claiming that it introduced "socialism" when in power in the 1990s.
"You know, we lived through socialism in B.C. for 10 years. I know what it looks like and it is not pretty," Shepard said in 2010, adding that he was similarly worried about U.S. President Barack Obama political proclivities.
Shepard's $1 million advertising campaign -- or any other -- isn't subject to any spending limits or financial disclosure so long as it concludes before the provincial election officially begins with the writ being dropped 28 days before the May 14 vote, Elections BC confirmed Friday.
That's because a court decision striking down BC Liberal legislation that attempted to ban pre-election advertising.
Ties to Grits
Wazuku Advisory Groups' Kirsten Avison confirmed in a telephone interview Friday that the firm is doing paid work for CC4BC but had no details on its ad plans and did not call back with additional information as requested or respond to email.
Wazuku's three principals are Mike Watson, Brad Zubyk and Steve Kukucha. Kukucha did not return telephone and email interview requests.
Both Kukucha and Zubyk have strong ties to the federal Liberal Party as well as the B.C. Liberal Party and Clark.
Zubyk was communications director for the federal Liberals in B.C. in the 2008 and 2011 campaigns and Kukucha was senior advisor to former Liberal Environment Minister David Anderson.
Wazuku, Kukucha and Watson are BC Liberal Party donors.
Zubyk was also active in Clark's BC Liberal leadership campaign and has worked for the Independent Contractors and Businesses Association in an expensive anti-NDP campaign before the 2009 election. The ICBA's Philip Hochstein is a vociferous opponent of the NDP and unions in B.C.
Zubyk also testified for the B.C. government in court in support of its earlier legislation restricting election advertising.
Ironically, Zubyk's political career in B.C. started when he was communications coordinator for the NDP caucus under then-Premier Mike Harcourt and he later ran two unsuccessful BC NDP leadership campaigns for ex-MLA Corky Evans.
Zubyk's current lobbying clients include General Electric Canada and the B.C. Maritime Employers Association.
Kukucha, who has previously been active in independent power production, has lobbyist clients that include Ballard Power Systems and Blu Earth Renewables Kukucha has also been a federal lobbyist but currently has no active clients.
Watson is a BC Liberal government appointee on the Pacific Carbon Trust and a national director of the Canadian Chamber of Commerce.
'Oh really?'
But despite the colourful background of CC4BC's top advisors, its biggest problem may actually be founder Shepard. The ex-CEO is an evangelical supporter of Clark and the "free enterprise" cause but he is often short on facts.
In an interview with CKNW radio host Bill Good on Jan. 8, Shepard was definitive on the NDP record -- but wrong.
Good: Fiscal management does not seem to be a high point of this government today... It's not been balancing its budget.
Shepard: They have not done as well as they should have. They only balanced their budget four times out of the last nine attempts.
But if you look at the previous nine years with the NDP, they never had one single balanced budget.
Good: They had two.
Shepard: Oh really? Which ones?
In fact, the NDP left office in 2001 after two balanced budgets.
But despite Shepard's shaky grasp on political and financial reality, he has a $1 million ad campaign ready to launch -- why let any facts get in the way?