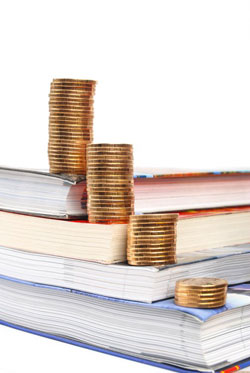 So here you are, starting Grade 10 or 11 or 12, and you're not sure you can face another year of school. In fact, you're thinking seriously of pulling the plug.
Whatever your reasons, you're not alone. According to the Ministry of Education, in 2011 81 per cent of B.C. students completed Grade 12 within six years of Grade 8.
That means one out of five didn't complete, even with two extra years. Think of it this way: Out of every Grade 8 class of 30 students back in September 2006, six have still not completed high school in September 2012. (For aboriginal students, the six-year completion rate is 53 per cent.)
So at least you'd have company, right? And you could get out there, find a job, and finally have some freedom and control over your life.
The numbers say just the opposite: The less school you have, the less freedom and control you have. B.C. Stats ran a survey in 2007 and found that people with no post-secondary had a 23 per cent unemployment rate, compared to 15 per cent for people with some kind of post-secondary credential.
What's more, the people with a post-secondary credential were making, hourly, $23.87 in 2012 dollars. That amounts to a yearly income, with 40 hours a week for 50 weeks, of $47,740.
No post-secondary? People with just Grade 12 (or less) were making $14.10 an hour. That would be $28,200 in a year, assuming no layoffs.
The $19,540 piece of paper
That is a pay difference of $19,540 between you and somebody with a post-secondary piece of paper.
Now push that difference over a 45-year career, assuming you can retire at 65. The post-secondary grad will make $2,148,300. You will make $1,269,000 -- $879,300 less. Eight hundred and seventy-nine thousand dollars would buy you a lot of freedom.
What's more, the jobs open to you are the kind you learn on your first morning. Then you spend 45 years bored out of your mind. The only excitement is wondering when they'll fire you. With a post-secondary credential, you've got a chance at a job where they're paying you for your training and judgment. They pay more, and they cut you more slack in how you do the job.
Think about this. In the 2006 census, the median income of a B.C. male, aged 15 to 24, with less than a bachelor's degree, was $10,125 in today's dollars -- even with a one- or two-year college certificate. That means half were making more than ten grand a year, and half were making even less.
It was worse for females: Even with some post-secondary but no degree, their median income was $9,076 in 2012 dollars.
Well, you make more as you get older, right? Not enough to catch up. The census found that the median income for a B.C. male aged 25-34 without a bachelor's degree was $33,070 in 2012 dollars. With a bachelor's, the median income was $40,205.
For women aged 25-34, median income with a bachelor's was $21,362 -- $12,206 dollars more than without the degree. (And that is why so many young women are going into post-secondary and post-graduate programs.)
A degree is no guarantee
If you think the income for people with degrees is still lousy, I agree. And for every person with a degree who is making way more than the median income, someone else, just as educated, is making way less.
So a degree is not a guarantee. No wonder so many post-secondary students feel screwed: they borrowed thousands to get through, and may still get only a low-paying job. Their years of effort have only improved their chances of a decent job and income.
But their education should also have given them a better sense of how Canada operates, and what they can do -- personally and collectively -- when things go wrong. They may even get involved in political action to improve their situation.
Without that education, stuck in a dead-end job or no job at all, your chances are slim to none. Personal freedom and control over your own life are a joke.
As for that $879,300 difference between you and your classmate with the degree -- well, when you drop out of school, that's what it's likely to cost you.