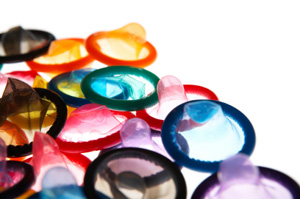 In 2004, Lara Roxx was a 21-year-old sex worker in Montreal, working as a stripper for three years and shooting a few Canadian porn films. But in order make any real money, she had to come to the San Fernando Valley, where 90 per cent of the porn in North America is made. Her plan was to stay and book as many shoots as possible until she made $30,000 to open her own modeling agency.
On Lara's second porn shoot in Los Angeles, she was asked to have unprotected sex with two men at the same time. She initially said no but was told by the director "either do it or we'll find another girl who will." She agreed and then was told the scene would not just be "double penetration" but "double anal." With a hefty paycheque promised to her, and the threat that she was replaceable, Lara went ahead and did it.
Less than a month later, Lara was contacted by the Adult Industry Medical Associates Clinic (AIM) and told that one of the men she'd had sex with, Darren James, had tested positive for HIV on a rapid HIV test. When he'd shot the double-anal scene with Lara, Darren James had just returned from Brazil, and Brazil is a notoriously boundary pushing and unregulated country when it comes to its adult industry. Lara retested and came up HIV-positive. In less than two months, her dreams of becoming a porn star weren't just shattered -- her life was as well.
Lara, Darren, and every other performer in porn in California was required to be tested every 30 days for chlamydia, syphilis, gonorrhea, and HIV at one medical centre -- AIM, which was established and operated by a former porn star. AIM administered rapid HIV and STD tests, tracked every single person a performer would have sex with on film, cross referenced it, and kept the web of intimate contacts in a database for years. While the system still failed Lara and two other women also infected by Darren James before his next test, it did stop a possible tidal wave of infections. AIM was able to track the on-camera sex partners of every performer who tested positive in 2004. They were subsequently contacted, quarantined from performing, and retested before being allowed to perform again in California. 
While performers like Lara had fallen through the filter at AIM, it had been the only and most-effective way of tracking the sexual activity and illnesses of performers. AIM went bankrupt and closed its doors in May, so in order to shoot a film in L.A., a performer must go to any clinic that administers HIV tests every month, and bring their results to the director on set, before they are supposed to shoot. Adult performers' sexual activity on set is no longer officially tracked, and there have been accusations that some performers have falsified test results when another HIV outbreak occurred this summer.
Unprotected 'contractors'
Provinces have strict work safety regulations for people working in dangerous fields, as well as those working in offices. The U.S. also has these regulations enforced by a federal organization called OSHA, but because the majority of adult actors and actresses are not on stable contracts and are considered independent contractors, they are not covered by the most basic laws the rest of us are while we sit at our desks.
If federal governments in both the U.S. and Canada are not willing to mandate pornography as a legitimate form of work that must be covered by organizations like OSHA or WorkSafe, the adult industry will continue to bend the rules or outright break them in cases of health safety. The industry has tried to self-regulate and it clearly doesn't work, as the bottom line drives everything, and even more boundaries will be tested and violated in an attempt to have the most "extreme" films. In 2000, there were three major heterosexual adult-film production companies that required condom use for every single one of its scenes.
Eleven years later, only Wicked Pictures still keeps its mandatory condom policy, and the market is now flooded by "gonzo-productions" that promise hardcore sex scenes with a guerilla feel to their films. Even the gay porn film companies are starting to allow "bareback" or unprotected scenes, despite the risk. The reason Lara did the double-anal scene to begin with was two-fold; she'd get paid $1,500, and because her agent begged her do it for him as a favor to that particular director, and Lara -- young and new to the industry -- had a crush on her Los Angeles agent, so she complied.
There are several solutions federal governments could ponder and provide. The simplest is to legislate and enforce condom use on every single porn set in North America. If you want your film to be shot and distributed in North America (regardless if it is in DVD or digital formats for the internet), condoms must be used. The only way the porn industry will comply with safety regulations is if their bottom line is at stake, and distribution rights is where most pornography makes its money.
If a window washer is not allowed to work without a harness, it's absolutely ridiculous that porn stars can work without protection. Pornography may be a moral issue in some communities, but protecting the health and safety of porn stars should not be. Inadequate self-regulations in the porn industry may have failed Lara Roxx, but our governments don't have to fail another person like her.
[Tags: Gender and Sexuality.]