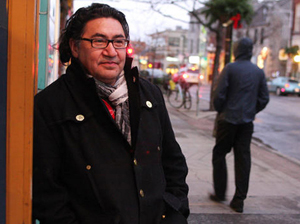 "A leader is a dealer in hope." -- Napoleon Bonaparte
The next leader of the opposition will carry the New Democratic Party's future hopes of not only defeating Conservative Prime Minister Stephen Harper but also forming Canada's first social democratic national government.
It's an enormous challenge to replace the party's late leader Jack Layton but eight candidates believe they can do it.
Last week this column profiled the media-perceived "frontrunners" -- Montreal Member of Parliament Thomas Mulcair, Toronto MP Peggy Nash and former NDP president Brian Topp of Toronto.
But just like at the horse races, the favourites don't win every time.
So Ottawa MP Paul Dewar, B.C. MP Nathan Cullen, Manitoba MP Niki Ashton, Quebec MP Romeo Saganash and Nova Scotia businessman Martin Singh are all criss-crossing the country to meet as many of the estimated over 100,000 party members eligible to vote in the March 24 decision in hopes of an upset victory.
Dewar's campaign in fact believes he is surging to compete with the top tier contenders, while Cullen relishes his outsider status and Ashton talks convincingly about the "new politics" she brings to the race as a 29-year-old woman.
A victory by Saganash would be an amazing story -- the transformation from young child seized from his parent's home and sent to native residential school to leader of the opposition.
And unknown pharmacy owner Singh has surprised with articulate performances focusing on health care issues.
I recently met with Dewar and Ashton and spoke by phone with Cullen to get a sense of their priorities and personalities. (Unfortunately time constraints didn't give me an opportunity to do the same with Saganash and Singh.)
PAUL DEWAR
Paul Dewar is an engaging, affable and highly energetic politician -- someone who instantly feels like an old buddy.
Perhaps it's because Dewar, 48, grew up in politics. His late mother Marion was the popular mayor of Ottawa and an NDP MP. It also helps that he's been a public school teacher and an aid worker in Nicaragua.
Dewar himself was first elected in 2006, taking over Ottawa Centre riding when former leader Ed Broadbent retired, and served as foreign affairs critic under Jack Layton's leadership.
Dewar has strong support in Manitoba, where he won early support from several provincial MLAs and labour leaders, and in Ottawa. Most recently B.C. NDP MLA Mabel Elmore and Jim Clancy, National Union of Public and General Employees president, endorsed his leadership.
Dewar faces two big challenges. First, to gain backing from NDP MPs -- to date none have joined his campaign, though that is expected to change soon.
And second, while Dewar speaks French, his command of the language has been questioned enough to be an issue in a contest where fluent bilingualism is considered essential. Nova Scotia MP Robert Chisholm has many admirable skills but his lack of French caused him to bow out as a candidate after the first debate, where he required a translator.
Dewar addressed his need to improve his French by moving into the home of his language tutor for a week before Christmas to improve his ability. We'll see the results in upcoming party debates starting Jan. 29.
A history of upsets
Political blogger Eric Grenier's ThreeHundredEight.com has undertaken an innovative "endorsement ranking" that illustrates Dewar's possible dilemma.
According to its weighting of the backing each candidate has received, Dewar ranks fourth with 5.7 per cent of "endorsement points" as of Jan. 4.
Topp leads with 40 per cent, Mulcair is second with 25.5 per cent, Nash ranks third with 20.3 per cent. Following Dewar are Ashton at 3.9 per cent, Cullen with 3.0 per cent, Saganash at 1.6 per cent and Singh at zero.
Grenier is quick to point out that his ranking method "is, in no way, a scientific method that is meant to have any precise predicting capability. It is just one way to interpret the endorsements and what they might mean in the respective leadership races. And they are just to make the race a little more fun."
I suspect leadership campaigns will take them rather seriously, particularly as Grenier demonstrates from past federal Liberal and NDP leadership contests that they can mirror the actual results.
But while the value of endorsements is always seen as high in leadership and nomination battles, B.C. Premier Christy Clark proved last year that even having just one BC Liberal MLA out of a caucus of nearly 50 supporting her campaign was no impediment to winning it.
In other words, big names don't necessarily win big votes.
And political leadership contests have changed enormously with the demise of delegated conventions, where those attending could dramatically affect the outcome as their favoured candidate dropped off the ballot and urged them to support another contender, with multiple rounds of balloting.
Upset victories at such conventions were legendary. Joe Clark's surprise 1976 Progressive Conservative Party leadership win on the fourth ballot after finishing with less than 12 per cent of delegate support on the first vote is perhaps the ultimate example.
NATHAN CULLEN
While Dewar wants to be a frontrunner, Nathan Cullen not only knows he's a dark horse candidate on this track, he celebrates it.
B.C.'s only contender hails from Smithers -- almost as far from Ottawa as you can get and still represent Canadians.
Send Cullen a cell phone text to set a time to talk and you get a one word response: "Cool!"
Cullen has received excellent media and member reviews for his performance in debates and town halls, where his confidence, fluent French and willingness to discuss politically difficult ideas have encouraged his supporters.
Cullen suggests the NDP form a one-time electoral alliance with the Liberal and Green parties to defeat the Conservatives.
Then, he proposes, the parties that routed Stephen Harper would introduce some form of proportional representation electoral system, end their deal and fight future elections on their own.
It's a controversial position -- ironically like his initial voting with the Harper Conservatives to kill the long gun registry in the last minority Parliament, a measure that failed but will almost certainly pass with a Conservative majority now in place.
"As I said when I voted in support of the bill to repeal the registry last November [at second reading], it's time to stop dividing the country over guns and move on to find effective ways to reduce gun-related violence," Cullen stated in June 2010.
Cullen added in a release that he "has received 'clear and decisive direction' from his constituents to oppose the gun registry, a position he agrees with personally." (Cullen has recently criticized the new Conservative bill to end the long gun registry because of its intent to destroying past registry records and include sniper-style rifles as unrestricted weapons.)
Cullen's endorsement support is limited, He has four B.C. NDP MLAs backing him -- Robin Austin, Gary Coons, Norm Macdonald and Doug Donaldson.
It's hard to see how Cullen could win this contest without a dramatic turn of events, but at 40, his goal may be more to increase his public profile and build support for the next leadership campaign. So far, he's succeeding admirably.
NIKI ASHTON
If Cullen has lots of time, Niki Ashton is even better placed for the future.
At 29 years old, Ashton has already been elected as an MP for Churchill twice, holds a masters' degree in international affairs, is completing her PhD and is fluent in not only English and French but also Spanish and Greek.
She also knows that defeating seasoned politicians with decades more experience than her is unlikely. And that's not a worry.
Her performance at the recent BC NDP convention leadership town hall meeting surprised and excited many delegates, as she more than held her own on the stage.
In person Ashton is friendly, personable and enthusiastic. She exudes quiet confidence that seems well beyond her age.
But it's not too surprising since Ashton, like Dewar, comes from a family where politics were a big part of growing up.
Her father Steve Ashton is a Manitoba NDP cabinet minister who ran against current Premier Greg Selinger to replace Gary Doer in 2009.
Ashton has the backing of B.C. NDP MLA Guy Gentner, three MPs and several Manitoba MLAs.
Ashton has been a strong voice fighting the Conservative government's elimination of the Canadian Wheat Board and calling for action to end deplorable conditions faced by northern and aboriginal people, as most recently seen in Attawapiskat.
ROMEO SAGANASH
Romeo Saganash more than shares Ashton and the NDP's concerns -- as the first indigenous person to enter the national leadership contest of any party, he is a powerful voice of opposition to Harper.
No candidate for any Canadian political party has made an opening campaign statement as eloquent and poetic as this one, which begins:
"The shore of a lake, deep in the woods of Quebec, was my birthplace and my first classroom. Growing up in the bush, what I knew about life I learned from my parents and 13 siblings; from the Elders and our small community; from the moose and beaver; the fish and birds; the trees and plants; and the very rock and soil that supported us all," Saganah wrote.
Saganash survived the residential school experience to become a lawyer, speaks fluent Cree, English, French and Spanish and has years of experience as a First Nations leader.
While he is unlikely to win the leadership, Saganash is going to change both New Democrat and national politics for the better. He has two NDP MPs backing his bid.
MARTIN SINGH
Martin Singh came to the leadership contest as an unknown even in his home province of Nova Scotia but he may leave it as a potential key political figure there.
Singh was born with the name Martin Hill but converted to Sikhism in 1996, changing his last name then. Singh became the first Caucasian convert in Canada to head a gurdwara or place of worship.
Singh owns several pharmacies and residential care facilities in Nova Scotia and Ontario. The former federal Liberal describes himself as a "pro-business member of the NDP" and also serves in the Canadian Armed Forces Reserves.
Singh's main campaign push is for a national pharmacare plan that would replace current public and private plans -- a move he says would save both Canadians and private companies hundreds of millions of dollars a year.
Despite his lack of past party experience, Singh has performed surprisingly well in public appearances, making his entry into electoral politics a real possibility.
So what will happen March 24? Can any of these five candidates break from the pack and dash past Topp, Mulcair and Nash to an upset win?
It's extremely hard to predict the outcome of a wide-open, one-member one-vote leadership contest where multiple factors are at play.
But with a fascinating and talented group of contenders in an event sure to gain prolonged national attention, the NDP can be assured that Jack Layton's successor will not be ignored -- especially by Stephen Harper and his Conservative Party.
Read the first article in this two-part survey of NDP leadership candidates here.