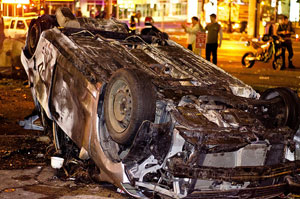 "Here we are now, entertain us / I feel stupid and contagious"
-- "Smells Like Teen Spirit," Nirvana
The Vancouver Canucks riot was not an aberration nor was it conducted by "anarchists" as Mayor Gregor Robertson and Vancouver Police Chief Jim Chu wrongly claimed.
The rioters were instead pathetically hollow people with no moral compass.
Most had jobs, good parents and an education. One even held a prestigious membership on a national sports team.
None of that mattered.
They wanted entertainment and what better than a riot with burning police cars and the lasting memories that come from having your pictures taken in front of jumping flames?
But why expect better behaviour from young people when the rot in our society starts at the top?
Take Vancouver Canucks owner Francesco Aquilini repeatedly telling media -- including one woman reporter - to F*** off for doing their job of asking questions after his team lost game seven.
Apparently making millions from a sports franchise does nothing to improve basic manners and instil professionalism.
By June 17, the foul-mouthed Aquilini was telling Global TV that "Real fans don't riot."
Are you kidding? Of course they do!
Who but a real Vancouver Canuck fan would buy an overpriced team jersey valued from $80 to $320 to wear on a riot and looting spree?
Watch the videos, Francesco, and in each incident you'll see about $15,000 worth of your Canuck merchandise-wearing fans rolling and burning cars or smashing downtown storefront windows.
Yes, "we are all Canucks" -- even the crazed rioters.
Corruption and disrespect
And why would we expect exemplary behaviour from young fans when everywhere they turn they see corruption and disrespect at the highest levels for the values we want them to respect?
After the riot we learned that four senior RCMP officers face multiple serious corruption charges in the infamous 2007 Surrey Six massacre that saw two bystanders and four gang members murdered.
The allegations include one officer impregnating a potential witness, the girlfriend of a man who pled guilty to murder in the case.
Last month four other RCMP officers were charged with perjury over their testimony in the tragic 2007 Robert Dziekanski tasering death incident at Vancouver Airport. The allegation is that they lied under oath to protect themselves from prosecution.
While these officers deserve the presumption of innocence before trial, the impact is deeply disturbing.
Nationally, Prime Minister Stephen Harper's government was voted in contempt of Parliament by the opposition for the first time in history -- and nonetheless rewarded with a majority government in the following election.
In this province, two former B.C. Liberal ministerial aides who pled guilty to breach of trust for disclosing confidential government information to a bidder in the $1 billion privatization of B.C. Rail had their $6 million legal fees covered by the B.C. government, ending their trial after just two witnesses testified.
And B.C. Premier Christy Clark said during her leadership campaign that she wouldn't cut the Harmonized Sales Tax rate because it would be like trying to buy people's votes -- then she did exactly that once in office.
Government and big business Smart Tax Alliance television and print ads falsely proclaim that the HST is 10 per cent when in fact it is 12 per cent and can't possibly be 10 per cent until 2014 -- if the B.C. Liberal government is both re-elected and keeps its words.
And they say "Vote no for lower taxes" when a no vote will keep the HST in place -- a tax not previously paid on hundreds of goods and services.
Yet they run the ads without a hint of embarrassment.
Those who give a damn
The gap between the good behaviour we expect and the results we see from our role models is tragic.
Fortunately many, many other Vancouver residents do give a damn about something and about their city.
Some tried to stop the rioting and destruction while others made the effort to help clean up, express their disgust for the riot and attempt to restore our city's tattered reputation.
Not all Vancouverites are "stupid and contagious" -- literally thank goodness.