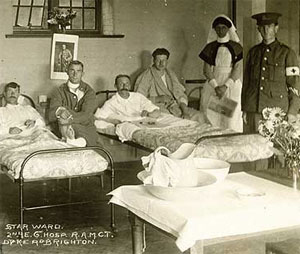 It's a curious fact of Canada at war: each death in Afghanistan is front-page news, with a colour photo of the victim. But the wounded get little attention.
The policy is to release the total number of wounded only once a year, and not to describe the nature of their wounds at all. This, presumably, denies the Taliban useful intelligence on how well their IEDs and rocket-propelled grenades are working.
It also denies Canadians any sense of how many of our soldiers come home hurt, or who die of their wounds outside Afghanistan. We should know, and we owe the wounded respect and concern.
So we're reduced to consulting Wikipedia for a rough sense of the suffering: as of the end of 2009, after almost seven years of combat, our forces suffered 1,442 non-fatal casualties. Of these, 913 were "non-battle injuries," with 529 "wounded in action." That's remarkably few compared to earlier wars.
Of course we suspect the true number of non-fatal casualties is much higher. Anecdotally, we know returning veterans who are psychologically wounded. We are beginning to recognize that we will be paying for those wounds long after the last soldier has left Afghanistan.
Veterans Affairs Canada indirectly admits this. In its latest financial statement, in the fiscal year ending March 31, 2010, VAC spent $81.9 million more in certain grants and contributions than it had in the previous year.
Deciphering VAC-speak
"The increase is primarily due," it said, "to the continuing uptake of programs such as Disability Awards and Earnings Loss under the New Veterans Charter. Expenses for the Veterans Independence Program also increased due to increased eligibility for primary caregivers and low-income or disabled survivors. These increases were partially offset by decreased expenses for disability pensions and war veterans allowances due to declining numbers of veterans and other clients.
"Expenses for health related services such as operational stress injury clinics and treatment benefits increased by $8.4 million due to increased client demand. Expenses for career transition and rehabilitation under the New Veterans Charter increased by $5.4 million."
In other words: More veterans need caregivers they can't afford without help. More veterans are disabled, or able to find only low-paid work. More veterans need care for "operational stress," a term including post-traumatic stress disorder (PTSD). More veterans need to find jobs outside the Forces and to be "rehabilitated."
The only bright side, from VAC's point of view, is that veterans are dying off and thereby saving the taxpayers money.
As shabby as this treatment seems, it's far superior to what happened in World War I. At the battle of Vimy Ridge, over 3,500 Canadians died between April 9 and 12, 1917. Seven thousand were wounded. The only recognition they got in the media was their names, in small print, in the endless casualty lists that the newspapers published daily.
Nor did they come home to the "land fit for heroes" that the newspapers promised. They got little care or compensation; "shell shock," as PTSD was then known, was considered a personal moral failure. The Canadian novels published just after the war describe veterans incapable of talking about their experiences, waking in horror in the night.
What Bloch taught
It took a while for governments to absorb their own post-traumatic stress. They had ignored the lessons of Jan Bloch, who in 1898 published a six-volume study, The Future War. A Polish banker, Bloch did a detailed cost-benefit analysis that predicted bankruptcy and revolution for any advanced nation that went to war against another advanced nation.
Europe's generals, accustomed to easy victories against colonial rebels, tried to shrug off Bloch's warning. The Germans took Bloch seriously, but gambled that they could win a quick German victory against France and Britain by a blitzkrieg lunge through Belgium to the English Channel. They nearly won their bet, but the next four years of trench warfare vindicated the old banker.
The generals themselves were shaken by the war: as Bloch had predicted, economies were ruined, empires collapsed, monarchs were toppled, and revolutionaries seized the streets. Canadian veterans were active in the Winnipeg General Strike -- on both sides.
After yet another Blochian war, the victors realized that high military casualties were politically unacceptable -- at least to democratically elected governments. The idea was to keep the soldiers as far from combat as possible: to launch rockets from helicopters, cruise missiles from ships, and bombs from jets.
Korea, a war we have almost forgotten, ended with scarcely any structure intact north of the 38th parallel. Vietnam suffered worse bombing than Europe had experienced in World War II, and perhaps a million Vietnamese deaths. But 60,000 American deaths in that war were too high a political price to pay.
High-tech, low-casualty war
The doctrine now is not to avoid wars, but to fight small countries using the highest possible technology to minimize one's own losses. And so it has gone through Bosnia, Afghanistan and Iraq -- and now Pakistan, where unmanned drones attack suspected Taliban and Al Qaeda leaders and their families.
Bloch is not mocked: the U.S. has fought its recent wars with small loss in blood but a huge loss in treasure. As an empire, it will eventually go the way of the Ottomans, the tsars and the kaisers.
And Canada, which could once throw away 10,000 men in a single four-day assault, now grieves for just a few hundred lost in seven years. But it begrudges the money it needs to rehabilitate the few unlucky soldiers who come home with missing limbs or operational stress.
Until we learn the lesson of Jan Bloch, more such soldiers will come home, to be remembered on Remembrance Day and forgotten the rest of the year except by a few government accountants.