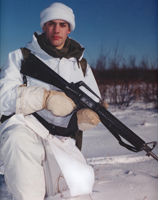 Not yet 31, Yuri Miljevic-Laroche may have one of the longest experiences of post-traumatic stress disorder of any Canadian veteran in this century. It isn't over yet, for him or for thousands of other veterans with PTSD and other "operational stress injuries" (OSI).
Sitting in a crowded Kitsilano White Spot at lunchtime, Yuri starts at the beginning: Growing up in the Ottawa region, the son of a Yugoslav academic father and a French-Canadian artist mother. In the 1980s they'd spent summers in Yugoslavia, travelling and visiting relatives.
Over his parents' strong objections, he'd gone straight from high school graduation in 1997 to the Canadian Forces.
"I wanted to be a soldier," he says. "I liked being an army cadet in high school. And I wanted to be in the infantry."
He was good at it, a specialist in reconnaissance, but a tour in Bosnia, in hindsight, looks like the beginning of his troubles.
"I just shut out the Yugoslav side of my family because they'd let this happen to their country. And I felt guilty about what had happened to Yugoslavia."
Back in Canada, he settled into garrison life with his common-law spouse in Winnipeg. After 9-11, it was a foregone conclusion that he'd go to Afghanistan. "You hope for a major conflict during your career," he says. "Not because you want to kill anyone. You've done the training, and you just want to see if you've got the minerals for the real thing."
In Kandahar on April 18, 2002, an American F-16 dropped a 225-kilo bomb on a Canadian unit during a night training exercise. Yuri wasn't present, but he knew two of the four soldiers killed. Eight others were wounded. Yuri says the bomb would have killed far more if it hadn't exploded in a gully. Those outside the gully escaped the worst of the blast.
Yuri and seven other soldiers were assigned to augment the stricken unit. "We were tasked to replace the casualties of that incident. It was a surreal experience being issued with a fallen comrade's rifle and sleeping in a tent whose previous occupant had been killed only a few days ago.
"We were never really accepted into that unit. We were replacements... a constant reminder to the others of the lost friends that had trained, lived, fought and bled together."
Sitting in the White Spot, Yuri rattles off the names of other operations he took part in on that seven-month tour. He was on armoured patrol one day when the vehicle loaded with soldiers in front of his hit an anti-tank mine, and blew 20 feet into the air. "Everybody got rung up pretty good, but they survived." There were other days crawling into caves around Tora Bora not knowing if an armed Taliban hid in the darkness. Nights spent on guard in a 40-foot high plywood watchtower, feeling like a target for the next mortar hit. "You'll know you are under attack when your tower blows."
Just about every minute of every day, Yuri says, fear gnawed at him. At some point it gnawed a permanent hole.
Life went on, and then he came home to Winnipeg in late summer to find an empty house. "Typical soldier's story: Come home and she's gone."
A 55-day bender
To make up for missed leave and R&R, the Forces gave Yuri 55 days' leave. He went to Ottawa and a "55-day bender."
Back in Winnipeg, he became a "super-soldier," working hard at every task, volunteering for more. He was having trouble sleeping, and learning an unspoken regulation: Don't talk about how you're feeling. Admit the bare minimum, insomnia, to get the pills that would help you sleep.
He describes a survey of Afghan returnees as "like a hotel customer questionnaire. No, I'm not depressed. No, I'm not stressed. Yes, I feel bad about my buddies who got hurt." Admitting more than that, he says, would cost you your career.
So he went through a string of increasingly bad moments: "dissociative events," when he'd find himself in a supermarket with a basket full of groceries and no memory of the past six hours. Staying awake until five in the morning, then waking up at six the next evening. Drinking and more drinking.
He acquired a new girlfriend. Then, at a party, they had a fight and she left with another soldier. Word got back to Yuri that they'd gone to the soldier's barracks. He followed them, "kicked the shit out of them," and woke up the next morning in a Winnipeg jail with no real memory of the event.
"What were you on?" asked one of the cops. "It took eight of us to bring you down."
Waiting for a truck
Living in NCO quarters with a civilian roommate, Yuri had a breakdown one night. He trashed the place and threw every military item out into the front yard, ignoring the cuts to his feet from walking barefoot on broken glass.
In the next breakdown, he went out in his underwear at two in the morning, waiting for a truck that he could step in front of. A neighbour and his wife came out, wrapped him in a blanket, and got him inside.
That wasn't the only suicide attempt. Another time, armed with an array of drugs and a bottle of Jack Daniels, he tried to kill himself but only threw up. "I took the pills in the wrong sequence," he says. His sergeant listed him next day as AWOL: absent without official leave.
Finally given a medical discharge and long-term disability, Yuri returned to Ottawa to live with his parents and become a "bar star" at a local pub. A new girlfriend managed to pry him away from that world, and on impulse they flew out to Vancouver for a holiday.
It turned into a permanent move. Soon they were living in a West End apartment, and the novelty of Vancouver put Yuri's demons to rest for a few weeks. He won admission to the Outdoor Recreation program at Capilano College (where I first met him).
But by then his girlfriend had gone back to Ottawa, alarmed at his moods. "The only emotion I could express was anger," he says. "Happiness: anger. Sadness: anger. Anger: You better watch out."
It became impossible to get out of bed in the morning to attend class. Then anxiety set in: "How can I catch up?" He made a deal with the program coordinator: Write off the first semester, pick up the second, complete the first semester next year.
But the deal fell through within weeks: During a wilderness first-aid workshop in Whistler, Yuri ended the day by learning on the TV news that his best friend, and another buddy, had died in a vehicle accident in Afghanistan.
A 24-7 bubble
Eventually, Yuri got into an in-patient PTSD program in Guelph. He thrived in a "24-7 bubble," where he was closely cared for. The program put soldiers and police officers in one group, separate from firefighters and civilians: Soldiers and cops had not just endured violence, they had meted it out.
They could also mete out praise in a group session when they told him: "You're crying!"
"No I'm not." But he was, and it felt wonderful. More simply, it felt.
For the first time in four years, Yuri experienced an emotion.
"You say, 'I love you,' but you don't really feel love," he says. "You don't feel anything."
It was not a happy-ending moment. Yuri's troubles continued after he left the program and returned to Ottawa. He'd reunited with his girlfriend, but after a "particularly ferocious" argument one night, he went home angry and frustrated and had another dissociative experience: Suddenly it was 6:30 a.m., he was in a local McDonald's, heavily intoxicated, and his mother's car was outside.
Hoping to get it home before she woke up, he chose to drive with disastrous consequences.
"I heard a thud, looked in the rear view and I knew I had hit someone."
He got out of the car and performed first aid until police and paramedics arrived. "The officer asked me if I had seen what happened and I told her that I had hit the lady on her bicycle."
Smelling alcohol on Yuri's breath, the police officer read him his rights and placed him under arrest. He was released on his own recognizance. The case wasn't decided until last summer, when he was convicted. He received four months' house arrest and a one-year conditional sentence, plus a year's probation. His license was suspended for 18 months. The woman involved has since made a full recovery.
"As if I did not have enough to deal with, I now had this monstrous amount of guilt and shame due to my actions." He says he continues to deal with that incident and has not had the courage to get behind the wheel of a car since 2006.
Trying to build a new life
Yuri is back in Vancouver, trying to build a career and a life. More of his old friends have died in Afghanistan. Each death hurts, and he thinks he should be back there -- though he knows he's now utterly unable to handle the demands of his old job. He takes courses for ski instructors, and moves from one therapy program to the next.
He remembers during our conversation to take an antidepressant and another pill to deal with its side effects. At least he's off the sleeping pills and anti-anxiety drugs.
I mention reading a report about a Vancouver centre for OSISS: operational stress injuries support services.
Yes, he says, it's there, but PTSD cases don't often go to it. "The stigma of an OSI has yet to really dissipate for serving members and released ones as well. Veterans are still reluctant to come forward and get the intervention and help they really need. Some don't even realize that their quality of life could be far better and they need not suffer alone, in silence."
Invisible wounds
I mention that if he'd had his foot blown off, support would have been instant.
"Oh sure, 'Poor guy, let's take care of you.' But they don't pay attention to the invisible wounds."
Yuri goes on: "Things are changing, ever so slowly. As awareness grows, the stigma attached to an OSI diminishes." To that end, he has shared his story with a Quebec television news station, and now here.
The stigma of coping with post-traumatic stress "will in my opinion never really go away. It's the nature of the beast," Yuri says. "The best we can hope for is that OSI remain at the forefront of our collective consciousness. So long as people talk about it, and we keep bringing it up, people will remember and eventually accept. Not all but some. And if that prompts one guy to seek out help or even just question it... then it's worth the work."
Related Tyee stories: