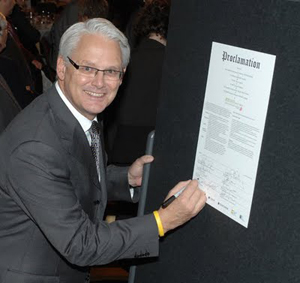 [Editor's note: The Tyee is pleased to weekly showcase the best of the Vancouver Observer, the independent, online source of news, culture and blogs whose motto is, "All local -- all the time."]
Last November, the speaker and "honourary chair" at the sold out annual gala for the Fraser Institute in Vancouver was Premier Gordon Campbell. Campbell's presence at the expensive event was remarked upon by those with the perception that efforts are being made to privatize the public education system in B.C.
"If policy remains as it is, we'll see the erosion of public education," Paul Shaker, dean of the faculty of education at Simon Fraser University, said recently. "We've already seen it in Vancouver. Eighteen per cent of school age children now attend private schools."
"Part of the international movement of neoliberalism is to treat schools as simply another service that can be commodified and deserve no special place in society. This movement has been coming along since Thatcher and Reagan, and reached a fevered pitch over the last 10 years." If you want to analyze why things have deteriorated in Vancouver, Shaker said, "it probably has to do with this global and political movement."
The name of the Fraser Institute came up often in interviews with parents, teachers, administrators and academics, in discussions about the dispute between the province's education ministry and the city's school board over a shortfall in funds, a shortfall which school trustees said last week might very well result in the closure of five elementary schools and six annexes. Those interviewed seemed to believe that the Liberal government was carrying out a larger agenda of privatization, an agenda perceived to be supported by the policy papers and school report cards issued by the Fraser Institute.
"The Fraser Institute's school report-card program is merely the opening salvo in a campaign to strip public education of its funding and direct the resources to the private and nonprofit sectors," Donald Gutstein, professor in the school of communication at SFU, recently wrote in The Georgia Straight. Gutstein pointed out that Campbell had been a speaker at the Fraser Institute dinner and so the Observer sought to confirm this.
When questioned about whether Campbell had appeared at the event, Dean Pelkey, director of communications for the Fraser Institute, quickly became suspicious of what a reporter was getting at.
"At an event last year, we presented Peter Brown, the chairman of Canadacord Capital -- although I think they've changed their name since then, you have to check their website."
"When was this?" an Observer reporter asked.
"It was in fall of 2009. It was an event to honour Peter Brown's contributions to B.C.'s economy. Gordon Campbell was not the keynote speaker but he spoke at the event," he said.
"Was it a successful event?"
"I would say it was a successful event in that we sold it out," Pelkey said.
"How much money did you raise?"
"We don't disclose that kind of information."
"How many people were there?"
"We don't disclose that information. What is this story about?" he asked.  
"Well, we're just trying to confirm facts. A source told us that Gordon Campbell was the keynote speaker at your last event," our reporter said.
"But what's the story about?" he asked again.
"It's about education, the Vancouver School Board budget."
"But how is that related to Gordon Campbell and the Fraser Institute?"
"You know, we're just trying to investigate all aspects of the story, including the political dimensions," the reporter said.
"But I don't understand why an event honouring one of B.C.'s most successful businessmen is related to the Vancouver School Board budget. I don't understand why you're asking me this question."
"You know, we're just trying to confirm facts."
"Are you going to write a story saying that the Fraser Institute has influence over the Vancouver School Board budget?" Pelkey asked.
"I don't know what the story is going to be yet, the story is developing. As I said, what happened was, in our research on the VSB budget, someone mentioned to us that Gordon Campbell was the key note speaker at your last event. All we're trying to do is to get our facts straight," said the reporter.
"I don't see how that's related," said Pelkey.
"Is there a reason why you're being defensive?" our reporter asked.
"No, I'm not being defensive. What is this really about?"
"Did you want to comment on the VSB budget?"
"No, I don't want to do that," said Pelkey.
Neoliberalism, American-style
Privatization, as an agenda, isn't owned by the Fraser Institute. It has its origins in Milton Friedman's University of Chicago brand of economic theory. Naomi Klein wrote about it broadly in her book, The Shock Doctrine. And neoliberalism approach to economic and social policy based on neoclassical theories of economics that maximise the role of the private business sector in determining the political and economic priorities of the state.
David Hursh, a professor at the Warner School of Education at the University of Rochester, is a specialist in neoliberalism and the American school system. "The belief is that markets are self-regulating, so whatever comes out of markets is based on people making choices and that this is inevitably better than having the government interfere with people," he said.
The move towards charter schools, which are publically funded but privately run, may appear to give parents more choices but will end up hurting kids, he said.
"Many of these schools don't have to take students with disabilities. They don't have to take the students that they don't want. They end up being selective. The charter school can take the students who are easier to educate and leave the more difficult students to the public schools."
"The argument is that neoliberalism is more accountable to the public. But at charter schools they don't have to report on salaries. Their board meetings are not open." The end result of the shift in policy is that "corporations will be running schools."
Since taking office, the Obama administration has been promoting charter schools and instituting policies "that the Bush administration only dreamed of" but could not pass because of the Democrat's majority in Congress.  
Vancouver's fight over public education
"I felt like we were bullied," Vancouver School Board (VSB) chairwoman Patti Bacchus told the Vancouver Observer of her experience with the ministry of education during the prolonged, bitter struggle over funding. "They were trying to create fear. They were making an example of us. I think they thought that we'd just be quiet. It has outraged our parents, our employees, our students. They used public money to do this."
Margaret MacDiarmid, B.C.'s minister of education would obviously disagree. It's easy to surmise she doesn't consider herself a bully or her tactics intimidation. For months now, MacDiarmid and the ministry have warned that extreme cutbacks would be necessary to balance the VSB budget.
But Bacchus, a 48-year-old Vancouver mother of two school-aged children, and MacDiarmid, a childless doctor with roots in a small town in rural B.C., have each become the respective faces for divergent ways of regarding public education. Bacchus's roots are deeply embedded in the Vision Vancouver's civic party and its populist tendencies, while MacDiarmid is the public face of Premier Gordon Campbell's Liberal Party with its propensity to privatize.
MacDiarmid was elected MLA for Vancouver-Fairview on May 12, 2009. She ascended to the position of minister of education, bringing with her 23 years experience as a family physician and 12 years as president of the Board of the B.C. Medical Association, but as various parents pointed out in interviews, zero years experience with the public schools and/or parenting.
Bacchus was born and raised in Vancouver. She served on several parental advisory committees before being elected to the Vancouver School Board. She has a grown step child as well as two children of her own. She has been involved in pushing for seismic upgrades in schools, and in her campaign for school trustee, she vowed to press the provincial government for more money. In these last weeks, she's made good on that promise. She's been called a grandstander by critics, for her passion in defending the schools.
Raymond Masleck of the Trail Daily Times had harsh words for MacDiarmid. "If former Rossland physician Margaret MacDiarmid was still president of the B.C. Medical Association instead of minister of education, she would hate the kind of cabinet minister she has become," he wrote in his article, "The Two Faces of Margaret MacDiarmid."
"A simple 'no' in response to the Vancouver school district's incessant demands would have sufficed. But MacDiarmid had to send in her home-team accountant to tell trustees how to run their board meetings." He chides her for putting a financial bottom line in front of the interests of children.
MacDiarmid would not make herself available to the Vancouver Observer for an interview, but Scott Sutherland, a communications manager for the ministry of education, spoke on her behalf. He described the doctor as capable, dedicated, and engaged, particularly when it comes to early childhood education.
And while Bacchus claims that the Vancouver public school system is severely underfunded, Sutherland said, "What has actually happened is that every single year, funding for the education system has increased, even in school districts where they have seen a dramatic decline in enrolment. The government funds education on a per people basis."
When questioned about the confrontational tone between the education minister and VSB chair, Sutherland said, "You've mentioned the public perception that there's a lot of politics that's being done. You've hit the nail on the head."
Bacchus said she agrees that the VSB budget blow out between the city and province is political. It is part of the Liberal government's larger agenda, she said, and this is "a battle for the public services. There is a privatization agenda."
Privatization. There's that word again. And when privatization in the British Columbia school system comes up in conversation, the name of the Fraser Institute is usually close at hand.
"The Fraser Institute's philosophy around the need to marketize education is really a driving force in what's going on in B.C.," Catherine Evans of the B.C. Society for Education said.
"There's always going to be finger-pointing. It's important to remember that everyone wants the system to succeed," Michael Thomas, associate director of school performance studies for the Fraser Institute.
Click here for a most interesting related story reported elsewhere.