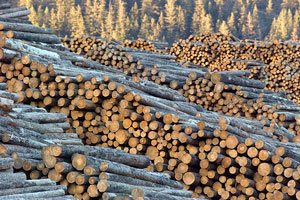 "Approximately 40 per cent of PST revenue is paid by businesses on goods and services which they purchase to run their operations -- everything from equipment, machinery, vehicles, and building materials to office supplies, furniture, energy, legal services and more. As this PST-related tax burden is removed, the vast majority of businesses will be in a better position to invest, to grow, and to sustain and create jobs." -- Council of Forest Industries, 2009
"This is the single biggest thing we can do to improve B.C.'s economy. This is an essential step to make our businesses more competitive, encourage billions of dollars in new investment, lower costs on productivity and reduce administrative costs to B.C. taxpayers and businesses... this will create jobs and generate long-term economic growth..." -- Gordon Campbell, July 2009
It's hardly news that Gordon Campbell is overselling the virtues of his government's planned harmonized sales tax. He's been doing it for a year, ever since his sudden conversion to the merits of the HST -- just days after a provincial election in which his party repeatedly denied that the HST was even on its radar screen.
But it's a bit hard to understand why the usually careful Council of Forest Industries is making inflated claims about the HST.
Because in fact, COFI members and other forest companies are already largely exempt from B.C.'s current sales tax. They don't pay it on buildings. They and most industrial corporations don't pay it on "production machinery and equipment purchased for the use of qualifying persons," which include manufacturers, the petroleum and oil and gas industry, mining and logging.
So forest companies' claim about the "PST-related tax burden" is hardly such a big deal. And COFI's claim about "equipment, machinery, vehicles" is untrue. They don't pay PST now on those things or on buildings.
Other tax cuts, no investment boom
Now, if the premier and the industry are wrong about the PST's impact, perhaps they're equally wrong about the HST's alleged benefits. They claim the HST will save the forest sector $140 million a year. Even that would be pretty minor: a 1.6 per cent annual reduction in costs, the United Steelworkers union estimates, hardly enough to make or break B.C.'s forest companies let alone bring "billions of dollars in new investment."
After all, if lower taxes caused investment, Campbell's huge reduction in corporate income taxes would have already done the trick.
He cut them from 16.5 per cent in 2001 to 10.5 per cent today; he plans to further reduce them to 10 per cent by 2011. He eliminated capital taxes and cut property tax, especially for big companies. As part of the 2008 carbon-tax package, Campbell cut the corporate income tax rate 10.5 per cent and plans to cut it as low as 10 per cent. The HST will reduce it even more.
Add to that huge federal tax cuts and we should have seen a flood in investment and job creation. But no. In fact, investment in B.C. has increased on average just 0.26 per cent per year since 2001.
Forest industry investment has been negative over the same period.
And by 2008, before the economic crisis, the industry had already lost 23,700 jobs under Campbell's tax-slashing regime.
It's not tax savings those companies want; it's lower taxes and higher profits; more returns on less investment. And profits on their own don't cause investment or job creation. All told, there's no good reason to expect much benefit at all from a tax that lets companies off the hook but makes average families bite it even harder.