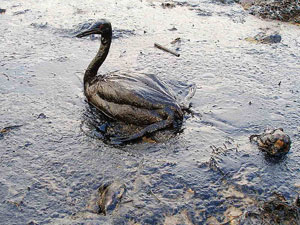 Sometimes all you can do is throw a match on it. That was the grim conclusion this week by the U.S. Coast Guard dealing with the latest disaster 1 from the fossil fuel industry when a BP drill rig exploded off the Louisiana Coast burned for several days and sank to the bottom.
A remote sub later confirmed fears that the hole drilled in the bottom of the ocean was spewing about a 5,000 barrels of crude a day -- five times more than originally estimated. If the wellhead completely fails, an undersea gusher of 100,000 barrels a day could pour into the headwaters of the Gulfstream current carrying this toxic mess around Florida and up the Eastern Seaboard.
This oily discharge may go on for a long time. Initial attempts to shut off well-head valves more than a kilometre and a half below the surface have failed and it could be months before a relief well is drilled. BP remains closed lipped about hope much oil is down there but one insider confirmed it was tens of millions of barrels. 
Remembering the Valdez
Perhaps this is good time to revisit what, if anything, was learned by the oil industry last time they caused such a catastrophe. It has now been 21 years since the Exxon Valdez infamously ran aground in Prince William Sound. When then-Exxon CEO Lawrence Rawl finally deigned to speak to the media, he seemed to paint himself and his company as the real victim:
"This tanker went on the rocks, and visually it was perfect for TV and not too bad for pictures of oily birds in the printed media. How would those environmentalists ever let that go? ... It's been a bitch for us too."
Rawl also griped about how little love he was getting for his belated mea culpas, and intimated what would happen next time the oil industry caused a disaster:
"I went on TV and said I was sorry. I said a dozen times that we're going to clean it up.... In the future, corporations are going to conclude that it just doesn't pay to take responsibility and make restitution. Instead companies will say, 'Let everyone else clean it up and sue us and see if they can collect.'"
Two decades fighting a citizens' lawsuit
Of course Exxon did not have to wait for a next time to try out this strategy. They were sued by nearly 33,000 fishermen, Native Alaskans and local landowners for damage that the U.S. government now believes may persist for another three decades.
Exxon fought the court case for almost 20 years, filing four appeals all the way the U.S. Supreme Court where their punitive damages were slashed from $2.5 billion to $500 million -- representing a mere one per cent of Exxon's profits for the year. 
Even Republican law-makers were disgusted by the decision. "Today's ruling adds insult to injury to the fishermen, communities and Alaska natives who have been waiting nearly 20 years for proper compensation following the worst environmental disaster in our nation's history," Sens. Ted Stevens and Lisa Murkowski and Rep. Don Young said in a joint statement.
The case dragged on so long that 20 per cent of these plaintiffs had died before the final settlement.
Alaska's shores still oil-soaked
Exxon was of course more upbeat. Chief executive Rex W. Tillerson said, "We know this has been a very difficult time for everyone involved. We have worked hard over many years to address the impacts of the spill and to prevent such accidents from happening in our company again."
True? A 2005 article in the Seattle Post-Intelligencer revealed Exxon still did not use any double-hulled tankers in Alaskan waters, and on-board drug and alcohol use remained rampant. Oil interests were also lobbying hard to loosen tug-escort rules meant to help shepherd tankers safely to port.
And after years of legal wrangling, millions in lawyers fees, and often counter-productive clean-up efforts, much of the oily mess remains. A recent study by the U.S. government found that more than 26,000 gallons of oil is still washed up on Prince William Sound and researchers believe it is degrading at only four per cent per year.
Exxon disregarded the findings, stating "there is nothing newsworthy or significant in the report that has not already been addressed."
'What in hell did we do to deserve this?'
So what can the residents of Louisiana and Gulf Coast expect from the oil industry as this toxic mess washes up in their shores for perhaps the next several months? Perhaps more of the same...
BP CEO Tony Hayward seemed to echo Exxon's crybaby attitude of 20 years ago when he whined to his staff this week about their crashing share price, ""What the hell did we do to deserve this?" That question is of course more properly asked by the families of the 12 workers who lost their lives in the rig explosion.
As for transparency, it has now comes to light that BP last year low-balled the risks when applying for a drilling permit for the ill-fated rig. Their project assessment assured regulators that it was "unlikely that an accidental surface or subsurface oil spill would occur" and if such a spill did occur, "due to the distance to shore and the response capabilities that would be implemented, no significant adverse impacts are expected."
See? Nothing to worry about.
Coming soon to BC?
Our government is now considering opening our pristine northern coast to 320 oil tankers per year. While companies like Enbridge stand to reap enormous profits from such projects, it is local residents and the environment that bear the catastrophic risks. If there is any upside to the unfolding catastrophe in the Gulf, perhaps it can provide our public debate what childhood educators call a "teachable moment."