Vancouver police have arrested drug policy activists Eris Nyx and Jeremy Kalicum after executing search warrants on the Drug User Liberation Front office and their homes.
Since 2020, Nyx and Kalicum have held protest events and operated a compassion club to supply tested heroin, cocaine and meth to drug users, despite the risk of arrest for breaking Canada's controlled substances laws.
Nyx and Kalicum said they were driven to break drug laws through firsthand experience of the overdose crisis. Nyx has spoken about losing dozens of friends to the overdose crisis, while Kalicum previously told Vancouver city council about reversing over 100 overdoses when he worked in the Downtown Eastside.
"We still aren't sanctioned, and I'm constantly afraid of arrests," Nyx told the Tyee in 2022. "Nothing about what we're doing is legal."
Kalicum and Nyx declined to speak to The Tyee for this story.
Vancouver police say Nyx and Kalicum were arrested Wednesday so police could question them as part of an ongoing investigation. DULF has operated a compassion club for months and has frequently spoken to media about the specifics of the model.
Insp. Phil Heard said police became concerned when they learned DULF was regularly distributing drugs and not just one or two times a year as a part of a protest.
Heard said police are now investigating and will decide whether to recommend charging Nyx and Kalicum with possession for the purposes of trafficking. In British Columbia, police recommend charges and Crown prosecutors decide whether to lay the charges.
Naming their organization the Drug User Liberation Front, Nyx and Kalicum frequently spoke to media about sourcing heroin, cocaine and methamphetamine from sellers on the dark web, testing the drugs to make sure they didn't contain other substances, and then distributing the drugs to members of the compassion club.
Nyx and Kalicum got the idea for the compassion club model from the BC Centre for Substance Use, a government funded think tank for treating substance use. But while BCCSU researchers had written a paper on how a compassion club would work, no one was moving forward with actually putting the idea into practice.
Nyx and Kalicum have previously said that they would prefer to operate legally and use a pharmaceutical source for heroin, but were denied an exemption from Health Canada that would have allowed them to operate a compassion club legally.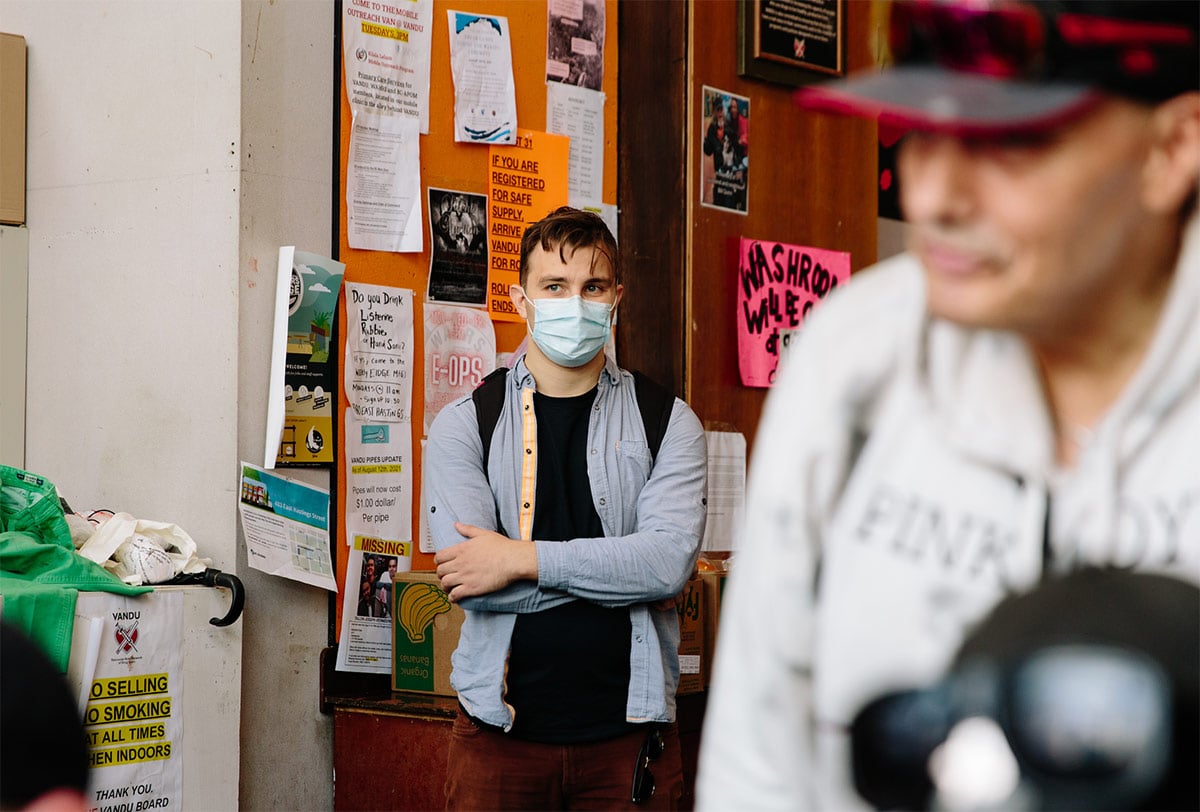 This week BC United MLA Mike de Jong called for a forensic investigation into DULF to examine how it spent $200,000 of taxpayer money. The funds were provided to the group by Vancouver Coastal Health, but Nyx said none of that public money was used to buy illicit drugs. Instead, DULF says it has used donations to purchase drugs.
The VCH contract was then cancelled at the request of Jennifer Whiteside, the minister for mental health and addictions.
Elenore Sturko, a BC United MLA and a former RCMP officer, said she was glad to see DULF being investigated by police. She and other politicians have raised concerns that DULF's practice of buying drugs from sellers on the darkweb supports organized crime.
In question period today, Sturko said she was outraged "to hear that this government is doing everything because we're trying to save lives, and that would somehow justify supporting organizations that put money and guns into the hands of people that kill British Columbians."
Nyx and Kalicum have said there is simply no other place to find untainted drugs to buy, and they would much rather buy their supply from a legal, regulated source.
They've also argued that operating the compassion club is similar to the illegal actions taken by drug user groups and activists in the past. Handing out clean needles was once illegal and Canada's first safe injection site had to fight multiple legal challenges in order to be able to continue to operate.
Ann Livingston, a drug policy activist who helped to operate illegal drug consumption sites in the 1990s, said she had broken Canada's drug laws many times, including in 2016 when she and other activists operated an overdose prevention site in a Downtown Eastside alley in response to a sharp increase in opioid deaths.
While some of those sites in the 1990s were shut down by police, the organizers were never arrested, Livingston said.
"My whole premise for health care is that you have to break the law or you don't get anything," Livingston said. She compared the DULF arrests to the four arrests of Dr. Henry Morgentaler, the Montreal doctor who successfully challenged Canada's abortion laws in the 1980s.
While Livingston said she was concerned about Nyx and Kalicum, she said criminal charges and an ensuing court case could be the most effective way to bring changes to Canadian drug laws, which criminalize drug users and put the production and sale of restricted drugs into the hands of organized crime.
"My concern is they're not going to charge them," Livingston said, adding the arrests and raid of DULF's office and Nyx and Kalicum's homes would amount to harassment to scare people away from taking the kind of action DULF was prepared to take.
Heard said police have acted before to shut down sites that are breaking Canadian drug laws: in May, activist Jerry Martin opened a store selling drugs that had been tested to make sure they didn't contain harmful additives. Police arrested Martin within 24 hours of the store opening.
Martin died of an overdose just weeks after being arrested.
In a press release today, the VPD acknowledged that DULF's motivation was "to reduce the harms caused by toxic drugs."
Heard said the VPD supports safe supply programs, where drug users are prescribed pharmaceutical drugs, such as hydromorphone, to provide an alternative to the tainted illicit supply.
But Livingston said prescribed safe supply is available to only a small number of drug users, and the B.C. government has failed to open enough overdose prevention site and expand safe supply programs.
As a result, Livingston said, tainted drug deaths continue to rise in B.C., month after month after month.
"13,000 people have died since 2016," she said. "There are thousands of children with dead parents, and thousands of parents with dead children."