The third annual National Day for Truth and Reconciliation falls on a Saturday this year, with schools closed for the statutory holiday on Oct. 2.
But that isn't stopping school districts across British Columbia from marking this memorial for the 150,000 Indigenous children forced to attend residential schools, including thousands of children who never came home.
"Education is a big part of truth and reconciliation," said Lyn Daniels, director of instruction for Aboriginal learning at Surrey School District 36.
"Whenever people talk about the Calls to Action, they are inevitably discussing education. And when we talk about Orange Shirt Day, the whole purpose is to raise awareness of Canadians about this traumatic history."
Originally known as Orange Shirt Day, in honour of residential school survivor Phyllis Webstad's story of being stripped and robbed of her orange shirt by staff on her first day at St. Joseph's Mission Residential School in 1973, the federal government declared Sept. 30 the National Day for Truth and Reconciliation in 2021.
The Truth and Reconciliation Commission included the creation of this day of commemoration as one of its 94 Calls to Action. The day is intended for national reflection on the cultural genocide enacted against First Nations, Inuit and Métis people through the forced — and, in the form of Indigenous overrepresentation in government care, ongoing — removal of Indigenous children from their families and cultures.*
The Tyee spoke with representatives from three B.C. school districts about how they are marking Truth and Reconciliation Day this year.
In Haida Gwaii, walks to remember
The students and staff at the six schools of School District 50 Haida Gwaii have all been gifted an orange shirt with two handprints and the words "Every Child Matters" on the front to wear this week.
"Each school has various activities going on, some that are going all week and some that are on Friday," said Joanne Yovanovich, district principal of Indigenous education.
"For instance, the school in Sandspit are taking their kids out to Copper Bay and they are going to be doing some drumming, singing and offering up energy to the Copper Bay river."
Students and staff at Gidgalang Kuuyas Naay Secondary School in Daajing Giids, also known as Queen Charlotte City, will don their shirts for a walk through the community on Friday, which in past years has culminated in prayers and songs at the totem pole outside the local hospital.
Both Tahayghen Elementary and Gudangaay Tlaats'gaa Naay Secondary School in Masset are coming together with the Old Masset Health Centre for a full day of activities on Friday, ending with a walk through Masset wearing their orange shirts while drumming and singing.
The Indigenous resource worker at Sk'aadgaa Naay Elementary has been spending lunchtimes this week beading bracelets and bundling sage harvested from the school's greenhouse to distribute, Yovanovich added, and on Friday the school will gather for a special lunch.
Port Clements Elementary is holding a pancake breakfast, and all the schools in the district will be learning about residential schools this week, she said, including reading books like Webstad's The Orange Shirt Story and watching films like We Were Children.
For the second year in a row, the school district office in Daajing Giids will have orange shirts displayed on its lawn, decorated and mounted by students and the shop and art teachers from Gidgalang Kuuyas Naay Secondary School.
It's important to mark Truth and Reconciliation Day in schools, Yovanovich said, because it "levels the playing ground" for students.
"It has all students working firmly towards equal opportunity," she said, adding almost all First Nations people know someone who attended a residential "school."
"I feel like we're doing the right thing when I can hear young kids talk about why we are wearing the orange shirts... and doing it from a place of knowing."
In qathet, 'recognizing the harm that was done'
School District 47 began marking Truth and Reconciliation Day on Sept. 25 by announcing a name change to qathet, which means "working together" in ʔayʔaǰuθəm. The name qathet was gifted to the region by the Tla'amin Nation.
The district's former name honoured Israel Wood Powell, a 19th-century superintendent of Indian Affairs for British Columbia. As hegus of Tla'amin Nation John Hackett writes, Powell banned potlatch ceremonies and advocated for Indigenous children to be separated from their families, homes and cultures.
Each of the eight schools in the district has a čɛpθ, which means "auntie/uncle" in ʔayʔaǰuθəm, who will be delivering lessons to students on residential school history this week.
At least three of the district's elementary schools are making orange decorations to hang on school property, including one school where students have hung paper plates with orange handprints in their gym to honour each of the children who never returned home to their families from residential schools.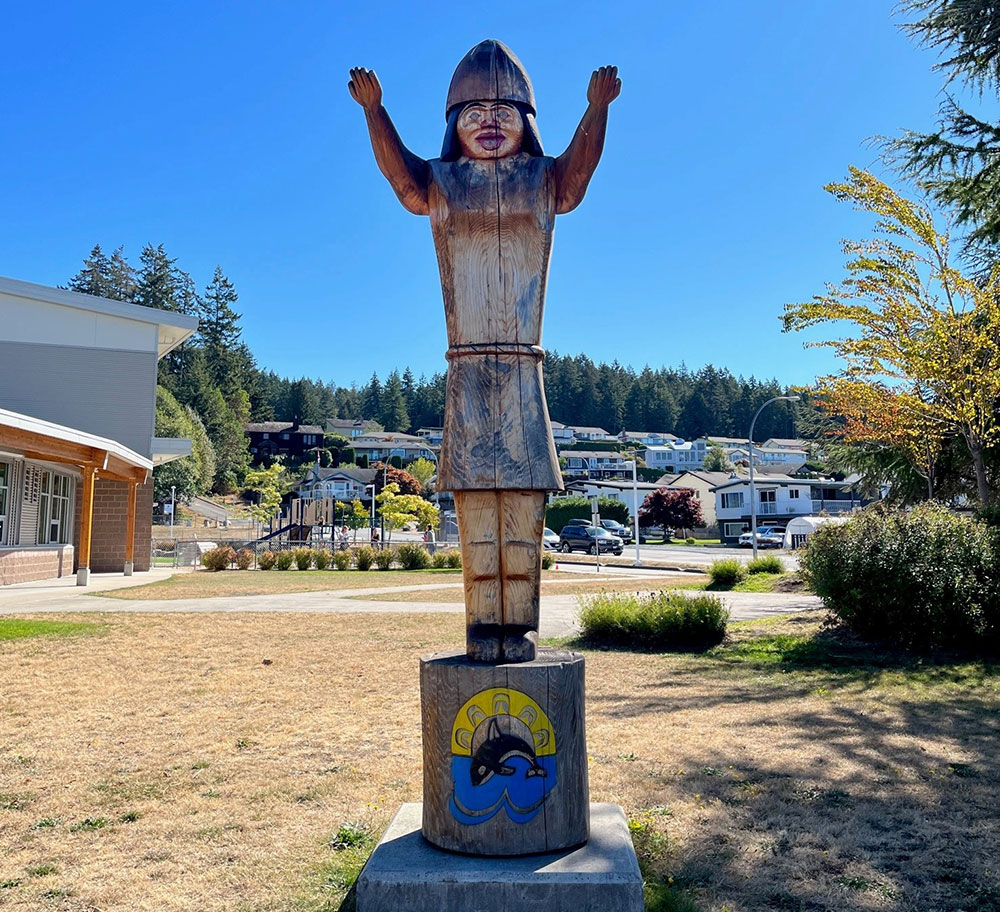 "And of course everybody wears orange on the last day of school this week," said Jay Yule, qathet School District superintendent, adding elementary schools are also holding read-aloud sessions, while the high school, where students start learning about the 94 Calls to Action, will have discussions about this chapter of Canadian history.
"We have a segment of our population that was disrespected, and it's hurtful and we should do anything we can... to make it right for them and to make them comfortable in public schools," Yule said.
"That's the real importance of what we're doing, is recognizing the harm that was done."
Longhouse lessons and community events in Surrey
With over 130 school sites in the Surrey district, there are many individual events, programming and projects taking place to mark the day independent of the school district, said Lyn Daniels, director of instruction for Aboriginal learning at the Surrey school district.
But district staff, including Indigenous cultural facilitators and helping teachers, organized a district-wide professional development day for teachers on Sept. 25 that featured keynote speaker Jean Teillet, a Métis lawyer and author who wrote a report on Indigenous identity fraud for the University of Saskatchewan last year.
The district has an active relationship with the three First Nations — the Katzie, Kwantlen and Semiahmoo nations — whose lands cover what is currently referred to as Surrey. The district is using Katzie First Nation longhouses to host professional development activities for secondary teachers this year, as it did last year for elementary teachers, Daniels said.
"There will be a number of secondary schools' [staff] that will go to each of the longhouses," she said, adding guest speakers include Stó:lō Nation leader Gwen Point, educator and consultant Len Pierre from the Katzie First Nation and residential school workshop facilitator Brad Marsden.
Students and teachers are encouraged to check out the National Centre for Truth and Reconciliation's online daily lunch and learn speaker series for the week, Daniels said.
There are also public events students and their families could check out, held by the Semiahmoo and Katzie First Nations and the Surrey Urban Indigenous Leadership Committee on Sept. 29 and 30.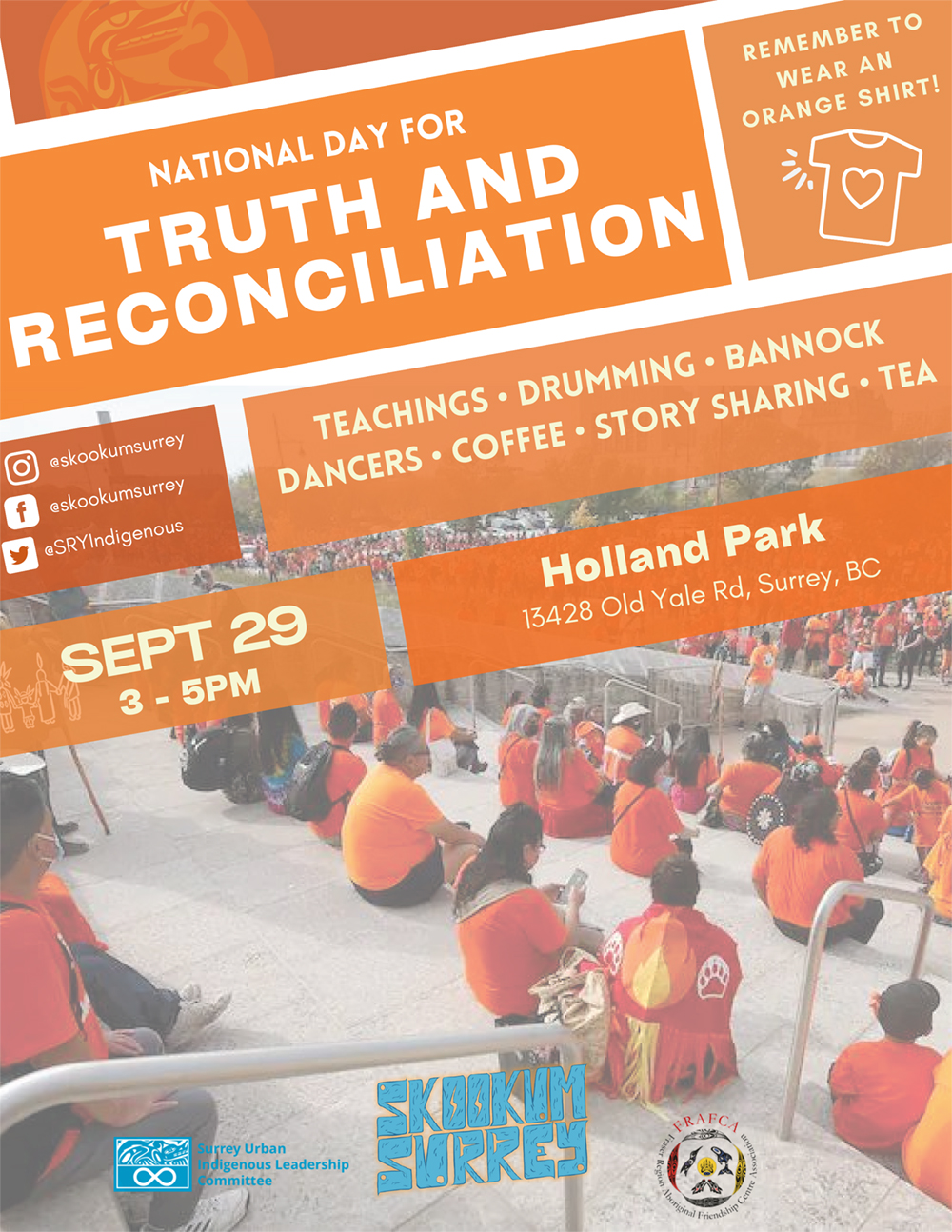 It's never been more important for schools to talk about the truth of Canada's residential school system than today, Daniels says, in the face of denial and backlash after the discoveries of thousands of probable unmarked graves at former residential school sites across the country.
Such discoveries were not unheard of prior to 2021; the Truth and Reconciliation Commission report cites several examples of human remains found on former "school" sites in recent decades.
But after Tk'emlúps te Secwépemc announced the discovery of over 200 suspected unmarked graves at the former Kamloops Indian Residential School site in 2021, more nations invested in ground-penetrating radar searches of former "school" sites in their territories, with harrowing results.
"How do we share our experiences so that it will be received in ways that are meaningful, and not dismissed or denied?" Daniels asked. "It is the history of Canada. And if you don't understand your history, you don't understand who you are."
* Story updated on Oct. 3 at 12:11 p.m. to include that a request for a national holiday was one of the original Calls to Action from the Truth and Reconciliation Commission in 2015.