The internet was spotty on the roof of the hospital building where Kieran Thwaites was entering her first Zoom call with Autistic Queer Peers. Her sister-in-law was in the labour and delivery ward; her water had broken but she had not gone into labour yet, so Thwaites was staying nearby to support her. The meeting was small; just seven people. The sounds of the crows flying overhead were audible to the other members of the group. Thwaites was zippered into her hoodie to keep warm in the wind.
Thwaites had first heard of the group 10 months earlier and was interested in being its new facilitator.
Though that first call ended early — the spotty Wi-Fi won out — Thwaites has attended nearly every monthly meeting since.
The last few facilitators for Autistic Queer Peers have had to step back from the role due to burnout, which Thwaites says is most likely because the facilitation role is unpaid, and that autistic people are more prone to burnout resulting from emotionally laborious work.
Her eventual solution would be to share the work, ensuring multiple people fulfil less demanding roles. The unfacilitated nature of the space is working, leading to less structured but still productive conversations.
"I've observed that people are never on time," Thwaites says. After a half hour, most people have arrived; Thwaites then introduces herself and some of the group norms. "I'll talk a bit about how we all have some communication challenges, and it's normal for there to be some spaces between talking, and that spaces don't have to be uncomfortable. I talk about how interrupting each other a bit is OK, and that we're all communicating with positive intent," she says.
These adaptations allow for an easing of anxiety as well as accessible communication, Thwaites says.
These adaptations also represent ways that Thwaites' lived experience as a queer trans racialized autistic person informs her approach to community care.
Thwaites had an early interest in psychology, and would like to work as a counsellor. But when Thwaites went to pursue her biology degree with the intent of pursuing medicine, she found many aspects of it inaccessible. "When I got to university, I got really stuck because I hadn't learned how to learn," she says.
The hands-on learning style of Montessori school benefited her as a child. She even won a national math competition, sparking a lifelong love of math. But by the time she entered high school, she found that even though she had the capacity and the willingness to learn, autism-related emotional and practical difficulties made it nearly impossible. The school environment became rife with conflict.
According to a survey by Statistics Canada in 2021, 32 per cent of sexual minority Canadians were likely to report that they consider their mental health to be poor or fair, as opposed to 11 per cent of heterosexual Canadians. Forty per cent of sexual minority Canadians report having seriously contemplated suicide, versus 15 per cent of heterosexual Canadians, and 41 per cent of sexual minority Canadians have been diagnosed with a mood or anxiety disorder, versus 16 per cent of heterosexual Canadians.
These disproportionate needs are not met with a proportional care structure. The CounsellingBC directory — a large but not comprehensive database of practicing counsellors in the province — contains 821 counsellors. Only 122, or 14.9 per cent, list a competency in queer issues. Fifty-three, or 6.5 per cent, list competency in counselling gender dysphoria, and 11, or 1.3 per cent, list competency in trans issues. Twenty-nine, or 3.5 per cent, list autism as an area of competency.
This leaves queer autistic people in a place where there aren't enough competent counsellors to meet their needs. While peer support groups fill some of the gaps, they can't fulfil all of the needs of the community.
Meanwhile, people like Thwaites would like to see educational environments that better meet their needs — so that they, in turn, can meet the needs of their communities.
The importance of someone who understands
"I had not had a positive counselling experience until last year," Thwaites says. "​​I've seen a lot of counsellors. The difference was, I looked through counselling ads, and I picked a person that I felt I could connect to and had enough overlap with my experience."
The person that Thwaites gravitated towards was non-binary and also neurodivergent, which was enough for Thwaites to feel they would understand her. "All I needed was to be heard at that time and understood and be able to talk through stuff with somebody that could comprehend it."
The therapist had not yet finished their accreditation, but Thwaites felt a connection with them. "I got to actually talk about my problems rather than explain my marginalization to people that couldn't comprehend it," she says.
"If you have overlap of lived experience, you have an immediate connection with people," she adds.
The American Psychological Association conducted a meta-analysis in 2019 concluding that a good relationship between a client and therapist is "essential to helping the client connect with, remain in and get the most from therapy." Cultural and queer competencies are prerequisites to being able to build relationships of trust and care between patient and provider.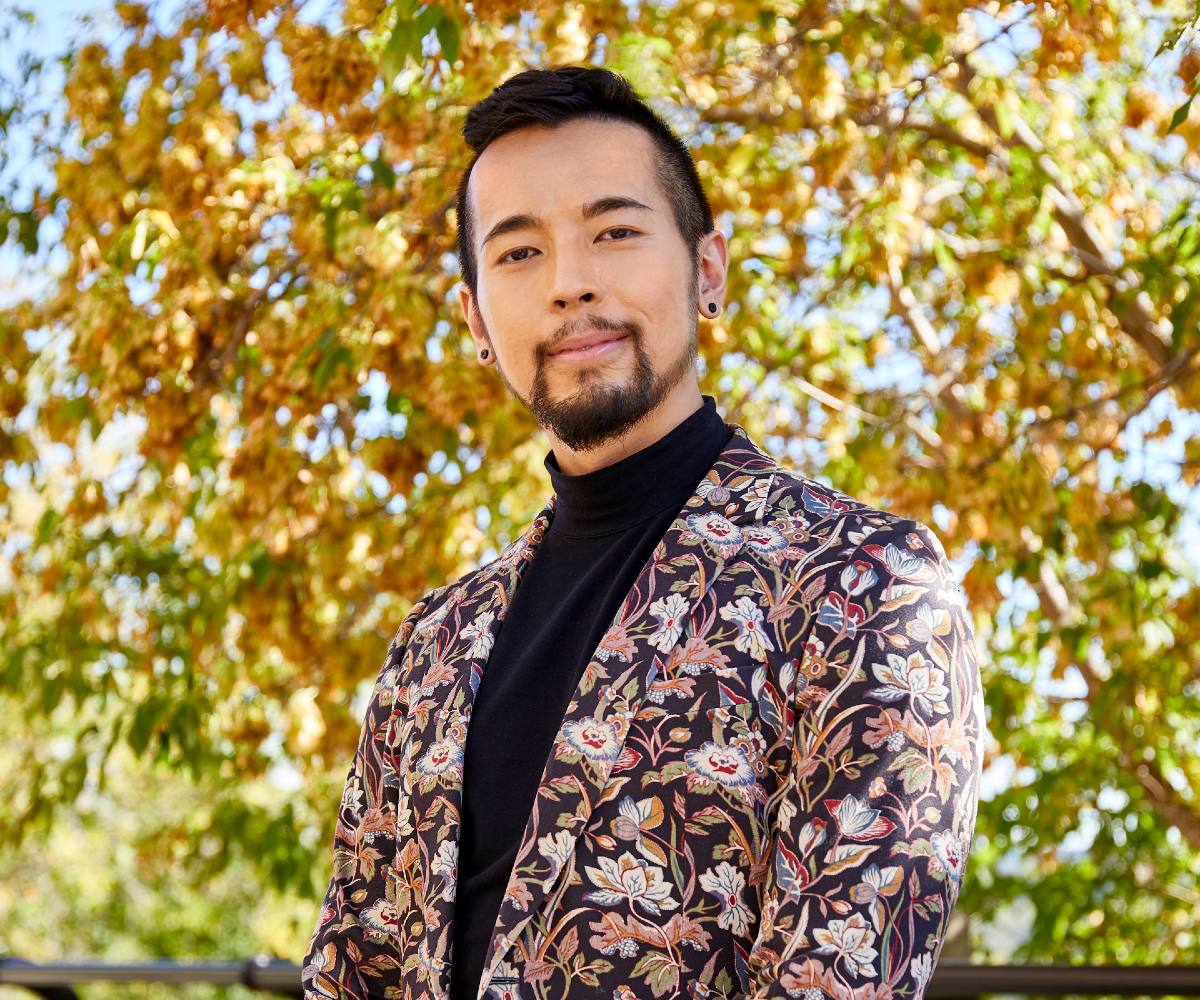 Evan Matchett-Wong, program director of the Health Initiative for Men, says a lot of stigma still exists in counselling and medicine. "That feeds into the likelihood that someone might not want to access health care or mental health care, because they don't know if a doctor or nurse might be accepting of their identity," they say. "It can be very difficult for queer people to be openly vulnerable with someone that doesn't understand their potential struggle."
Matchett-Wong, who is of Cantonese and Indigenous (Dene, Cold Lake) descent, sees HIM's work as holistic — art, community, sexual health, physical health and mental health all working together. The Health Initiative for Men refers to these as the "pillars of health."
The grassroots organization was founded in 2008 and operates out of the Davie Village in Vancouver's West End. Currently, the organization is both a social care space as well as a mental and physical health care service. Health Initiative for Men was originally a service exclusively for cisgender gay and bisexual men, but in recent years it has expanded its mandate to be trans-inclusive with select programming available to all queer folks.
"We try to encapsulate every component of what we do with peers," says Matchett-Wong. "Whether that they're sex workers, or survivors of conversion efforts, or they're substance users, or if they're trans non-binary or Two-Spirit, we want to make sure that that's actually informed by them."
Lived experience is also vital to Matchett-Wong's own work. "People have different opinions, different needs. Being someone within the community [who] has a lot of different types of lived experience has taught me that I just need to listen."
To support the next generation of counsellors, improve cultural competency
The path to becoming a counsellor is heavily structured, involving six years of university experience and potentially hundreds of thousands of dollars.
Support is an important aspect of a university education. For those who are able to complete a degree, support can take concrete forms such as financial assistance, the ability to live at home while going to school or afford secure housing while attending school.
Support can also be more subtle — nurturing friends and family who care about your well-being, and a university environment that is culturally competent and has structures in place for how to deal with conflict.
Matchett-Wong, who acquired their education at the University of Alberta, credits their success at the institution to the support relationships they cultivated with fellow Indigenous students. "The reason why I was able to finish my master's was because I was very involved with other Indigenous graduate students," Matchett-Wong says. "Had I been isolated from other Indigenous peoples, I probably would not have completed my master's."
The support Matchett-Wong enjoyed through community with other Indigenous students proved to be a powerful antidote to what they see many post-secondary institutions lack: a meaningful application of cultural competency.
Matchett-Wong described incidents of racism from both instructors and fellow students, as well as being silenced in pursuing these issues. For example, they say a fellow student once said Indigenous people "'posed a threat' to the health-care system in Alberta."
"For a lot of reasons, Indigenous peoples encounter a lot of barriers in accessing health, specifically around sexual health," Matchett-Wong says. "But they themselves are not a threat to the health-care system. The health-care system, in and of itself, is a threat to itself."
The student responded by contacting her supervisor, and Matchett-Wong says they were asked to stop pursuing the issue.
Matchett-Wong suggests that tuition should be waived for local Indigenous students whose land the institution is on. They also say that support from other Indigenous people during their education was one of the key factors in completing it.
Matchett-Wong adds that cultural competency extends beyond cultures as we think of them typically — it also includes queer culture as a culture unto itself. They felt as though their visible queerness set them apart from their fellow cohort, even when they knew that other queer students were present.
"Since I was the most visibly queer person or someone that can be more clocked as queer, I always had to be the person to talk about queer health," they say.
"By creating more barriers for people that experience so many barriers already, you're going to see fewer and fewer people able to make it through."
Towards neurodiversity-affirming education
When Kieran Thwaites was attending university, she found some of the traditional structures of school to be very challenging.
"My mental health will always look not great, no matter how supported I am, so setting up systems that acknowledge and understand that is necessary," she says. "I still don't have the capacity to sit in a classroom and learn," she says. "[University] is so linear that if you miss a week, you've ruined your entire semester."
It doesn't have to be this way. Thwaites is exploring a "blocking" system at an alternative university program, where students are fully immersed in one subject for a six-week period before moving onto the next. "I love being fully immersed," says Thwaites. Dealing with competing deadlines and multiple, overlapping classes in a traditional university structure made attending school very difficult.
Thwaites points out that our current system of mental health care is based fundamentally on white colonial viewpoints. But knowledge — in both education and the provision of mental health care — can come from many places. Mentorship, shadowing, regulated resources and Elders from local communities can all be sources of knowledge and training that differ from a conventional western school setting.
"I'm not advocating for a lack of school," Thwaites says. "Training is really important. I think part of the issue is a value system that only values things we can measure.
In the big picture, it's very clear that this mental health system is not serving those [who] need it."
---
This series is made possible by the Jeani Read–Michael Mercer Scholarship for Journalism Students, an annual scholarship awarded to graduating students of the journalism program at Langara College in Vancouver, B.C.